October 30, 2014
Last night it felt like we got back on track a little. The team, the fans, the fans on social media… it all felt a bit more 'together'. The opposition wasn't great, of course, but I'm sure there were many Spurs fans who, like me, half expected an upset.
Starting off with the performance: it was a largely positive display. Pochettino made ten changes – whether that was always the plan or whether the poor performance against Newcastle influenced that decision, we'll never know. Brighton made six changes themselves, including giving England Under-20 goalkeeper, Christian Walton, a debut.
The first half wasn't exhilarating, but we were solid, with flashes from Townsend and Lennon that kept the crowd encouraged. Although both were playing on their "wrong" sides, it was notable that Townsend in particular kept the full-back guessing by alternating between coming inside and hitting the touchline on the outside. This is something I feel Lamela needs to add to his repertoire – particularly to help stretch defences. I wonder whether this was Townsend carrying out a Pochettino instruction, or whether he just enjoys beating a full-back on the outside. Either way, he frequently moved us yards and yards up the pitch with his useful driving runs, albeit he didn't always make the right decision at the end of them.
Lennon was withdrawn at half-time – he confirmed post-match that it was a minor hamstring "issue" – and was replaced by Lamela; it took him nine minutes to score. Davies fired in a pass to Soldado, who did well to cushion it back to Lamela. Soldado received a pass back, sent Lamela into space, and his right foot was – for once – trusted to slide the ball home. From then on Spurs looked confident and competent, and when Harry Kane got the second twenty minutes later, it was game over. Kane pulled out to the left – much like we've become used to seeing Adebayor do. However, unlike Adebayor, after releasing the ball to Townsend, he was intent on getting into the box and, when the ball came back off the goalkeeper, he was there to steer it into the tightest of gaps.
For me, the best players on the night were Kyle Naughton and Benjamin Stambouli. Naughton seems to have bulked up since his injury, and he had a very good game at both ends. Not only did he provide a defensive solidarity on the right that we've been lacking in recent matches (helped by a diligent Townsend), but he provided some excellent crosses; he is amongst the best crossers at the club. The only blot on Naughton's copybook (as they say) was a potential handball in the first half, his arm flapping away from his body – in a similar way to that which caused him to come unstuck against West Ham.
Stambouli's unfussy but assured display caught the eye, especially with Capoue's form taking a dip. He made some timely challenges, intercepted well, and used the ball wisely, quickly, and simply.
Away from the pitch, the atmosphere in the Park Lane end was excellent, helped by a good turnout from Brighton. There were old songs and new, including a Stambouli effort to the tune of 'Stand By Me' (not a fan!) and a Chadli song I'd not heard before to Lady Gaga's Paparazzi: "I'm your biggest fan, I'll follow you around the country, Nacer, Nacer Chadli" (big fan!).
The game was targeted by the 1882 movement due to the lower ticket prices – although, what a shame that the club has raised the £20 tickets to £25 for this season; a 25% rise seems unnecessary and is probably what has led to lower attendances in cup games.
For the uninitiated, the movement was started by a group of fans who became dissatisfied with the atmosphere at White Hart Lane. The idea is to encourage 90 minutes of singing, regardless of what's happening on the pitch; sing for the shirt. The hope is that the name '1882' will eventually become unnecessary as the movement becomes more prevalent but, as it stands, it is used to help advertise the section in which like-minded fans who want to sing should buy tickets, and to spread the word.
Due to block 34 selling out quickly, I'm not convinced that all of those in the block knew about the movement, but most seemed to join in and created an enjoyable atmosphere. Unfortunately there were a few morons who started the type of hackneyed, homophobic songs that Brighton fans must find tedious and cringeworthy – in a large group of people not all of them are going to be sensible.
I left the ground feeling generally positive, which is strange considering the disappointing defeat just days earlier. Pochettino has us going along pretty well in the cups, and there have been signs of a growing understanding of the system. One thing that worries me is that he doesn't always seem to select his team on merit, and the omission of Kane from the team against Newcastle seems to back this up. My preferred line-up for Villa would be:
Lloris
Naughton Fazio Vertonghen Rose
Stambouli Mason
Lamela Kane Eriksen
Soldado
A number of these players pick themselves, but to justify those that perhaps don't:
Fazio – I don't think there's a great deal to choose between Kaboul, Fazio, and Dier at centre-back right now, but Kaboul needs to play like he did against Arsenal more often than not to keep his place, and he's simply not doing that. Fazio looks very, very good in the air, but not so good on the ground. For the time being, though, he deserves to step in, and against Benteke his height and strength might be useful.
Stambouli – I was impressed, as mentioned above, by Stambouli's performance, and at a time when Capoue is having a very obvious dip in form, it might be time to give Stambouli a chance in the league. One concern would be whether a Mason/Stambouli combination has enough strength, but the added tenacity and mobility should compensate.
Kane – Whilst Chadli has scored well, Kane's productivity surely cannot be ignored in the league any longer. Kane has – on average – scored or created a goal every 69.7 minutes so far in all competitions. Chadli has mananaged a goal or assist every 138.4 minutes (Lamela – 101.3, Soldado – 127.8, Mason – 182.5). The key for me, though, is that Kane impacts a game more than Chadli even when he's *not* scoring.
Soldado – Whilst he still looked uncertain in front of goal, Soldado had a promising game against Brighton and showed good appreciation of his teammates, particularly in linking up with Lamela for the opener. With Adebayor having had more bad games than good so far, it seems to make sense to give Soldado a run.
With a run of winnable games ahead – Villa (A), Asteras Tripolis (A), Stoke (H), Hull (A), Partizan Belgrade (H) – this will hopefully be an opportunity for the team to build confidence and cohesion. COYS!
October 25, 2014
Tom Glover (16)
Chris Paul (17) Anton Walkes (17) Christian Maghoma (16) Joe Muscatt (16)
Joe Pritchard (18) (c) Luke Amos (17)
Kyle Walker-Peters (17) Cy Goddard (17) Anthony Georgiou (17)
Shayon Harrison (17)
Subs:
Zenon Stylianides (16) for Chris Paul, 54.
Tashan Oakley-Boothe (15?) for Anthony Georgiou, 78.
Aramide Oteh (15?) for Joe Pritchard, 78.
Unused sub:
Alfie Whiteman (16)
Spurs were missing Ismail Azzaoui (Belgium international duty), Ryan Loft (who was playing in the ongoing U17 tournament which we won*), Cameron Carter-Vickers who I suspect will be playing for the U21s on Monday, as well as recent substitute, Marcus Edwards, as the 15-year old was away playing for the England U17s (they won 4-1 against Cyprus and he bagged a goal and an assist).
The starting eleven had a familiar feel, though, even if the substitutes bench housed some new names. Aramide (spelt "Aremide" on the team sheet so apologies if I've got this wrong!) Oteh and Tashan "Tash" Oakley-Boothe (who is supposedly one of the brightest prospects in our Academy) played in an U14 tournament last January so this was a big step up for both and an encouraging sign.
The formation was sometimes 4-1-4-1 (with Amos the deepest midfielder), sometimes 4-2-3-1 (with Goddard as the 10), and sometimes 4-3-3. It's also worth nothing that in the dugout for Spurs – amongst others – was part-time coach, Ledley King.
There was a minute's silence prior to kick off for Club Historian, Andy Porter, a regular attender of youth matches, who sadly passed away in the week aged just 54. For more information about Andy and his terrific work for the club, please see the obituary on the official site.
It was a fast, open start with Spurs exhibiting pace in key areas. Anthony Georgiou expressed his intentions early with a powerful run down the left. He did well to get a cross in but when it was headed out to Pritchard, he volleyed well over the bar.
A Reading free-kick to the left of the penalty box was taken short which gave Pritchard an opportunity to charge it down in typically fearless style, and the follow-up was blocked by Walkes.
Spurs took the lead on 10 minutes. Walker-Peters won a corner and Georgiou's kick looked harmless until Cy Goddard got a foot to a misdirected Walkes volley and looped the ball over the goalkeeper, landing it perfectly in the far corner.
Soon after, Tom Glover was grateful to Luke Amos, who cleared off the line after the goalkeeper's fumble in the box as the game became increasingly open.
Joe Muscatt beat his man with a clever piece of skill and found Pritchard with an intelligent cut-back. When Pritchard's low shot was blocked, Muscatt did well to track back and immediately regain possession.
Georgiou teed up Goddard after another positive burst but his weak shot drifted wide.
Harrison had his first glimpse of goal when he was found by Georgiou and hit a firm shot on the turn – it was easily blocked on this occasion but he doubled the lead minutes later.
Chris Paul made a positive charge from right-back and fired in a low cross, Harrison darted across his man and finished deftly over the goalkeeper at the near post for 2-0.
Reading's number 7, Conor Davis, was proving a tricky customer, and he beat two men on the left but, as he cut inside, he curled his shot straight at Glover.
Georgiou stood a ball up into the box but Goddard couldn't quite meet the ball cleanly as he arrived on the penalty spot, and he sliced it wide.
Harrison made a clever dart in behind and was found by a fabulous Pritchard long ball, but his attempted lob was partially blocked and then collected by the goalkeeper.
Conor Davis beat Paul again and, when he was hauled down, the referee decided to call Paul over for a final warning.
Paul nearly had more luck at the other end when he was picked out by Harrison, but he struck his first-time strike into the ground and off a defender and it ran to safety for Reading.
Walkes won the ball well and found Georgiou, who beat his man and saw his cross blocked, only for the referee to give a goal kick – Georgiou let the referee know that he was not best pleased with the decision.
Goddard nearly made it three just before half-time when the ball broke to him in the box and his left-footed attempt went just wide.
Early in the second half Reading's left-back, Jake Sheppard, got the better of Chris Paul and put in a threatening cross which fortunately (for us) fell just ahead of the forward.
Spurs had a clear opening five minutes into the half when the ball broke kindly for Kyle Walker-Peters to run at two retreating defenders. He carried the ball most of the length of the pitch but, with Georgiou screaming for the ball at the far post, he couldn't avoid the two men between him and his teammate, and his attempted pass was easily cut out.
Reading went straight down the other end and Maghoma was called upon to do some sterling defensive work – he went to ground in the box, winning the ball cleanly and able to bring it clear, winning a free kick in the process.
It should have been 3-0 and job done for Spurs When Walker-Peters delivered a fine cross from the right and Pritchard arrived right on cue, unmarked, but managed to plant his header well over the bar.
Chris Paul eventually went into the book for a late challenge and was withdrawn three minutes later, Zenon Stylianides coming on with Walker-Peters dropping to right-back and Pritchard moving to the right side of the attack.
Walkes lost his man in the box to offer a Reading sub, Harry Cardwell, a good chance, but he headed straight at a relieved Glover.
Pritchard nearly forced a mistake from the Reading keeper when he pressed deep into the penalty area, but Lewis Ward just enough to avoid embarrassment.
There was a bit of upset when the linesman flagged offside directly from a goal kick (Kieran McKenna told the referee he was "embarrassing himself") – in fairness, the referee had a chat with his linesman and ordered a re-take of the kick with minimal fuss.
Spurs brought on their two young debutants, with Oteh going wide right and Oakley-Boothe left, Pritchard and Georgiou the two players withdrawn. Oteh's first action was to drive forward and win a free-kick – an encouraging start.
Spurs' centre-back pairing had been unflappable until Maghoma under-hit a square pass to Walkes, and Walkes pulled at the forward's shoulder as he went to shoot. He got the shot away (which Glover saved) but it didn't stop the referee awarding a penalty and showing Walkes a yellow card (which might have been red).
Glover got two firm hands to Novakovich's penalty and kept it out impressively, but the striker did get a goal minutes later, when he was played in on a sharp counter and impressively found the far corner with a precise low finish.
Tom Glover 7 – cracking penalty save and, although he fumbled a few balls, I like his pro-active approach to goalkeeping.
Chris Paul 4 – not his day today, but I'm sure there are many better performances to come.
Anton Walkes 6 – the benefit of a midfielder playing at the back is the added ability to bring the ball out. Walkes did this well throughout and, aside from missing a few headers, and the penalty incident, he had a decent game.
Christian Maghoma 8 – that one poorly-weighted pass aside, he was excellent.
Joe Muscatt 7 – considering he's a right-footed left-back who only started playing the role recently, he is coming along nicely. Showed a willingness to use his left foot and that keeps defenders guessing.
Joe Pritchard 6 – as ever, a whole-hearted display which lacked subtlety.
Luke Amos 7 – right place, right time. Enough said.
Kyle Walker-Peters 6 – not his best performance, but his obvious threat attracts defenders, leaving space for others.
Cy Goddard 7 – one of the best performances I've seen from him. Intelligent use of the ball, plenty of craft, and grabbed a goal too.
Anthony Georgiou 7 – direct, quick, and a constant thorn in the side for Reading.
Shayon Harrison 6 – took his goal beautifully but he left me wanting more.
Subs:
Zenon Stylianides – a very assured player in midfield who seems to be good at all the basics, which bodes well.
Tashan Oakley-Boothe – he barely saw the ball so it's impossible to judge him on this, but he's a player who is very highly rated and it was very interesting to see him make the bench today.
Aramide Oteh – as above; the few times he saw the ball he made it count with useful and confident runs forward.
*As mentioned above, in the Premier League's U17 International Tournament played over the last two days, we drew 2-2 with Crystal Palace and beat Juventus 2-1 to finish top of our group. In the other group, Leicester beat Arsenal 3-0 and drew 1-1 with Real Madrid. Today we beat Leicester 3-0 in the final.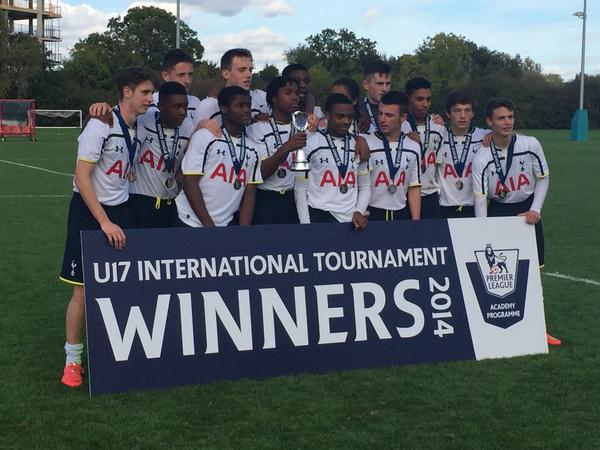 Edit: After some detective work, I think the players are: ???, Jaden Brown, Ryan Loft, David Ajiboye, Charlie Owens, Kaziah Sterling, Japhet Tanganga, Armani Daly, Keanen Bennetts, Tom McDermott, Charlie Hayford, ??, ??, Nick Tsaroulla.
George Marsh and Dylan Duncan are two of the players I'm unsure of.
October 16, 2014
Grant Ward has now been on loan at MLS side Chicago Fire since May, and the 19-year old has played 639 minutes – although recently most of his time on the pitch has been as a late substitute. He has mostly played on the right of midfield, despite being used mainly as a right-back for our Under-18 team. Comments on their fan forums range from "has shown some promise" to "good value, flashes in preseason but nothing special".
Lewis Holtby's move to Hamburger SV has seen him – so far – make five starts, play 445 minutes and get one assist. He is playing in a poor side who are second from bottom in the Bundesliga and has operated as an attacking midfielder. It looks likely that this move will be made permanent at the end of the season if not before.
Tom Carroll has not yet broken into Swansea City's first team, playing just six minutes of Premier League football. However, he's started both League Cup matches and impressed their fans.
Ryan Fredericks has started three Championship matches as well as playing 120 minutes against Liverpool in the League Cup since joining Middlesbrough. Teammate George Friend was very complimentary of Fredericks in an interview with the Northern Echo recently, saying:
"I wouldn't swap our squad for anyone else's in the league. Both in terms of quality and depth. We've had injuries and suspensions, but people have come in and been every bit as good.

A perfect example is Ryan Fredericks coming in – the lads and fans have loved him for obvious reasons. He's stepped in for Damia [Abella], who is a massive loss, but Ryan has done brilliantly since he's come in. We've got options everywhere."
On searching some Middlesbrough forums I've found plenty of positives on Fredericks, such as "Fredericks has looked the real deal" and "Fredericks and Kike in particular [of the new signings] have been great."
Fredericks has been joined this week by Milos Veljkovic, who has joined on a three-month loan deal. Veljkovic is equally comfortable at centre-back and defensive midfield. Boro fan @Drakey31 says that as Leadbitter is undroppable, Veljkovic will have to get past Clayton and Whitehead to get into the team in midfield. He suggests that the chances of Milos breaking through at centre-back are slim, with Omerou, Ayala, Woodgate, Gibson, Williams and Friend to get past.
Grant Hall started the first eight matches of the season for Birmingham City, but since getting injured (he went off at half-time against Leeds with a groin strain), he has not been able to get back into the side. The majority of Birmingham fans on their forums seem relatively impressed and want him brought back into their team at the expense of Paul Robinson.
Alex Pritchard has started ten out of Brentford's eleven Championship matches since joining on the summer on a season-long loan – he was rested in the other, but came on as a substitute. Such is his importance to the team, he was also rested in their League Cup matches. He so far has two goals and an assist to his name in 845 minutes but has been accused by some of 'going missing' at times.
Kenny McEvoy has made three starts and three substitute appearances for Peterborough in all competitions, scoring once. The opinions on theposhforum.co.uk are not exactly glowing, with one poster writing that he 'really needs to go back to Tottenham, he may look like Bale but is not fit to tie his boots' – the same poster gave him 3/10 for his performance against Yeovil. The Peterborough Chairman, however, is expecting big things:
@MarcSpurs @kennethMcevoy Doing well, starting to find his feet in FL & will be tearing teams apart me thinks!

— Darragh MacAnthony (@DMAC102) October 11, 2014
Shaq Coulthirst has started twelve times and come off the bench twice in all competitions for Southend United, who are in League Two. Playing mostly on the left, but sometimes up front, he has managed two goals in 961 minutes of football so far.
Jordan Archer initially struggled to break into League Two side Northampton Town's first team, but has now made eight consecutive starts. Having read a Northampton Town forum, it seems that Archer is slowly winning fans over after a less than impressive start there. Although that could be Cobblers.
Tomislav Gomelt has made the bench five times for Serie B side Bari, but has yet to make an appearance. Incidentally, Soli Coulibaly who joined Bari permanently in the summer has been sent on loan to third tier side Pistoiese on loan.