June 24, 2013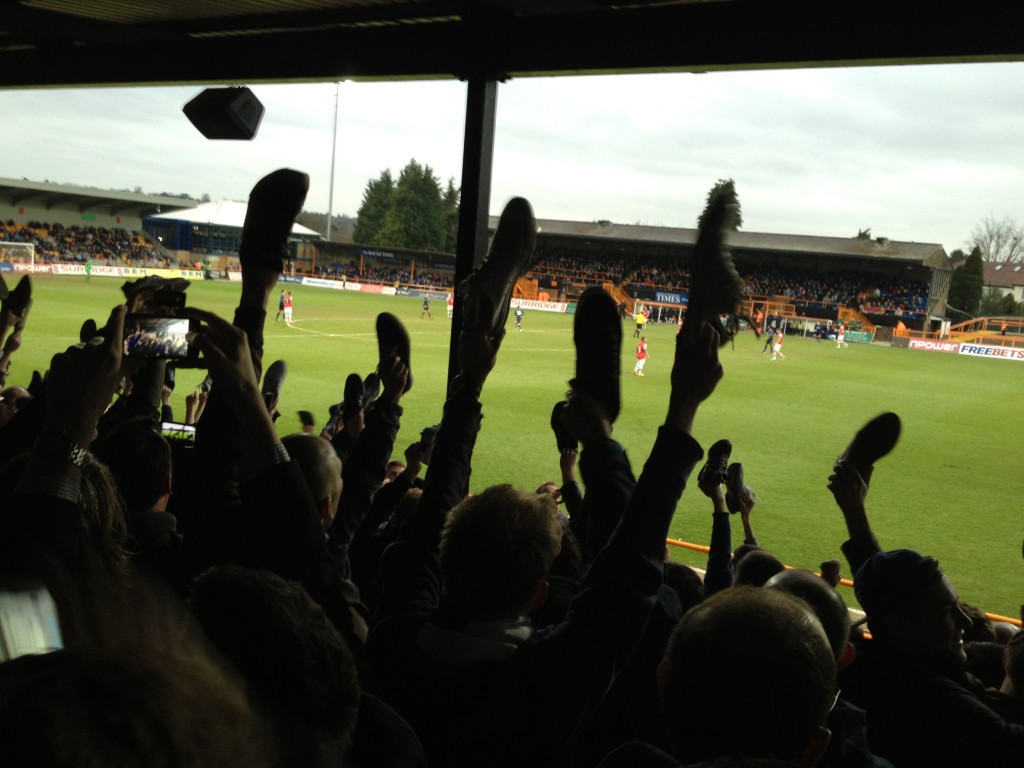 I looked around me and saw elderly gentlemen and school children alike taking their shoes off and waving them in the air whilst singing "shoes off if you love Tottenham".
This was the first experience of an away match for some. No doubt it was the first experience of a football match full stop for some of the children present – and what a memorable experience it was.
On April 22nd 2013, Tottenham Hotspur's under-21 team played North London neighbours, Arsenal, at their home ground of Underhill. Whilst the Barclays U21 Premier League has attracted a fair amount of attention throughout the season, crowds for these type of "reserve" matches – even when local rivals meet – have historically been notoriously small. However, the 1882 movement ensured that this was not the case, and the majority of the 2,394 supporters were in the away end.
The Fighting Cock podcast started the 1882 movement with a flash-mob style event on 16 February 2012 as Tottenham's youth side took on Charlton at the Valley in the 5th round of the FA Youth Cup. The aim? Unconditional support: to collectively sing for the entire game, harking back to days before the Premier League "when how loud you sang and how passionate you became wasn't dependent on how well Tottenham were playing" (words from The Fighting Cock website).
The Charlton event was a roaring success, as a 200-strong group of fans sang loudly and proudly throughout and, whilst the team did not win, the young players appreciated the efforts and came over to applaud the group after the game.
Since then, 1882 has been present at the home games against Maribor and Panathanaikos in the Europa League, Coventry in the FA Cup, and Barcelona in the NextGen Series.
Underhill was something special, though, and proved that the movement can be effective with greater numbers; 1500+ Spurs fans singing, bantering, and hopping their way through the 90 minutes.
Such were the high jinx, that many were filming, and taking photos – some of which were used in the press the following day. I took the above photo on my iPhone, and I think it captures the atmosphere brilliantly.
The joy of being part of a large group of Tottenham Hotspur fans pulling in the same direction, all wanting the same thing is, in many ways, an antidote to the sense of entitlement felt at White Hart Lane across the past few seasons. 1882 allows you to forget the stresses and strains of daily life for 90 minutes, and enjoy being a football supporter for what it is – a tribal experience of togetherness and, most importantly, fun.
——————————————-
This article was part-inspired by the blind marathon runner, Simon Wheatcroft who – remarkably – uses his smart phone to help him run. The video below is most certainly worth a few moments of your time.
Carphone Warehouse, who commissioned this article, are offering some great prizes for people willing to submit a photo or video of an amazing personal achievement. This could be anything from overcoming a fear, a sporting achievement, something musical, or something totally different. So long as it's your achievement, they want to hear about it: http://bit.ly/11iDTTx.
Look out for a give-away on my Twitter timeline later on.
June 21, 2013
Ryan Mason caught the eye of many a watcher as an apprentice – prolific as he was in an impressive youth career. Playing mostly as a number 10 (second striker), he formed a lethal partnership with Jon Obika at U18 level for Spurs, and scored 29 goals in 31 appearances in the 2008/9 season. This led to him signing a pro cotract in June 2008.
The hype was there: Darren Bent was asked in a mainstream press interview who the best prospect he'd seen at Spurs was – he answered 'Mason'. Sally Williams, a Telegraph journalist, wrote in her 2009 article that Spurs were keen for her to meet Mason, with John McDermott speaking highly about his 'mono vision', and saying 'He's incredibly dedicated, verging on obsessed.' And, of course, he made his professional debut as an 18 year old in the UEFA Cup – coming off the bench against NEC Nijmegen. Involvement in the England U19 and U20 set-ups showed that he wasn't just rated within the club.
A move to League One Yeovil seemed the ideal way to toughen him up, and it was interesting that he often played in the central midfield battleground. His impressive first season on loan led to involvement in Spurs' pre-season the following summer, and I for one was hopeful of him being around the first team squad. Instead, he was sent back out on loan. His progression continued, however, as he moved to Championship club Doncaster Rovers, where he made five starts and ten substitute appearances in an injury-hit spell. Doncaster took him back for the following season, but injury struck again and restricted him to just five appearances. He regained fitness and joined Millwall for the end of the season, making four starts and two substitute appearances.
When André Villas-Boas took over at Spurs, much was made on a new focus on youth; I felt hopeful that Mason would be one of those close to the squad. I thought I had my wish in September, when Mason first came off the bench against Lazio in the Europa League, and then played nearly 70 minutes against Carlisle in the League Cup. Thereafter, however, we only saw glimpses – an unused sub in one game, and an 85th minute cameo against NK Maribor.
However, slightly under the radar, Ryan had established himself as one of the integral players for Spurs' Under-21s, playing consistently well in a central midfield berth in the Under-21 Premier League.Then came the transfer window. Lorient. Ligue Une. Well-connected journalists emphasised that the club wanted Mason to go to a "technical" league (rather than, say, the Championship) which should have, in theory, suited his style perfectly.
Mason essentially confirmed as much, giving some insight into the move in an interview with the Standard's Tom Collomosse in February: "Ligue 1 seems similar to the Premier League in its pace and physical style, and you have a whole week to prepare for games. I doubt I'll be able to go home before the end of the season so I'm out of my comfort zone but, hopefully, I will be able to progress."
He went on, "I don't think I've made as many appearances for Spurs as I should, or maybe I've deserved," he admitted. "By the age of 21, I definitely expected to have made more than four. The club thought it would be more beneficial for me to move abroad because we thought it might suit my style of play better. When the offer from Lorient came in, I said I wanted the move to happen. Within an hour of landing, I was training."
He finally went on to say, "Andre Villas-Boas wished me luck and told me to get good experience. It's hard to break into the Spurs team because there are so many talented young players around. But next year is the year I want to break through."
Months later, and after being named on the bench just once and playing four minutes for Lorient II, Mason's frustration were clear from his Twitter timeline alone. A rumour did the rounds that it was in fact Lorient's chairman that had arranged the transfer – potentially without the manager's agreement. The use (or lack of use) of Ryan implied that the rumour may have had some substance to it. In April, he returned to White Hart Lane.
A talented and committed player with excellent technical attributes, Ryan is someone who should have seen a lot more playing time than he has at the ripe old age of 22. I look at someone like James McCarthy at Wigan and wonder whether Ryan would be playing at a similar level had he had the same opportunities.
Sometimes just being in the right place at the right time is crucial; perhaps next year will be the year that Ryan Mason finally makes the breakthrough, be it for Spurs or otherwise.