March 10, 2015
I'm getting asked a few times a week (normally when the U21s are about to play!) where DeAdre Yedlin is, so I thought I'd post this so I've got something to refer to when I'm telling people I don't know where he is!
DeAndre made his debut for Spurs U21s in the 3-1 win against West Ham on 9th January. He played an hour at right-back in that match.
After the match Ugo Ehiogu said: "I thought it was quite tough for him today… the wind… he won't be used to that. The pitch, although it looks flat, is quite bobbly and it took him a little while to come to terms with that. No injuries; I always say that on my watch. We got him through 60 minutes. Definitely stuff to work on but pleased he's had a little taste. We're going to have to give him a reasonable period of time to settle in and get used to everything and then you'll see the real reason why the club signed him."
Here's the interview. He didn't exactly sound enthused with the performance, but he also acknowledged that it'll take time for him to adjust.
On 25th January, DeAndre went back to the US for friendlies against Chile and Panama (match against Panama was in California on Sunday, February 8). Details.
He picked up an injury – do check out that Reddit thread as it includes an excellent report on him in the thread by agentdcf.
Spurs said: "DeAndre started the game at right-back, but was forced off through injury 18 minutes from time." They didn't give any further detail.
In terms of U21 football, he missed the 0-0 vs Leicester on 26th January as he was away on international duty. He was presumably back in time for the following two matches – the 0-0 draw with Southampton on the 23rd February and the 4-0 win against Everton on the 2nd March.
We play Manchester United U21s tonight and Yedlin is not in the squad for the match.
It is assumed that he is considered part of the first team squad, and so would not be included in Under-21 matches.
March 5, 2015
Tom Glover (17)
Kyle Walker-Peters (17) Cameron Carter-Vickers (17) Christian Maghoma (17) Anton Walkes (18)
Charlie Owens (17) Luke Amos (18)
Zenon Stylianides (17) Josh Onomah (c) (17) Ismail Azzaoui (17)
Shayon Harrison (17)
Kazaiah Sterling (16) for Charlie Owens.
Marcus Edwards (16) for Ismail Azzaoui.
Joe Muscatt (17)
Alfie Whiteman (16)
Armani Daly (17)
I was unable to attend this match, but fortunately ITV4 broadcast the tie.
Spurs were without goalkeeper Harry Voss as well as winger Anthony Georgiou (who was missing through injury) and had to make changes to the line-up from the previous round.
Australian Tom Glover started in goal and Charlie Owens came into the centre of midfield after a string of good performances. Zenon Stylianides played on the right, with Josh Onomah behind Shayon Harrison.
Spurs kicked off and immediately Luke Amos got Kyle Walker-Peters free down the right, but Chelsea's left back did well to get himself between man and ball and draw the foul.
Charlie Owens picked out Shayon Harrison for the first chance, but his low effort was straight at the goalkeeper, Collins, who saved at the expense of a corner.
At the other end, Tom Glover came out to sweep up as Solanke ran in behind. Solanke was the 2014 England Youth Player of the Year.
Chelsea wanted a penalty when Musonda drove forward and his attempted pass hit Walker-Peters' arm, but the referee waved away protests. Maghoma then put an end to a Brown run with a strong challenge.
Azzaoui briefly switched over to the right and beat his man easily, before overhitting his cross significantly!
Some expert pressing from Spurs led to Chelsea struggling to play out from the back early on, with Maghoma and Carter-Vickers mopping up long balls well.
Onomah led a charge forward and fed Walkes, but his cross was easily blocked, and Owens was forced to concede a free-kick as Chelsea looked to counter.
"Get in the game, Josh", McKenna instructed Onomah, as the game went a bit 'cat and mouse' as both teams played conservatively during a quiet spell.
Owens went down clutching his ankle, hurting himself in trying to tackle Musonda, who was too quick. He limped off to the touchline gingerly but was soon back on.
Tomori put in a bone-shaking challenge on Onomah, winning the ball but upsetting Josh who gave away a foul in trying to win it back.
Solanke cut in from the left but scuffed his shot well wide, before Dasilva was next to put in a tough challenge, going to ground and winning the ball from Harrison.
Walkes defended well when up against the talented Abraham, not letting him past when cutting in from the right.
Aina darted down Chelsea's right and whipped across a fine cross which Abraham couldn't get to on the stretch.
Azzaoui picked out Walker-Peters with a lovely low pass. He charged down the right and fed in a cross, but it was cleared relatively easily, with Harrison then unable to get on the end of an Amos ball.
Spurs went 1-0 up on 40 minutes. Onomah lost possession but won it back when a clearance ricocheted kindly into his path. He took a couple of strides forward and powered a low shot which crept under the Chelsea goalkeeper, Collins, who was clearly at fault.
Walker-Peters made a superb saving challenge on 44 minutes – the ball bobbled through to Solanke, but Walker-Peters came round on the cover to rescue Spurs.
Chelsea switched to a back four at the start of the second half, and immediately got on the front foot as a cross was cleared by Walkes straight onto Solanke but wide.
Azzaoui got into a great position on the left channel after a Stylianides pass, but he attempted a difficult ball to Harrison and it was intercepted.
Carter-Vickers did brilliantly to force Solanke wide after he'd beaten Mahoma, and when Solanke passed back to Brown, we got bodies around him.
On 55 minutes, Chelsea replaced Kyle Scott with Kasey Palmer. Spurs responded by replacing Owens with Kazaiah Sterling on 57 minutes. Sterling is still an Under-16 and had been at school today. He went up top with Harrison moving to the right. Stylianides dropped into midfield.
Almost immediately after the substitution, Glover saved well from a Solanke snapshot after Brown crossed well. The ball came back off Carter-Vickers before Glover pounced on it again. In crossing the ball, Brown was propelled over the advertising hoardings and took a nasty tumble. It wasn't long before Brown limped off, replaced by Boga.
Onomah won a free kick on the left which was taken by Stylianides. His kick was nicely shaped into the near post, but Palmer got to it before Sterling, heading it up on the air, before Maghoma put the second ball well wide.
There was a big penalty appeal for Spurs, as Sterling was sent tumbling having been set through by a lovely scooped pass by Onomah.
Marcus Edwards replaced Ismail Azaoui on 74 minutes. He headed to the right with Harrison moving back to the centre and Sterling went out to the left.
Luke Amos picked up a yellow card for a late tackle on Kasey Palmer and hurt himself in the process.
Sterling and Edwards linked well to set Walker-Peters through on the right, but his cross was a little behind the intended target, Harrison, and two Chelsea defenders got in the way.
Spurs had another opportunity to break, but Edwards took a few touches too many and was dispossessed easily this time.
With ten minutes to go Carter-Vickers and then Glover defended superbly as Dasilva put in a couple of cross-shots, as Chelsea started to turn the screw. Glover's low reflex save was impressive given how little he had had to do throughout the match.
Luke Amos showed fine composure once again in the middle of the pitch as Spurs tried to bring an element of calm back into the game.
Onomah found Harrison with a fine first time pass. He held onto the ball and intelligently won a free kick which was taken quickly. Edwards tried to work a yard in the box but was crowded out.
Walker-Peters put in a fantastic cross towards Sterling which was well defended by Aina in the six-yard box. That came after a lovely run and pass from Harrison.
Spurs made it 2-0 when Walkes dispossessed his man in midfield, the loose ball fell to Harrison who strode forward and timed his pass to Sterling who finished superbly with the outside of his right foot.
Then, Stylianides' free-kick should have been cleared at the near post, but Colkett awkwardly hacked it behind for a corner, which Colkett cleared.
Carter-Vickers made a fine clearing header as Chelsea threatened on the counter, before Stylianides showed a burst of pace in midfield to win a free kick.
For Chelsea's last clear cut chance, Boga ghosted into the box but kicked thin air as Carter-Vickers slid in.
Glover was glad to grasp a bouncing ball after he made a mess of his punch from a long throw-in, and it was all over minutes later – the whistle going as Harrison looked to break through having held the ball up well.
Glover 7 – didn't have a great deal to do, and made a good reflex stop late on.
Walker-Peters 9 – a fantastic attacking first half performance and a solid defensive performance in the second. I say it all the time, but his balance is phenomenal.
Maghoma 7 – very solid performance from Christian, who also used the ball sensibly.
Carter-Vickers 9 – utterly dominant display with some fantastic positioning and also plenty of bravery.
Walkes 7 – did superbly for the second goal and was resolute throughout.
Amos 8 – another very tidy game in the middle of midfield. Disciplined, selfless, hard-working.
Owens 7 – some nice passing, a few tackles and got through plenty of work.
Stylianides 7 – not in his best position for some of the evening but gave a good account of himself.
Onomah 8 – after a relatively quiet first half, he came into his own in the second and showed his great close control and strength when breaking from midfield.
Azzaoui 6 – a quiet performance from one of our Youth Cup stars.
Harrison 7 – worked hard in two different roles, and timed his pass perfectly for Sterling's goal.
Sterling – took his goal wonderfully and might have had a penalty too. He had been at school all day!
Edwards – made one lovely pass on the counter and made the wrong decision on another counter moments later.
March 3, 2015
Wembley Woes or an Arch of Ambition?
As Field Marshal Pochettino sent his troops off to the front line on Sunday (apologies, I couldn't resist continuing my military analogy that I began on this week's Fighting Cock podcast!) my optimism concealed a fear that we would be up against a wounded José Mourinho who would eke out a victory in whatever manner he could. My preferred team selection was identical to the team Mauricio Pochettino opted for, and a bursting hopefulness surged through me as the players took to the pitch.
But Mourinho's vengeful cynicism was translated to his team and from early in the match they broke up play with tactical fouls – stopping moves before they had started – whilst drawing cheap free-kicks themselves from our players, waiting for the slightest contact before collapsing to the turf. Some of our players showed a fair amount of naivety and walked into this trap, giving Chelsea precisely what they wanted.
Of course, it wasn't just a cynical Chelsea performance – it was a truly commendable defensive display in a season where Premier League defending has been oft-criticised. John Terry (*spits*) was dominant, ably assisted by Gary Cahill, and Kurt Zouma did a fine job as an auxiliary midfield player. Our wide players rarely got the better of César Azpilicueta and Branislav Ivanović, and Chelsea kept us at arm's length for most of the game.
But things could have been different. Spurs dominated the first half, playing some neat football and controlling the tempo of the match. Nabil Bentaleb was at his suave best, with Ryan Mason a bundle of industry and (attempted) invention beside him. With little help from the band of players behind him, Harry Kane was forced to drop deep to try to create for himself. On one such occasion, he drove through a clutch of defenders and won a free-kick. Christian Eriksen – so vital a player for much of the season, but recently suffering from #formloss – curled a beautiful free-kick over the wall, but it left the crossbar shaking with Petr Čech seemingly beaten by the pace of the attempt.
Chelsea scored at just the right time – a scruffy goal from a Spurs perspective – and went in at the break to receive instructions on how to shut up shop. Mourinho masterminded the second half to perfection, and it was Chelsea who looked most likely to score again, looking a genuine threat on the counter. It was somewhat inevitable that they got their second but, once again, it came via a deflection, which was unfortunate for Spurs and Kyle Walker in particular.
It wasn't just Chelsea who showed defensive resilience, and I want to take a moment to praise Eric Dier who, for me, was our best player. At just 21, and in his first season in the Premier League, he put in an outstanding performance. Diego Costa is a pig of a player. All elbows and mouth, he tries to get under the skin of his opponent from early on, doing anything he can to gain an advantage. Dier was calm and dealt with him consistently well. Costa eventually got the better of us for the second goal, but he needed a big stroke of luck to do so – he'd been kept quiet for the rest of the game. This performance from Dier – with many eyes on him – should be enough to ensure that he starts at centre-back for England in the UEFA European Under-21 Championship in the Czech Republic this summer, an experience that will undoubtedly aid his development.
I left Wembley with a real sense of pride. Pride in our young team's performance, and pride in our fans too. Post-match, Pochettino was keen to point out just how young the team was. He said: "The average age for my players was 23 and a half and for many players it was their first time at Wembley. It's true that we will play a lot of finals in the next few years. I think we have a big future."
Our fans were also fantastic, and out-sung our Chelsea counterparts for most of the match. It was a genuine delight when, after the opening Chelsea goal went in, a burst of 'Everywhere we go…' started up in my block.
Tuscan Travails
My trip to Florence was an experience. Florence is a beautiful city, with beautiful food and, fortunately for us, beautiful weather, particularly on the Friday. But, despite good backing for our team in a tough match, it didn't click on the pitch, and not all of the players' efforts matched up to those of our supporters.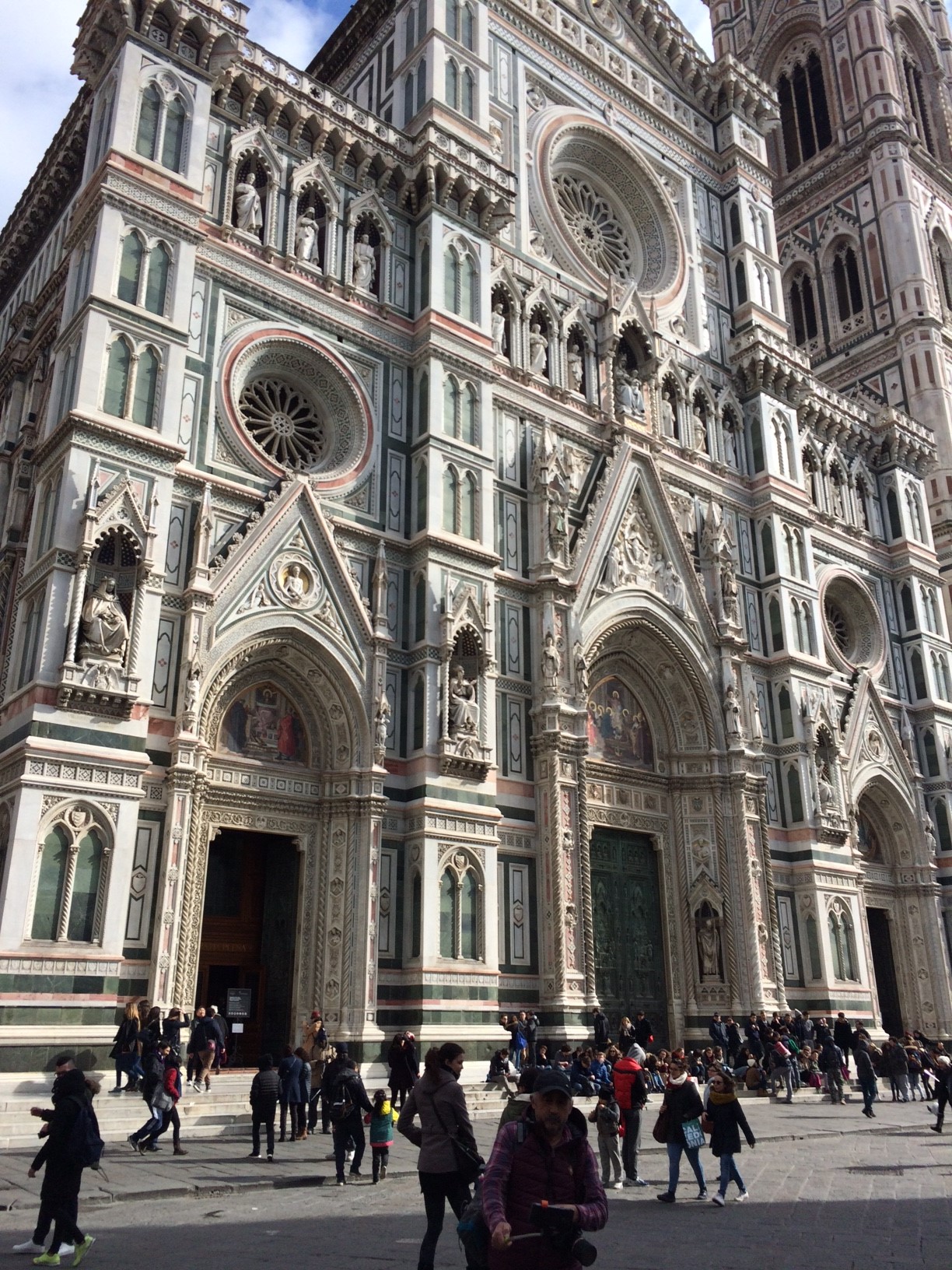 On arriving in Florence, it would have been rude not to order pizza for lunch. I went for the 'Fiorentina', which the waiter found amusing. After a couple of beers and a quick stop at our B&B, we headed off to the stadium.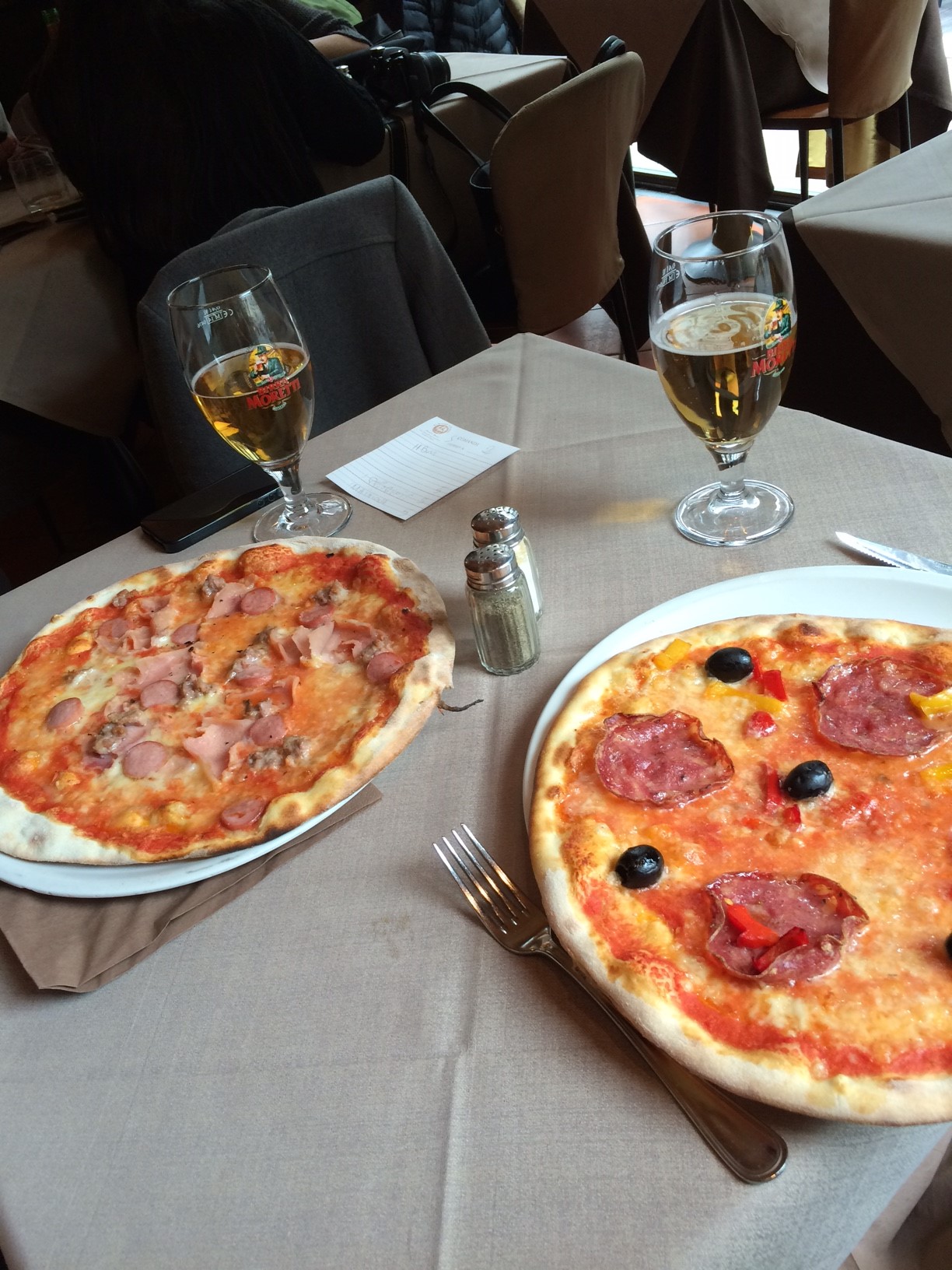 Pre-match, my friend and I had agreed to record interviews for Spurs TV (23:10 here), meaning that we were at the Stadio Artemio Franchi for 16:45, over two hours prior to kick off.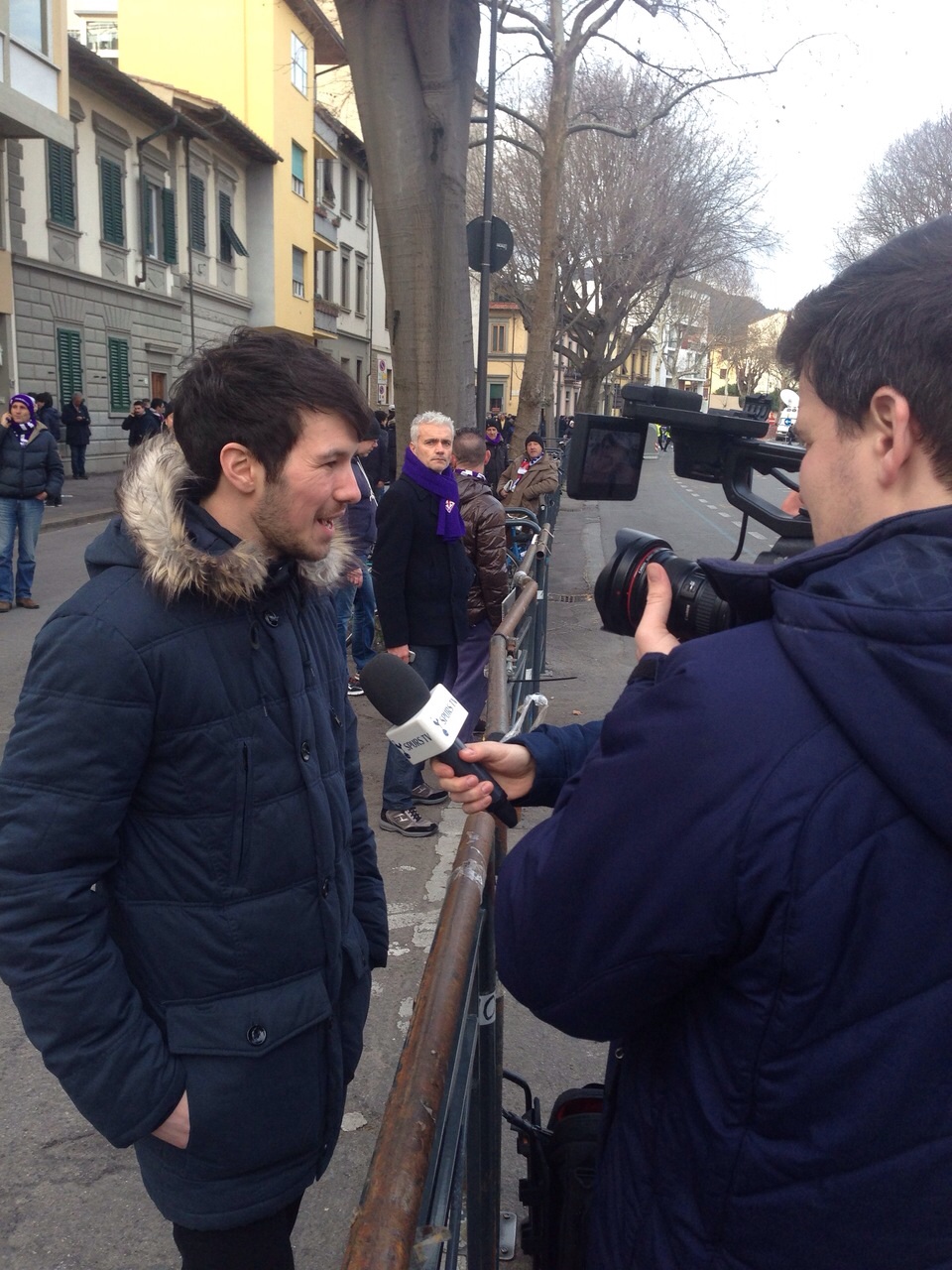 After the interview was finished, we began walking around to where we presumed we could enter the ground. We drew plenty of stares from Fiorentina fans, so we kept our mouths shut and hid our colours. As we approached the last block before a dividing fence, we realised that we were probably going to have to walk all the way back around the stadium – a steward confirmed as much. But after thirty minutes of walking back on ourselves, we met a bunch of Spurs fans walking towards us saying that there was no obvious way in around the other side either. We continued regardless and eventually came to a row of police officers, blocking off an entrance-way. We flashed our tickets, and walked through. Already the police vans were arriving behind them.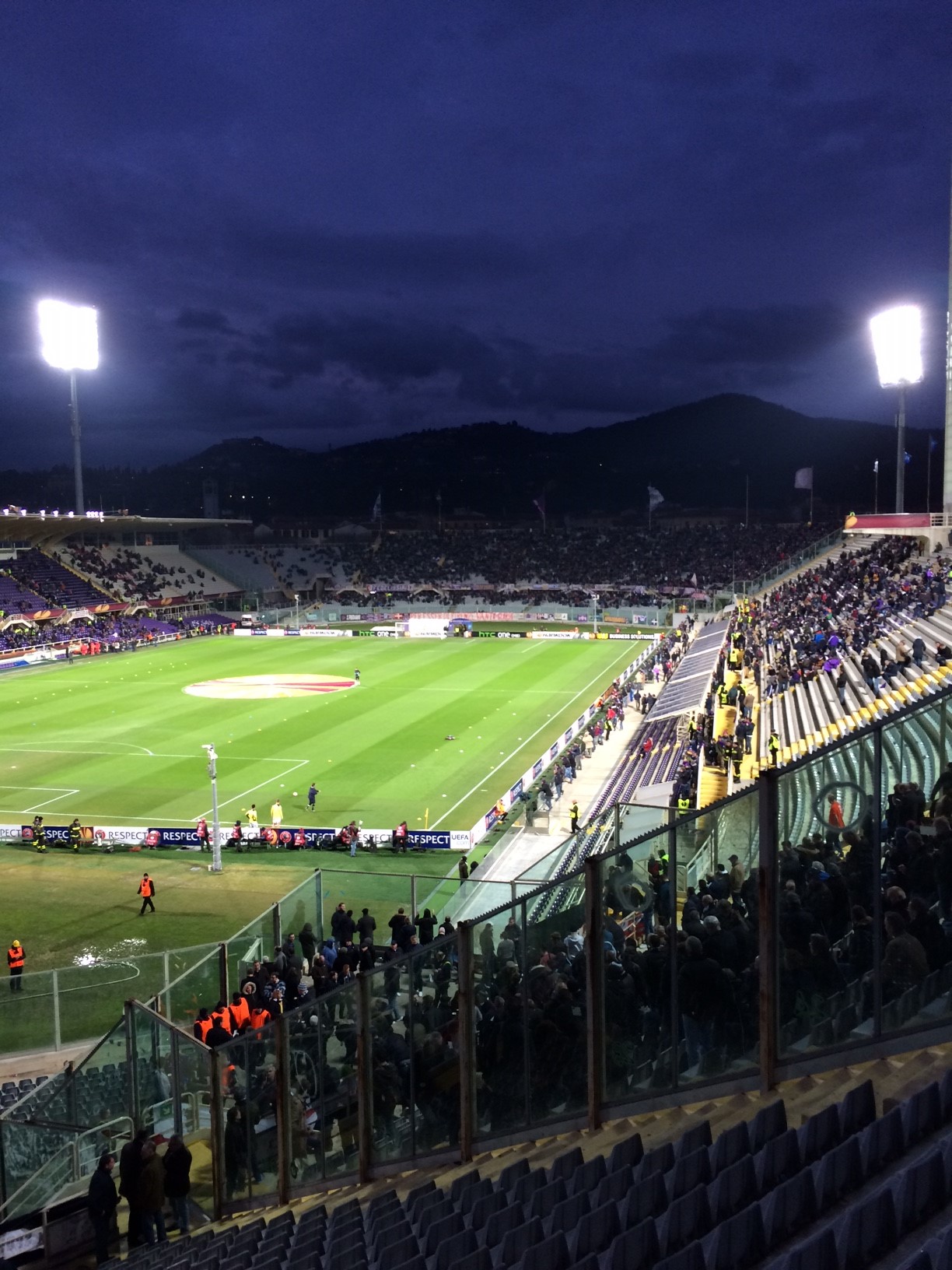 We passed through two layers of security, and received two very thorough security checks (!) and entered the stadium. The first impression was that it was basic. The toilets were underground and pretty disgusting. There was no roof on our stand, and it felt "industrial". Spurs had two sections, but there was a large sheet of Perspex between us, meaning that the atmosphere suffered throughout. We were so high in the stand that the strong wind became a factor, and we were freezing after a few minutes of being there. A small group of our fans stood on a concrete area to the front of the right-hand section and were noisy throughout, some not even stopping to look at the game! Unfortunately, because they were so far below us, the noise didn't always carry and so the atmosphere felt sporadic and diluted.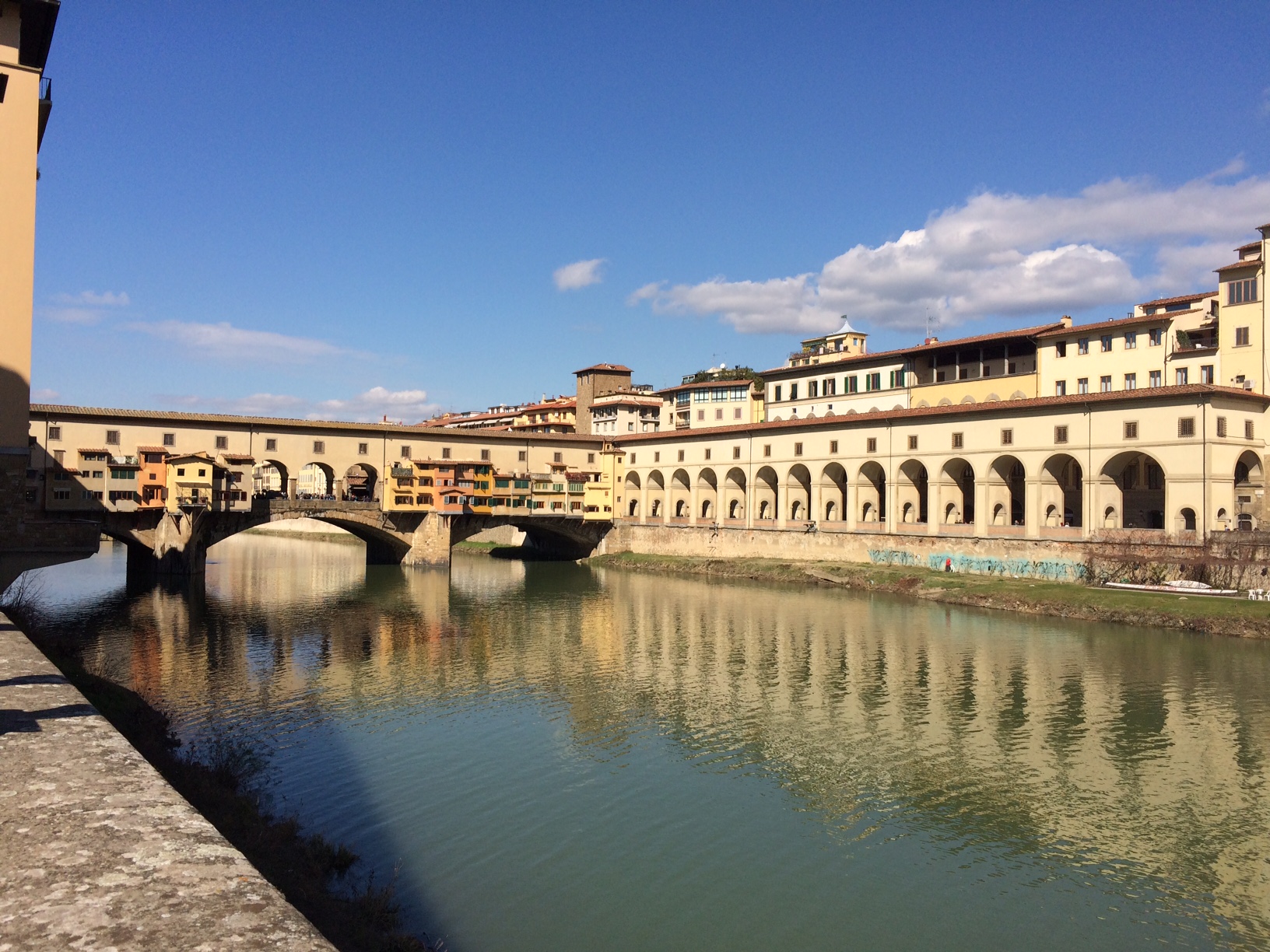 The game itself was a crushing disappointment. I could understand the team selection, but would personally have played Harry Kane for the first sixty minutes. In spite of that, it felt like we were in control until Fazio's sloppy pass led to the opener. Whilst this changed little in terms of what we needed to do in the match – we always needed to score at least once – it gave Fiorentina heart, and seemed to make us more desperate; we lost the sense of calm that we'd had prior to the goal.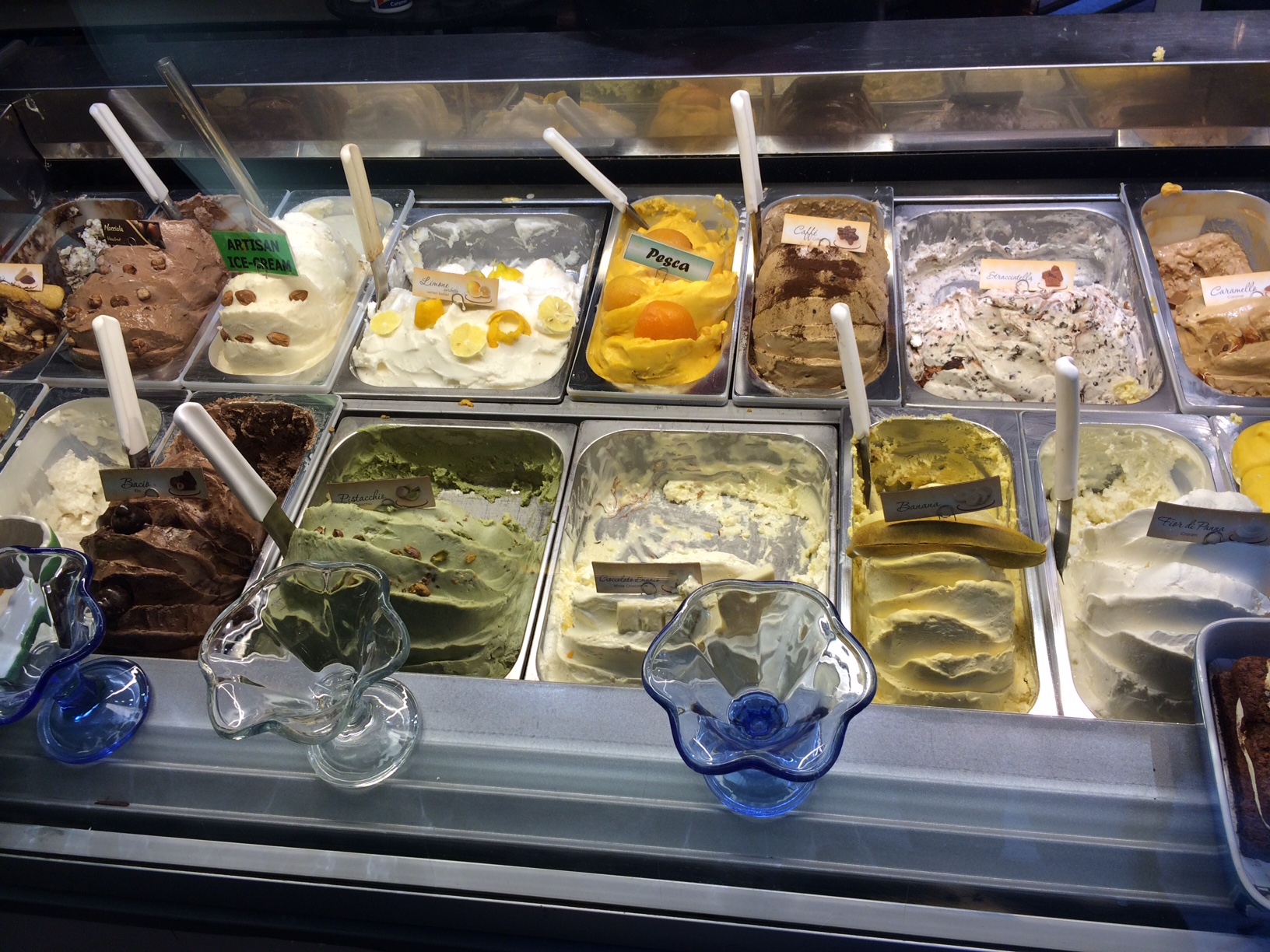 Benji Stambouli and Ben Davies had good first halves, but rustiness and a lack of sharpness showed in the second, and Davies in particular had a tough time up against Mohamed Salah, who had switched sides. Eriksen had some flashes of good play, but was dispossessed five times – he was hindered by not having Kane to dovetail with. Roberto Soldado cut a troubled figure. The missed opportunity – where he tried to find Nacer Chadli – was obviously a huge error, but it was his lack of movement and effort that was particularly striking. Or not striking, that was the issue. He lacked desire and played like a man whose mind was elsewhere.
In the end we made it easy for Fiorentina to beat us – a real shame, especially since they'd changed shape at half-time in the first leg to make it difficult for us to beat them.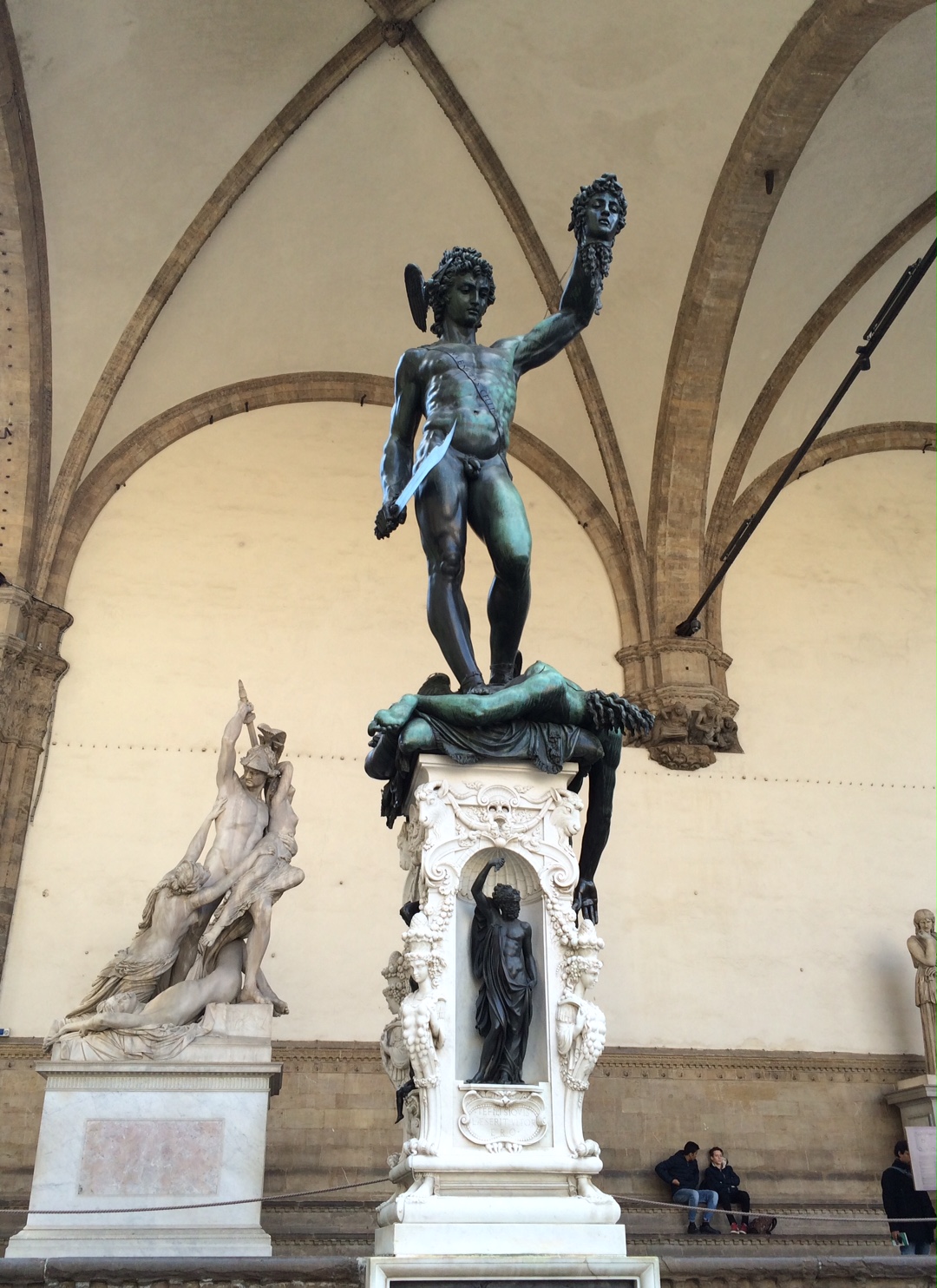 Post-match, we expected a twenty minute wait, as had been advertised. After fifty minutes of being penned in behind large metal gates, with rain coming down heavier and heavier, the gates were opened. As we left this area, we were confronted with riot police – shields and batons at the ready – and numerous police cars and vans were parked along our route. As we got to the entrance-way where the line of police had been stood on the way in, we were told to board buses bound for the city centre. Our B&B was nearer the stadium than the centre, so we ignored the instruction and continued through the barricade, and saw no trouble (and barely another football fan!). We had a good dinner in a restaurant in which Fiorentina fans were also dining, and any interaction was friendly and calm.
Florence is a beautiful city, and Spurs' performance didn't do it justice. But the competition has been good for us, and we might not have the Harry Kane that we do were it not for this season's Europa League. I look forward to hopefully being in the competition again next season, but I would understand if Pochettino used it to give more young players a chance.