April 14, 2016
He might not yet be Xabi Alonso, but Eric Dier is developing impressive deep-lying playmaker skills to go alongside his existing defensive talents.
Dier's rise this season would have been the 'story of Spurs' season' in most other campaigns. But, much like how the Premier League has three or four huge stories going on at once (Leicester City, Chelsea, West Ham United, and Spurs), so has our own squad: Dele Alli taking to the Premier League and showing signs of becoming our next Galáctico; Harry Kane proving that he's here to stay; Mousa Dembélé becoming the player many of us had convinced ourselves he'd never become; Toby Alderweireld playing like the Belgian Ledley King. I could go on.
The narrative of Dier's transition to midfield has been written about a lot — from his previous run in midfield for Sporting Clube de Portugal, to the experiments in pre-season, to being thrown straight in on the opening day at Old Trafford. Initially he looked a little clunky and hindered by his frame — he picked up three yellow cards in his first four league games of the season — but he was soon breaking up play and distributing with refreshing simplicity. And whilst it was a well-kept secret amongst Spurs fans that Dier was a naturally brilliant crosser of the ball, his passing game has been spoken about less. But it is absolutely deserving of some recognition.
You wouldn't think that in midfield of Dier/Dembele, Dier would be one with license to spray passes about. But he is & he does it very well.

— Chris Miller (@WindyCOYS) April 7, 2016
I tweeted this post-Liverpool match, once I'd watch the game for a second time; I'd had a beer or two the first time, and wanted to focus on the nuances with a clear head. Dier's ambitious play-making caught my eye. These two attempted clipped passes between the left-back (Alberto Moreno) and left-sided centre-back (Mamadou Sakho) for Son Heung-min to run onto filled me with excitement about what's to come once Son has acclimatised.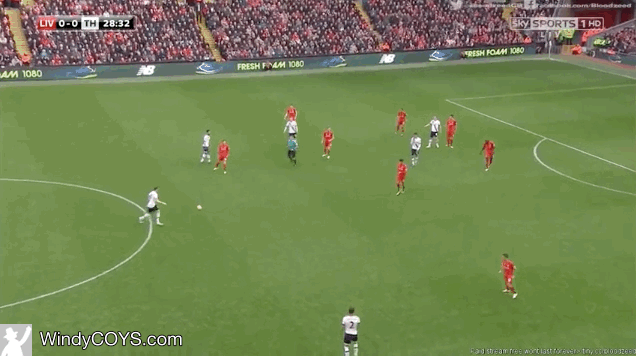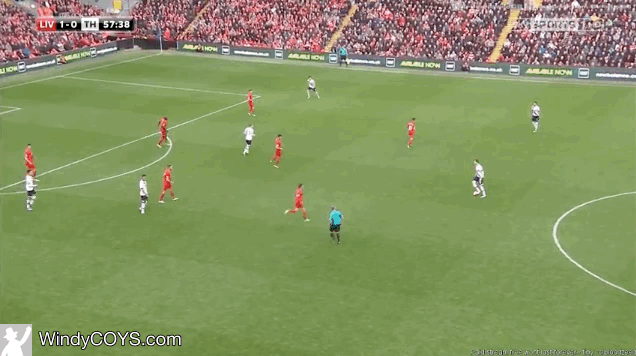 These show that Dier has the requisite vision to pick out a run, the poise to be able to find space and get his body into the right shape, and the execution to play this type of pass with the perfect weight.
Typically, the deep-lying playmaker is a holding midfielder whose focus is on passing rather than tackling. I can't help but come back to Jonathan Wilson description of Xabi Alonso in this article for The Guardian: "Xabi Alonso, although capable of making tackles, focused on keeping the ball moving, occasionally raking long passes out to the flanks to change the angle of attack like an old-style regista." And, of course, it will depend on a number of factors as to what the key focus of the player is — does his team have the majority of possession? Are the team pressing high? Where will he be receiving the ball? In our case, the answers are: yes, yes, and often between the centre-backs. Dier is expected to do a bit of everything, and I am by no means trying to argue that he will be moving away from being a combative player to a ball-playing one; this is simply another string to his bow.
Dembélé is one of the world's finest at retaining possession, but his use of the ball is generally fairly simplistic — he attempts lots of short, lateral passes, choosing to make ground by dribbling rather than by using forward passes. To compensate for this, Dier has been asked to play a slightly more expansive game; he attempts more than double the number of long passes (3.4) as  Dembélé (1.5). Indeed, after Kevin Wimmer (59.9) and Tom Carroll (59.2), Dier attempts more passes per 90 minutes (57.0) in the Premier League than anyone else in our squad.
In our system, Dier drops in between the centre-backs (or alongside them, in the right-back area, depending on the phase of play) and receives the ball. He steps into midfield and uses his teammates to create triangles. He moves the ball swiftly into the advanced full-backs, but also regularly fires forward passes into the feet of Kane, Alli, Erik Lamela and Christian Eriksen. And, as the above clips show, he's also willing to play the ball over the top of a defence.
The comparison of the Dier and Dembélé pass maps are intriguing.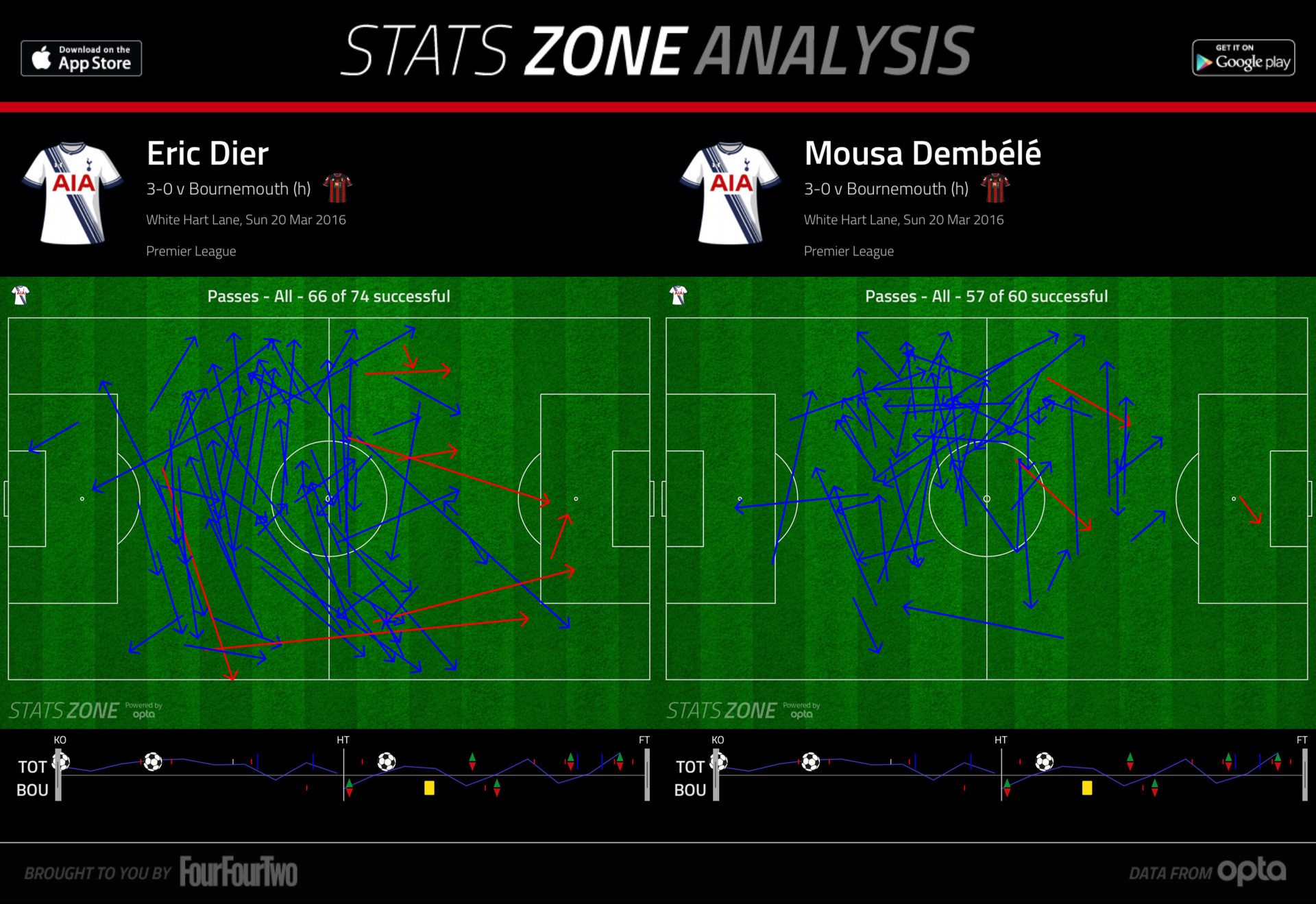 In the Bournemouth match, we can see how many relatively long passes Dier played to find the full-backs, especially Danny Rose. Dembélé also played a lot of passes to the left-back area, but they were mostly shorter passes, and he rarely played anything out to the opposite side of the pitch to which he was situated. Dier made plenty of attempted passes, some of which were into the box — in this instance, they all failed. But the intent was clearly there for him to be creating.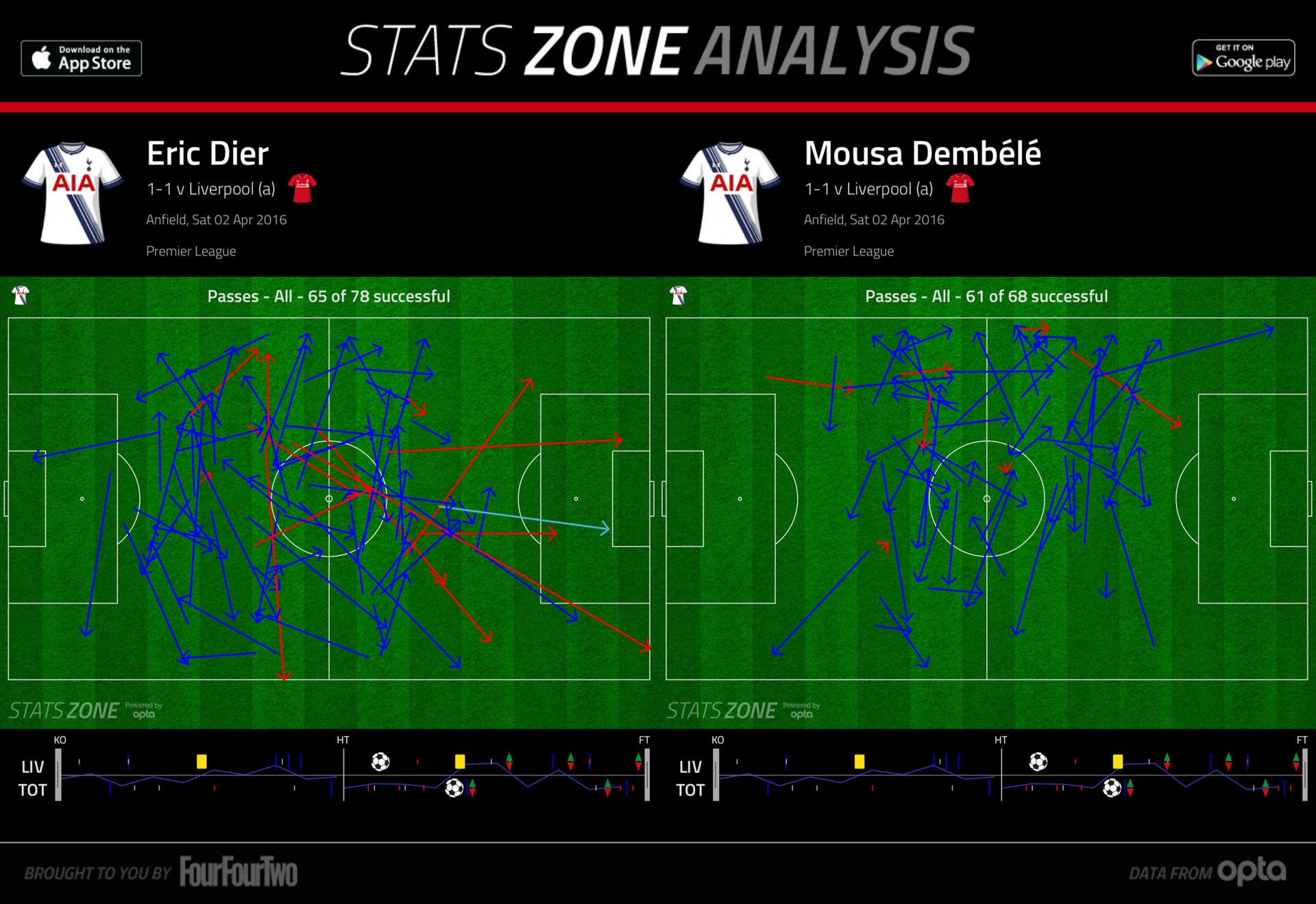 Against Liverpool, we can again see lots of expansive Dier passes – attempting to direct the ball into different areas, both across the pitch and the final third. Again, most of his more ambitious passes failed, but he did create a chance with a long pass into the box, and sometimes just the willingness to play a long pass can force a team to drop that bit deeper. Dembélé was typically economical with his passing, rarely giving the ball away, but also rarely attempting anything expansive, such is his role.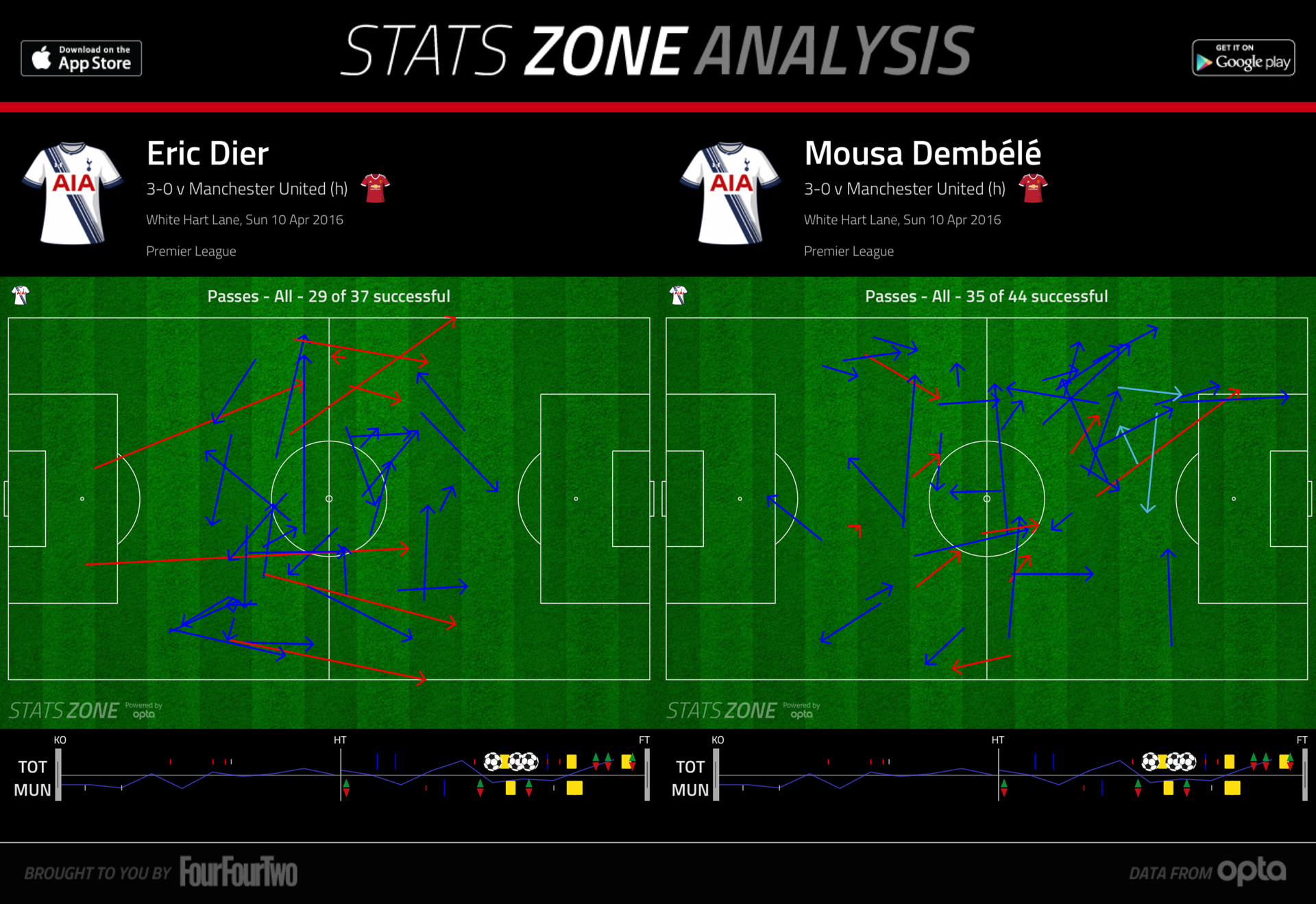 The United game was different. Dier only made 37 passes, Dembélé 44. United dominated possession, and the game was often broken up and quite stop-start. The passing of both players was much more restricted, and both had sub-80% pass completion rates, which is unusual — especially for the economical Dembélé.
It will be interesting to see how the skill sets of the two are put to use over the final few games, and whether he continues to show signs of being able to play a more traditional regista role.
April 6, 2016
I wanted you gone; gone to the highest bidder, probably Sunderland.
I called you a 5-a-side player.
I said that you were too niche to ever be a success at Spurs
How wrong I was. I'm sorry for doubting you.
This season, you have become a lynchpin. When you're not in our team, I worry. I worry because you are so much better than all of our other players at protecting the ball when under pressure from opponents. You resist the press better than anyone else we can field. You complete more passes than anyone else in the squad. 90.2% if you ask; the third best figure in the league (after Ki Sung-yeung and Ibrahim Afellay).
Is it a coincidence that you missed two of our four defeats through injury? Is it a coincidence that you played just 19 minutes of one of the others? Is it a coincidence that you were playing on the right in the opening day defeat at Old Trafford?
When you dribbled with the ball in the past, it would end with a backward pass that didn't advance us. Now you dribble with purpose. You dribble to create space for others — to suck players towards you. And they do move towards you — in numbers — because they can't get the ball off you without two or three of them kicking at your heels, getting up your pipes. And that creates space for others, which you now know how to exploit.
You've got direction. You've got purpose. You've got Eric Dier alongside you. You have back-up, you have protection, you have freedom. All of these things have changed you, they've made you the great player that I never thought you had it in you to become.
You've got a working hip. And that makes a difference too, because you can trust your body now. You know that you can bounce players off and not worry about the repercussions. You've put a run of games together — you've had rhythm.
You know your place. You're not expected to be threading through-balls, or running onto them for that matter. You're in the middle, receiving the ball, getting it forward efficiently, and winning it back when it's lost. You press. You press so well. You know the triggers, you know your role in the press, you know how to exploit it when you do win the ball.
And you've got a coach who can offer you advice and mould your game for the better. He has taken you from a decent player, to one of the best midfielders in the league.
I'm sorry for doubting you, Mousa. Will you forgive me?