Analysis of the goals conceded against West Ham (6/10)
Reid's goal – A corner is headed towards goal by Reid and, whilst it is is inadvertently blocked on the line by Nolan, it falls kindly to Reid who finishes at the second attempt.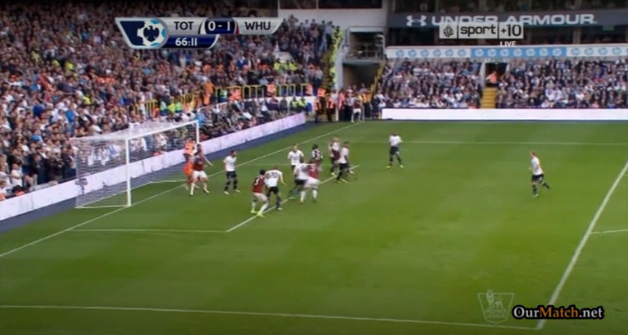 As we set up to defend the corner, Vertonghen is marking Reid, and Nolan is making a nuisance of himself on the line.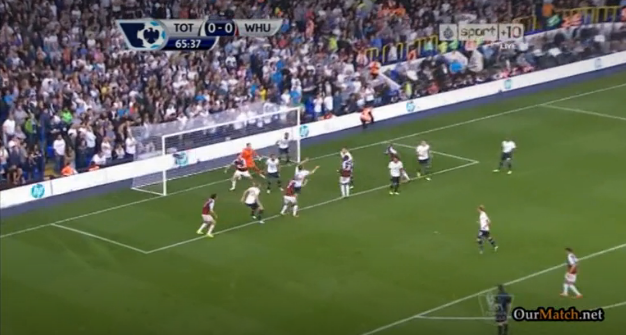 Vertonghen gets up very early – almost too early. Nolan comes away from Dembele on the line.
EDIT: It's been correctly pointed out that in one angle of the video, it's fairly clear that Reid has two hands on Reid's back. Perhaps Vertonghen should be stronger but on another day he might have been given a free kick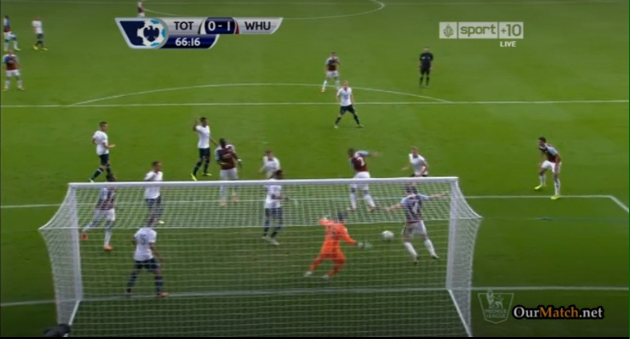 Vertonghen is caught under the ball and, when he misses it, he leaves Reid in space to head down towards the far corner. Fortunately, Nolan has moved this way, and inadvertently blocks the header.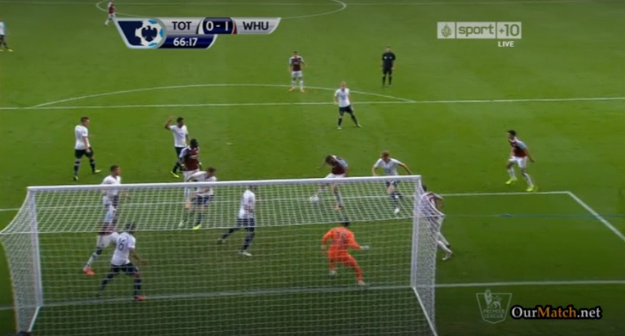 *Unfortunately*, it comes straight back out to Reid, who does well to adjust his body and is in enough space to fire home.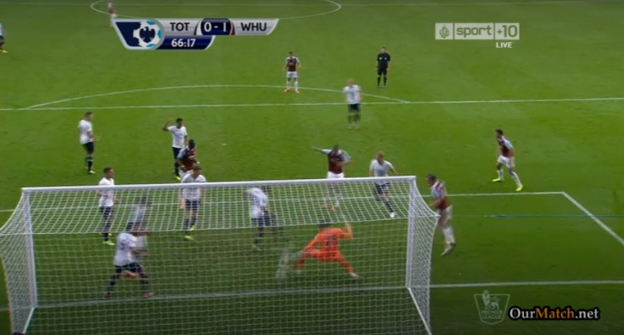 It's beyond Lloris before he can move. Could he have come to punch the corner? Possibly, but Nolan's position is an intelligent one, as it makes him think twice.
Yet another example of Spurs failing to defend a set piece properly. Very poor from Vertonghen, but Nolan shouldn't have been allowed so much room in the 6-yard box either and, had he turned the ball in, there would have been just as many questions.
Vaz Te's goal – Townsend loses the ball in midfield and Noble feeds Vaz Te, who gets a little lucky and beats Lloris at the second attempt.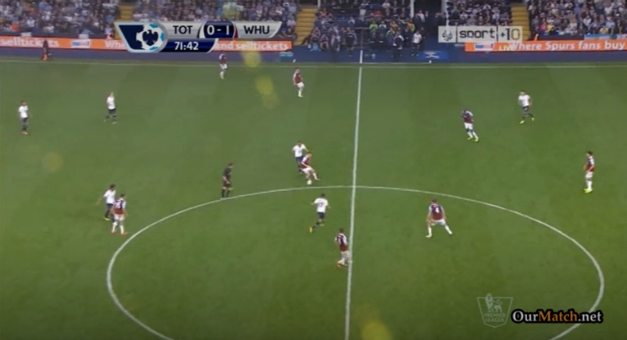 Andros Townsend gives the ball away somewhat cheaply – Noble intercepts and wriggles away from Dembele.
With Walker having been up-field, overlapping Townsend, Noble is alert enough to quickly feed a pass into the channel for Vaz Te to run onto. Dawson is quite deep but – regardless – with no pressure on the ball, we cannot be trying to play offside here.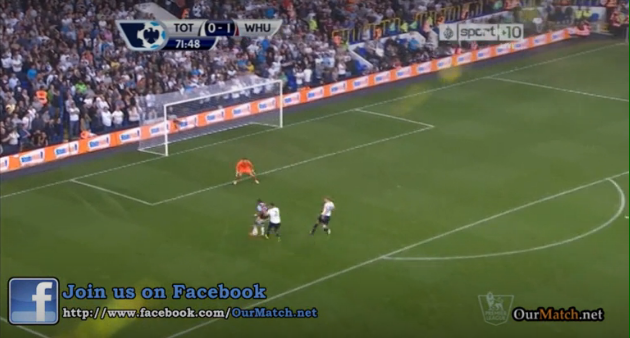 Walker gets back at Vaz Te, but not quickly enough to stop him getting his shot away.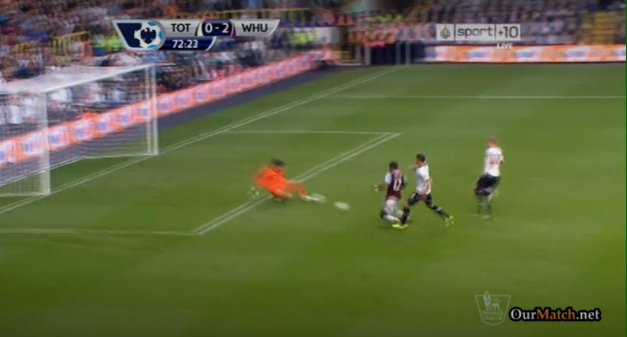 Lloris had done well to narrow the angle, and makes a save with his legs.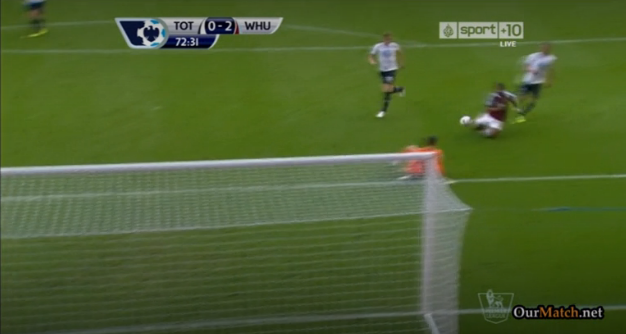 Unfortunately for the goalkeeper, the ball ricochets back off Vaz Te's knee and squirms beyond him.
This was a clear example of West Ham's numerical advantage in midfield having an effect. Firstly, Townsend is crowded out, and then we didn't have enough bodies to press the ball, as Paulinho was occupied, and Dembele had already committed himself. Walker had overlapped Townsend – totally understandable at 1-0 down, at home, and looking for a goal – but the lack of cover in that area meant that we were punished.
Morrison's goal –  A clearance is brought down brilliantly by Diame, who evades Vertonghen, and nicks the ball beyond Dembele to Morrison. He runs from inside his own half, beats Dawson, and lifts the ball over Lloris.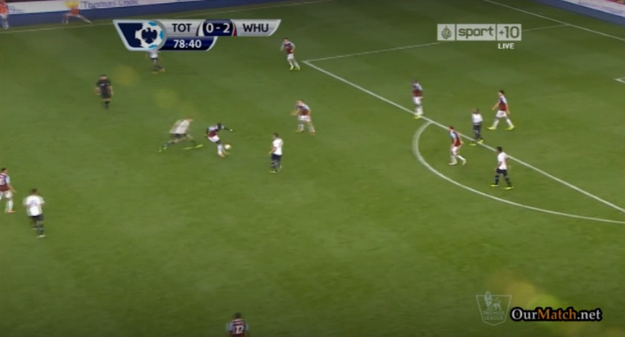 Diame brings a high ball down beautifully, and turns away from Vertonghen, who has committed himself very high up the pitch.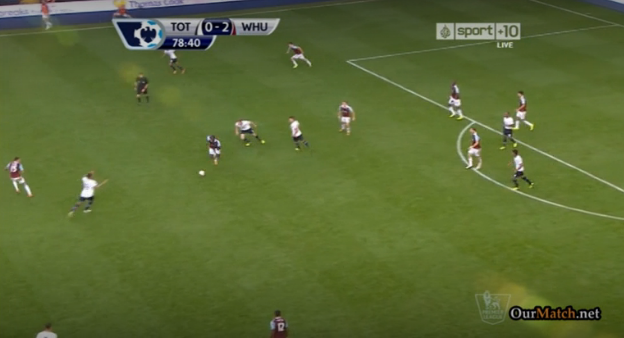 Dembele seems to spot the danger, but rather than jockeying Diame and staying with his man, Morrison, he too wants to take the ball.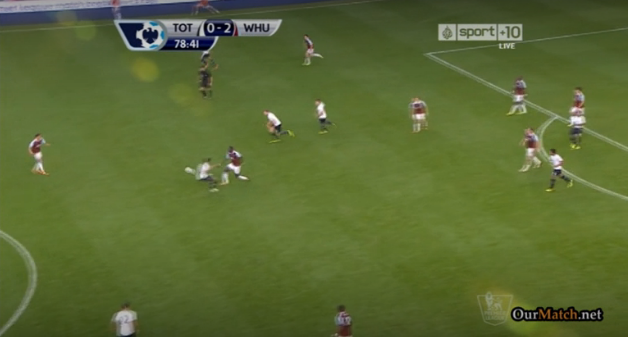 Diame draws Dembele in and finds Morrison, who now has a clear run at Dawson.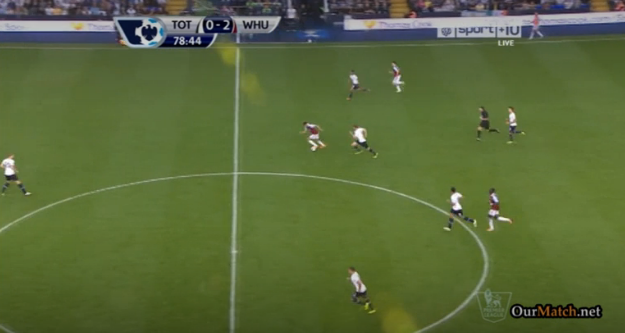 With Vertonghen chasing back, Morrison gets the ball under control and starts a powerful run. Dembele is jogging back, and Walker/Naughton are attempting to get back to effect play as well.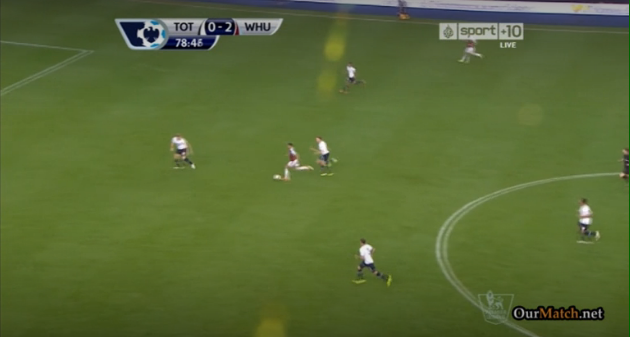 Dawson does everything right up until this point, as Vertonghen shows signs of being able to get back.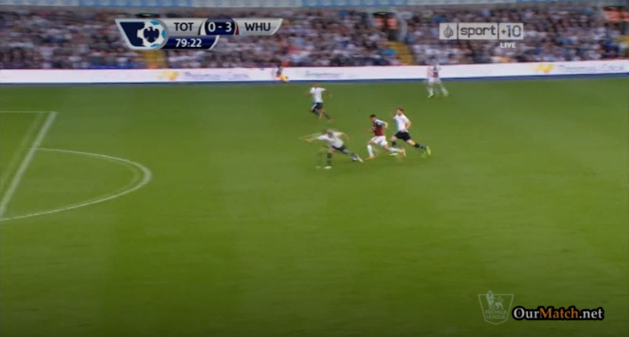 But rather than jockeying further, Dawson commits, trying to nick the ball.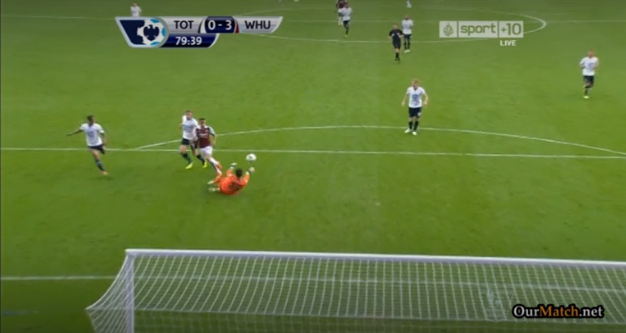 Morrison runs through to chip the ball over Lloris.
It's easy to point the finger at Dawson but, for me, he was in a difficult situation – he risked giving away a foul (and therefore getting a red card) – so was trying to nick the ball without taking the man. Poor decision-making from Vertonghen and Dembele put him in this position, and Dembele's jog back home after being beaten with ease was very frustrating, even at 3-0.
A bad day at the office from Spurs in virtually every way. Toothless up front, with Defoe only touching the ball 22 times, but also overrun in midfield, too slow in moving the ball, and totally unsure of our usual pressing game due to West Ham's numerical advantage in that central area. This was most certainly a game for Sandro, and it's surely now only a matter of time before he's one of the first names on the team sheet again.