Inverted wingers and selection dilemmas
Andres Villas-Boas has a number of selection headaches ahead of Sunday's match against Aston Villa. With Aaron Lennon fit-again, many are talking about the proposition of him taking up his position on the right, with the in-form Andros Townsend switching to the left in a more 'traditional' set up, as was often utilised under Harry Redknapp.
The more 'old school' fan seems to enjoy this type of attacking set-up, with two old-fashioned wingers asked to beat their man and get crosses in from which a centre forward (or two) expected to profit. It worked under Harry, they'll tell you. And we all remember "he plays on the leeeeeeft…".
However, not only did we have wide players on their "right" sides under Harry – i.e. looking to go on the outside of the full-back – but we had Luka Modrić in the middle, who moved the ball more quickly than any player we'd had since Michael Carrick. For me, this was the key to our attacking success under Redknapp.
Inverted wingers – the benefits
Is it a coincidence that the best teams in the world currently play with inverted wingers? Barcelona play with Neymar or Cristian Tello and Pedro Rodríguez or Alexis Sánchez, Bayern Munich with Franck Ribéry and Arjen Robben, Real Madrid with Cristiano Ronaldo and Ángel di María or Gareth Bale. The set-up allows teams to overload the opposition in central areas in the final third. Yes, it can be congested, but technical players who are adept at passing and moving use this to their advantage, and use quick passing triangles to create openings in tight spaces.
The reliance on the centre forward(s) to get all of the goals is gone, as wingers are expected to chip in with their fair share – coming into central areas and getting shots away on their stronger sides.
There is still width, but it expected that this is provided by the full-backs, who play almost as auxiliary wingers. Whilst at least one of the defensive midfield players drops into defence to make up the numbers in case of the counter.
The defensive benefits are also obvious – with more players in central areas the pitch is squeezed, leaving less room for escape for the opposition. Vulnerability down the flanks is possible, but the defensive midfield two have one eye on wide areas when the full-backs push on. And, of course, the opposition require bodies behind the ball to stop the central overload, so leaving men up-field requires a lot of bravery.
AVB's approach
At Porto, AVB mostly played with Hulk as an inverted winger – cutting in and firing shots away – whilst Silvestre Varela was more of a touch-line hugger. At Spurs, AVB used Bale firstly on the right, and then as a second striker, but he rarely used him on the left. However, Lennon – very much the old-fashioned winger – has remained a favourite when fit, and has been singled out for praise on more than one occasion for his work ethic and team play.
But will Lennon automatically come back into the side when fit? I doubt it. Gylfi Sigurðsson has shown the ability to come in off the left and score goals (he already has three this season). And, in Townsend, we're lucky to have a player who is left footed, but who worked so hard during his apprenticeship on developing his "wrong" foot. As a result, he is a problem for defenders, who don't know which way he is going to take them. He is willing to go on the outside once in a while – willing to use his right foot. He scored a debut goal with his right foot against Charlton, and of course he scored an excellent goal with his right on his England debut last week too.
Options
Inverted wingers can work well but attacking, overlapping full-backs are essential. Kyle Naughton has not shown a willingness to overlap on the left and, with Rose injured, AVB will have a difficult decision on this side of the pitch. The options, as I see them, are (in order of my preference):
1. Shift Jan Vertonghen out to the left, and utilise Younes Kaboul or Vlad Chiricheș in the centre of defence.
2. Pick Zeki Fryers at left back.
3. Persist with Naughton, but use a natural left-sided player (Townsend?) ahead of him.
4. Persist with Naughton and Sigurdsson on the left.
The worry about moving Vertonghen to left-back is that he will struggle against the quick, direct wing-foward, Andreas Weimann. On the plus side, though, it would mean we have another physical presence in the side to help deal with Benteke.
Quick passing – not all about retention
Earlier, I mentioned Modrić's quick movement of the ball, and it's this decisive, fluid play that I personally feel we've been lacking in midfield this season. Many coaches (and certainly Allardyce, who benefitted so well from this a fortnight ago) think in terms of transitions; being able to get the ball to your creative players more quickly than the opposition can regain team shape is vital. Our midfield at times need to learn that the ball moves faster than a man.
Paulinho has shown glimpses of quick passing ability, but this has always been my biggest criticism of Mousa Dembélé. Whilst he is a wonderful dribbler and protector of the ball, at times his want to dribble across the pitch or to glide forward beyond a man or two and then to turn and pass backwards truly hinders us. We won't see the best of Eriksen, for example, until he plays in a team that finds him early and finds him often.
Midfield balance
We have options in the centre – Lewis Holtby has intimated in the past that he sees himself as an 8 – the 'transitional' player in midfield, who links between the defensive midfielder and the 10, and his 'pass and move' style would suit the hole from an attacking viewpoint. Clearly, though, having Holtby there rather than, say, Dembélé would affect us defensively – we'd lose a lot of physicality.
For me, Sandro as one of the midfield two would be a no-brainer for Sunday's match – against a physical threat like Benteke, it'll be vital that we get our most physical players around him to attempt to combat his brute force. Sandro staying close and making every aerial challenge doubly difficult for him is essential.
Alongside him, though, the choice is more tricky. The benefit of Dembélé is that he allows us to keep the ball, although potentially at a more tepid tempo. Paulinho is a much more obvious goal-threat and allows us to retain a physical presence, but does lack imagination with his passing. Holtby offers better vision and variation, and has a bit of bite to his game, but he is largely untested in the role. It's not an easy call.
Striker
I wrote an article for FourFourTwo this week about the importance of playing Roberto Soldado rather than Jermain Defoe. Soldado has been far from perfect so far, but it was clear last week that we were lacking his intelligent movement and willingness to show for the ball.
When you're playing a possession game against a team that has bodies behind the ball, it's essential that you pass quickly and "cycle" your attacking players in an attempt to move defenders around. By that I mean that one forward comes deeper to show for the ball, and another darts in behind – it's almost a cyclical movement when you look at it on paper.
Against West Ham we didn't do this enough, and we were too slow to pass the ball. Defoe barely ever made himself available to receive the ball with his back to goal, and we didn't shift it quickly enough to Eriksen, which meant that – because he was receiving the ball in congested areas with limited options – Eriksen had by far his worst game for us.
Soldado is clearly more comfortable than Defoe in this more selfless role. As we saw with the goal that Sigurðsson scored against Chelsea, he is happy to drag defenders away and leave space for others to step into.
My line-up for Villa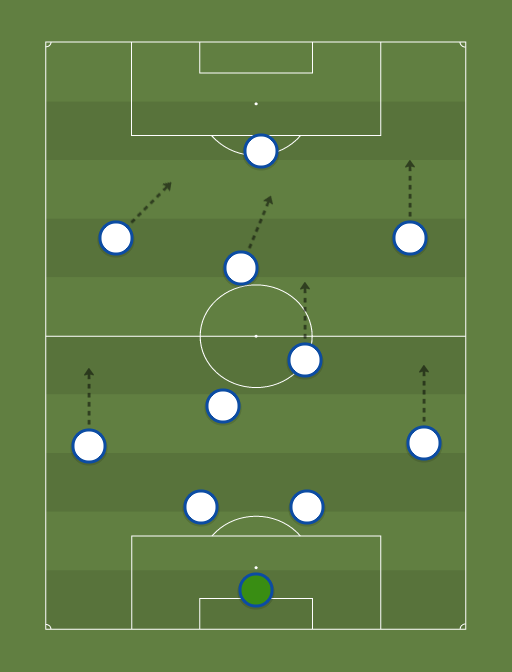 I'd go with Holtby over Eriksen for a little more bite, and an extra body to drop in against Villa's hard-working midfield three of Delph, Westwood and El Ahmadi. I'd also stick with Sigurðsson, as he has proven able to score goals from this position.
Vertonghen gets the nod over Fryers and Naughton at full back – he will allow us to maintain a natural width and will be another physical player to help deal with the threat of Benteke.
Paulinho edges out Dembélé because of his more natural inclination to break forward – we might need another goal like his winner in Cardiff.
COYS