Analysis of the goal conceded against Arsenal (4/1), plus some thoughts and a competition
Cazorla's goal – Arsenal exploit an opportunity on the break, with Gnabry driving inside and finding Cazorla, who is left in space as Walker comes across to cover. He drills a first-time finish across Lloris and into the far corner.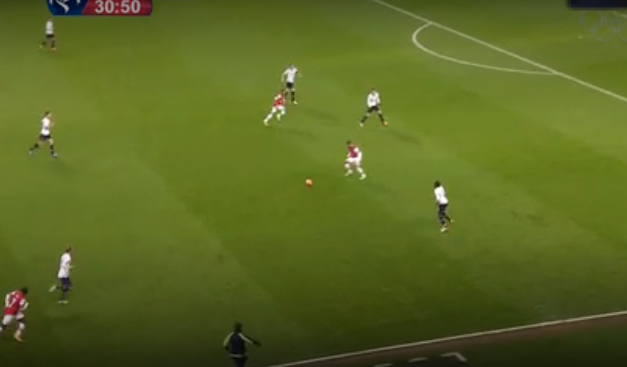 As soon as Serge Gnabry receives the ball with his back to our goal, there is an issue here – he's between the Tottenham midfield and defence, and it's enough to concern Tim Sherwood, who raises his hands from the edge of the technical area. Personally, I would want to see Chiriches much tighter to Gnabry here.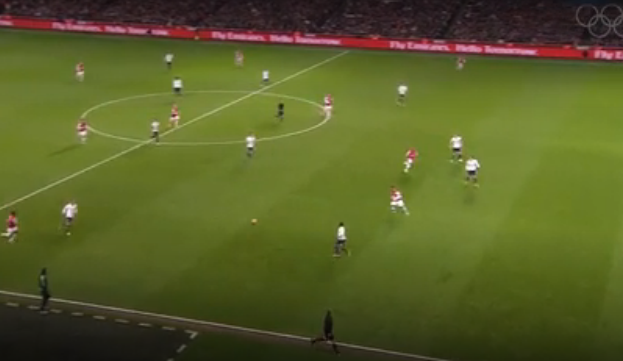 But it's also interesting to look at the whole view of the pitch from the moment the ball is played to Gnabry. Note the positions of Lennon on the halfway line, Bentaleb, the deepest of our midfield players, and Walker, who had been pretty advanced and is making his way back.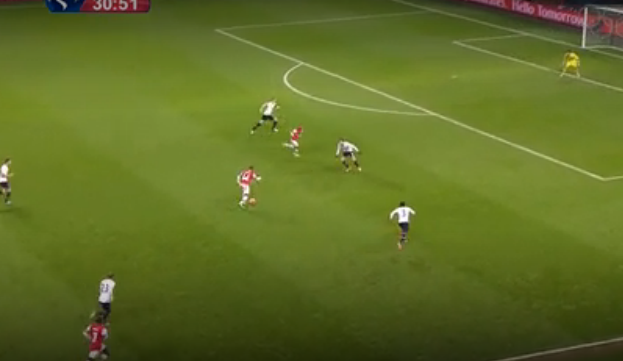 The reason I would want Chiriches to be closer to Gnabry is because he has time and space to turn and drive at the defence, and instantly this move become a genuine danger. Walcott makes an intelligent run in behind Chiriches, and Dawson begins to follow him.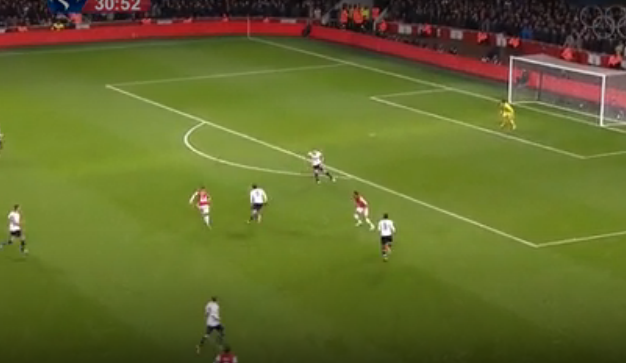 Gnabry has options because our central defenders allow him to have options. Chiriches pays lip service to coming out to him, whilst Walcott's run has dragged Dawson away, leaving a huge gap.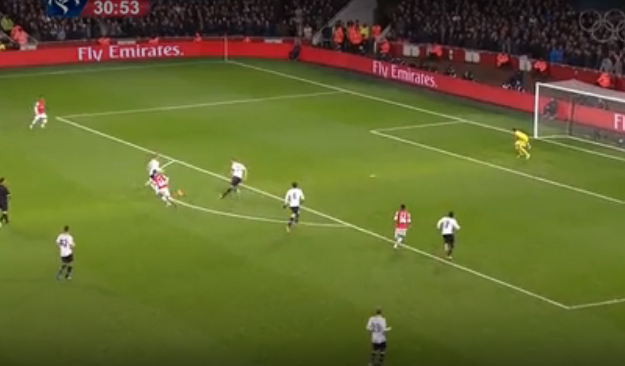 Because of Dawson's committing himself, and the mismatch of pace between Dawson and Gnabry, I personally think Kyle Walker has little choice but to focus his intentions on closing this space that he sees Gnabry potentially exploiting. Taking advantage of this, Gnabry shows good intelligence and slips a well-weighted pass into Cazorla's path.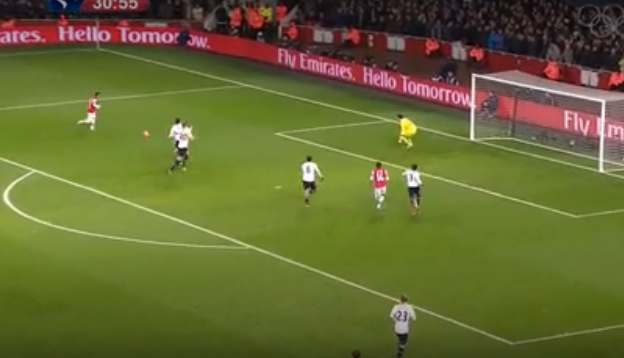 Walker has had to make a decision, and has therefore opted to leave Santi Cazorla. Because Dawson has sold himself, and because Lennon hasn't tracked back (and he has the pace to have allowed him to do so in this time) Walker's decision is deemed questionable. But I personally think it's a call he has to make, and so find it hard to pin the blame entirely on him.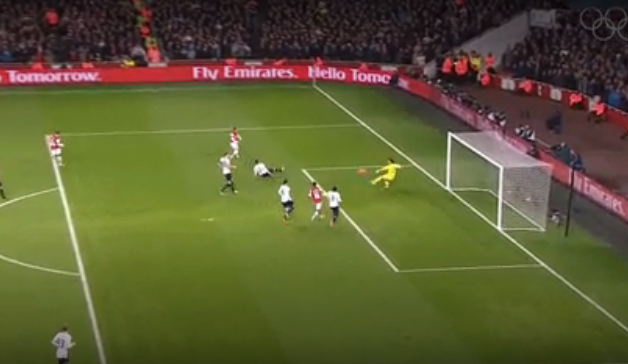 But it's a fantastic first-time finish from Cazorla, who drills his shot across Lloris with Walker throwing himself at the ball.
Rosicky's goal – Danny Rose dallies on the ball, and is pick-pocketed by Rosicky, who runs at Lloris and lifts the ball over him.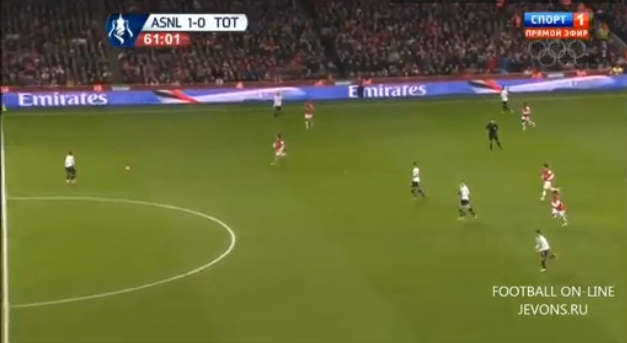 A Spurs corner breaks down, and the ball comes out to Soldado on the left wing. Rather than lifting the ball into the box, he lays it back to Danny Rose – our deepest player. Rosicky begins to press Rose.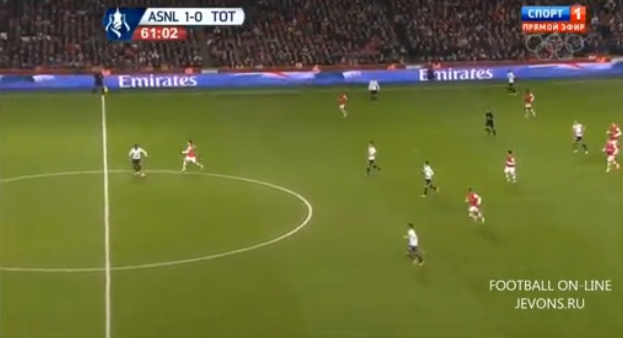 Rose could pump this into the box first time on his left, or turn onto his weaker right foot – but has limited options. Essentially if he lets the ball run across his body onto his right foot, his only viable option is to lay the ball back to Lloris, which at 1-0 down on 61 minutes might be seen as negative.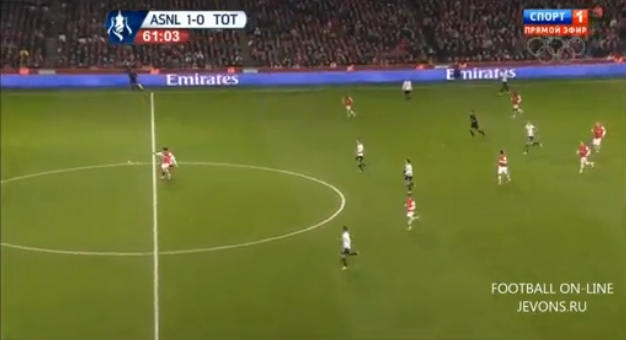 So Rose does something foolish – he attempts to turn back onto his left foot, in order to rebuild our attack. But Rosicky is wise to this, and nicks the ball.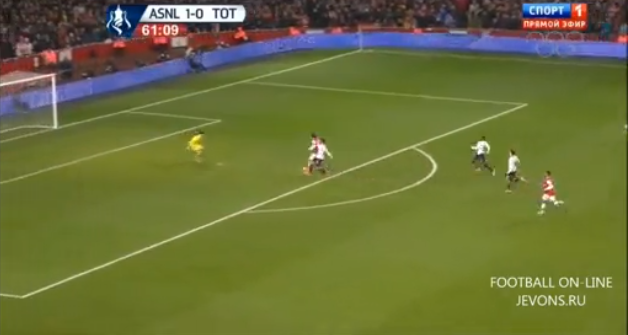 This gives Rosicky pretty much a free run at goal, with just Kyle Walker able to get anywhere near to him.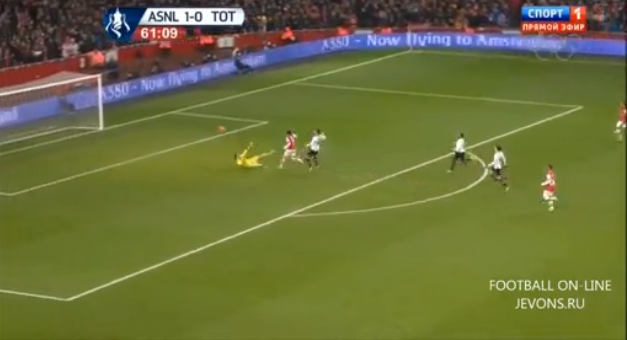 Walker is unable to make a challenge, though, and as Lloris attempts to narrow the angle, Rosicky expertly lifts the ball over him.
Once again, Tim Sherwood has received criticism for his choice of formation, with some fans seeming to take some sort of tactical moral high-ground, as if they think Sherwood didn't understand the connotations of playing one fewer midfield player than Arsenal.
Arsenal are currently the best team in the country (or so the league table suggests), and tend to dominate most teams that come to play at the Emirates. There are typically two ways of trying to play – you can match up to their formation, and play aggressively as Everton did earlier in the season. Everton played probably to their absolute maximum that day, and only came away with a 1-1 draw. Better than we achieved yesterday, certainly, but they had pretty much a full squad to pick from, and were relatively well-rested and fit in comparison.
The other option is to attempt to play more attacking players; to soak up the pressure, and to catch Arsenal on the counter using wide players and getting bodies into the box. This is the approach that Sherwood opted for and, whilst there were flaws, I don't think that the overall Tottenham performance was as bad as the social media response suggests. Arsenal had some chances – of course – but so did we. Both of Arsenal's goals came from poor errors from our defenders, and although the system arguably caused the first goal, the risky 4-4-2 (if you can call it that), generally held up OK against Arsenal's 4-2-3-1.
This was because it wasn't a flat 4-4-2, as the below illustrates.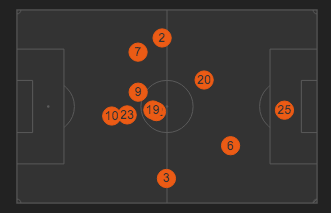 Taken from WhoScored.com
Eriksen tucked in, both strikers took turns in dropping off (although clearly Soldado was the one instructed to drop into the hole more often than not), and only the full backs and Aaron Lennon provided width.
For me, the formation could have coped and could have produced a result had our players performed better on the day. This seemed to be one game too far, though, for a small group of players (6 games in 17 games with many injuries), and all four of our key attacking players – Adebayor, Soldado, Lennon and Eriksen – were well under-par on the day. Had we had a full squad to pick from over the past fortnight, we might have had a few fresher legs and things might have been different.
With Capoue struggling for fitness (Sherwood's mentioned this twice recently) and having come off against United, Sherwood took a gamble and played 19-year old Nabil Bentaleb. Whilst he had a very tidy game in possession – attempting more passes than any other player on the pitch (82) at a completion rate of 93% – he did make some foolish challenges and was positionally naive at times. He also aggressively stamped on the ground in frustration at the end, dangerously close to Monreal's fingers. For me, Bentaleb and Dembele should have played a little deeper, given how deep our defence played, and how exposed Chiriches and Dawson were at times against the pace of Arsenal's attackers. The gap between defence and midfield was too large, and many are justifiably saying that this would not have been the case had Capoue played – he naturally plays a deeper role.
I tend to agree with what Sherwood said after the game:
"They outnumbered us in the middle of the park, we outnumbered them out wide, you can't have it all ways – I think we were fine, we didn't lose the game because we were outnumbered in the middle of the pitch".
When asked about the system, he added:
"A lot's made of systems – 4-4-2, 4-3-3, whatever you want to call it – but it's about passing the ball to your own team, keeping hold of it. Because whenever you lose the ball in transition, you're always going to be out of shape – otherwise you're going to be a rigid, boring team. So it's about funneling back in, shuffling across… I don't think they overran us in the middle of the park."
As Sherwood suggests, Arsenal were not totally dominating the game or cutting through us at will, and the stats tend to back that up – in fact, they compare favourably with, for example, Borussia Dortmund and Chelsea, who both won at the Emirates early in the season.
Tottenham (lost 2-0)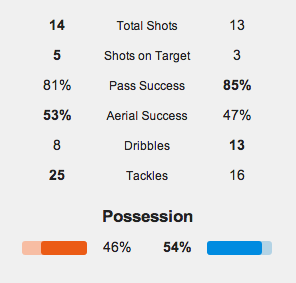 Chelsea (won 2-0, League Cup)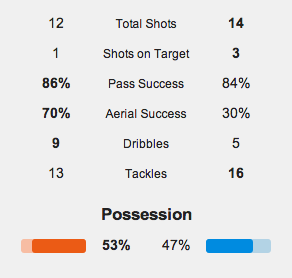 Borussia Dortmund (won 2-1, Champions League)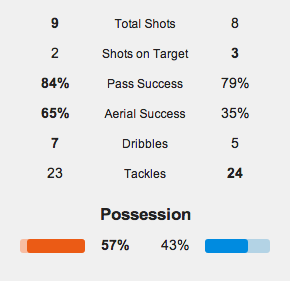 Taken from WhoScored.com
The key stat, however, was that we didn't manage to score – for the first time in Sherwood's reign – and, as I mentioned, I felt that was more down to poor displays from our attackers.
The one thing I would say is that Arsenal scored at good times for them, and this allowed them to play within a comfort zone which made them incredibly difficult to break down. If you're to compete at the Emirates, you simply have to be more resilient, and I can certainly see the argument that the first goal came from a flaw in the system. Was it a risk worth taking? A tricky one to answer, but I can certainly understand Sherwood's motives.
It wasn't a day for great individual performances, but nor was it the end of the world. We have a week now where we can hopefully get some players back off the treatment table and get the players working together on the training pitch ahead of Crystal Palace's visit to White Hart Lane next Saturday.
COYS
As mentioned last week, the good people at Campo Retro have got in touch, and are offering Spurs fans around the world a fantastic opportunity to win a Tottenham Hotspur retro shirt with any name and number on the back.
Campo Retro has a wide range of Spurs retro shirts available, with classic shirts and track jackets ranging back from 1962 to 1991. Not only that, but Campo Retro will also print any name and number on the back of the shirt to make it extra special.
This competition is open to entrants from all over the world, so whether you live in North London or Australia, you still have a great chance to win this fantastic prize. It couldn't be simpler to enter this competition, all you have to do is answer the simple question below by emailing
[email protected].
'Which player currently holds the record for most appearances at Spurs?'
It's that simple. The competition closes on 17/01/2014 and the winner will be announced soon after. The winner will receive an email from Campo Retro to request information on shirt size, personalisation and delivery address. All entries will also receive an exclusive discount to use at www.camporetro.com.
GOOD LUCK!