Analysis of the goal conceded against Norwich City (23/2)
Snogdrass' goal – Bentaleb loses the ball on halfway, and Norwich are quick to pounce. Johnson receives the ball from van Wolfswinkel and finds Snodgrass with a through-ball. He expertly curls a shot past Lloris.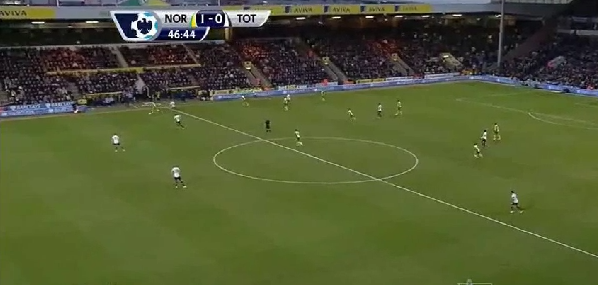 Bentaleb is robbed of possession by Ricky van Wolfswinkel out on the touch-line. Losing the ball unexpectedly can cause a team all sorts of problems, as they are not set up to defend – this is certainly the case here. There are two key issues that lead to Norwich scoring, though.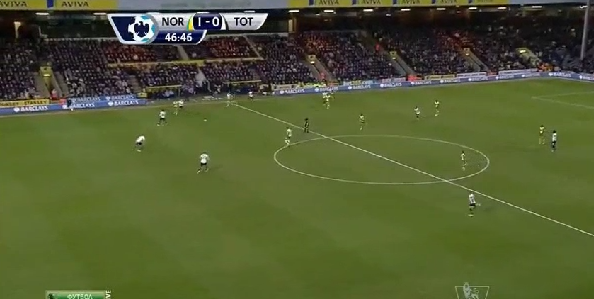 Van Wolfswinkel plays the ball inside to Johnson, in acres of space. Rose is tracking Snodgrass, here. It's not so easy to tell from the stills, but Rose does not track him at anything like full intensity. Paulinho is caught in two minds – continue filling in for Rose, or get back into the midfield.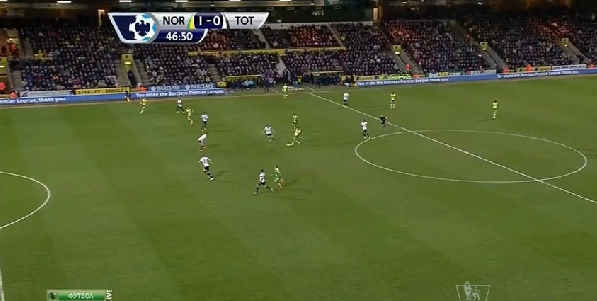 Bentaleb tries to get across to press the ball (presumably seeing that Vertonghen wants to play Snodgrass offside), with Paulinho just getting back into position without any real intent. Notice Dawson, though. He panics and wants to move towards his own goal, whilst Vertonghen has held his line. If Dawson steps up with Vertonghen, Snodgrass is offside. The gap between Rose and Snodgrass has grown – Snodgrass is a pretty slow and cumbersome player, whilst Rose is rapid.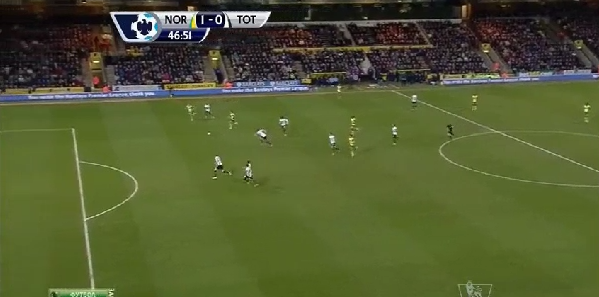 He receives the ball in space and Dawson's decision-making is totally exposed, as he's left with no-one to mark anyway.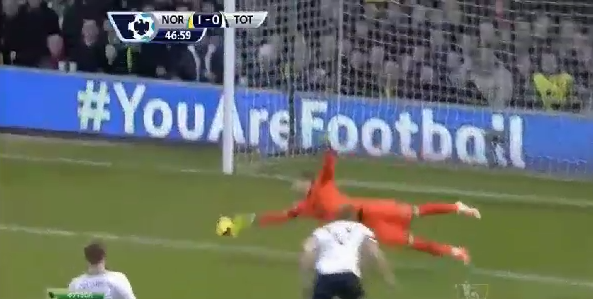 It's a cracking finish from Snodgrass, curled perfectly into the corner. But a very frustrating goal to concede, because the actions of Dawson, Rose, Paulinho and particularly Bentaleb, are naive and avoidable.