Breaking down Spurs' attacks
Rather than focus on some of the shambolic defending that we witnessed from our team on Sunday, I wanted to look at another area in which I found myself very disappointed.
Despite being one goal and then two goals down relatively quickly due to individual errors, we managed to find our creative players in some good areas. However, a lack of movement around them allied with some poor decision-making meant that a number of good opportunities were passed up.
At 1-0 down, after 5 minutes or so, Christian Eriksen receives the ball and plays it square to Aaron Lennon. He continues his run in behind Daniel Agger and receives a clever pass from Nacer Chadli. Note Roberto Soldado, though: he is totally caught on his heels, and fails to make himself a viable option for Eriksen to pick out. Lennon is the only other player that gets into the box, but the angle he creates for the pass is narrowed by Flanagan, meaning that Eriksen's cross has to be perfect – it isn't, and is instead cleared.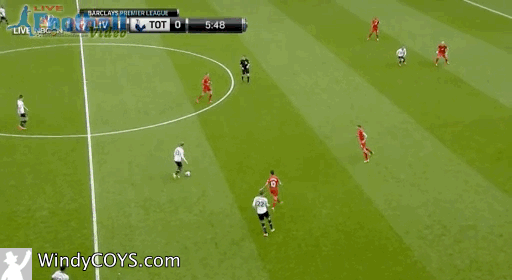 On 20 minutes, Chadli bursts past a couple of Liverpool players into a useful pocket of space. Lennon initially runs away from him, and only cottons on when it's too late that Skrtel is going to have to close the ball. A natural goal scorer would dart into the gap that Skrtel's going to inevitably leave far sooner and at maximum pace; Lennon does not score many goals, and this is a good example of why. Chadli is forced to check and has just the one option. His decision to try to force the pass is a poor one – instead he should probably hold the ball up and wait for support, but he was not helped by Lennon's poor movement.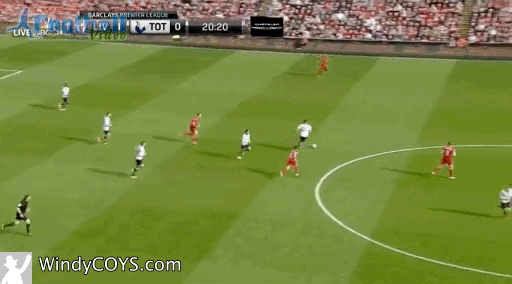 Just prior to the second goal, Chadli gets down the right and initially does well to hold the ball up and protect it from Gerrard. Lennon gets forward in support and makes a run inside Flanagan. Chadli's pass, though, is terribly loose and he wastes another opportunity to create. What's more frustrating is that Liverpool score just seconds later, after Dawson's error.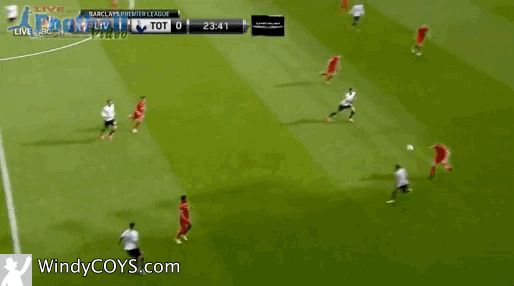 Eriksen has a great chance to pull a goal back just after Liverpool have taken the lead. Naughton forces his way into the box, and cuts the ball back. It's hit hard at Eriksen, but his first touch is immaculate. His second, though, is a poor one – his strike is straight at Skrtel when he would probably have been better off curling the ball towards the near post. However, he's once again not helped by the movement around him – he needs support on the outside, either from Chadli or from Rose, but there's nothing forthcoming on that side.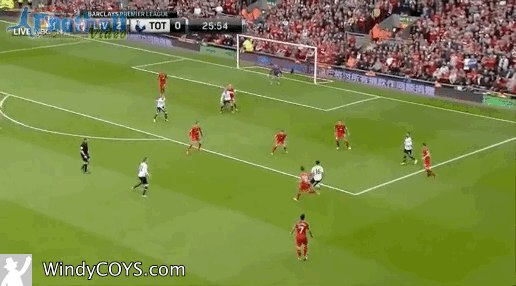 Naughton's desperately wasteful shot just minutes later is just one example of how bad his use of the ball is in the final third. Lennon's free to his right via a simple pass and they can create an overload in this area relatively simply, but instead he decides to take on a stupidly ambitious shot, and hits the first man.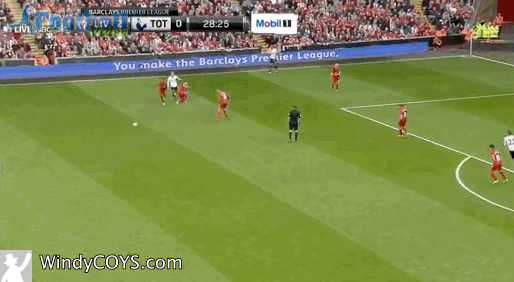 Chadli, Naughton and Sigurdsson create a nice triangle and give Chadli the opposition to set Lennon free one-on-one against Flanagan. Instead, Chadli attempts an elaborate pass for Soldado, who has really made the run to create space for Lennon, rather than receive a pass.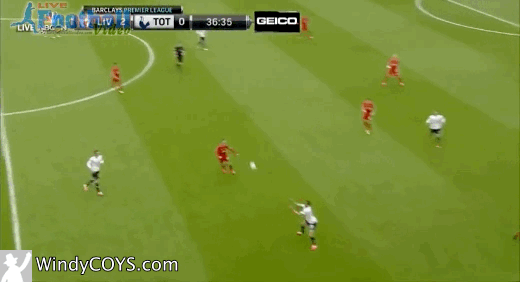 Seconds later, Eriksen receives the ball between the line but a lack of intelligent movement around him means his options are limited, and his attempted pass is easily cleared.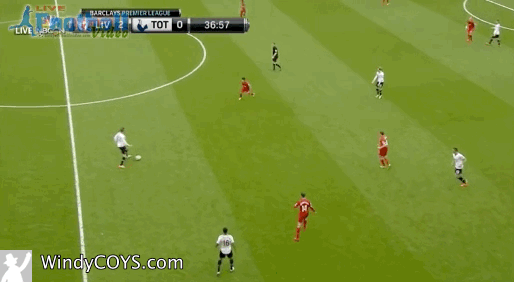 A neat move in the 40th minute sees Rose set free down the left after an intelligent reverse pass from Sigurdsson. Sigurdsson and Lennon are the only players who really bust a gut to get into the box though, with Eriksen dallying on the edge of the box and Soldado barely keeping up with play. The ball eventually comes to Soldado who, with team-mates up in support, tries an overly ambitious curler.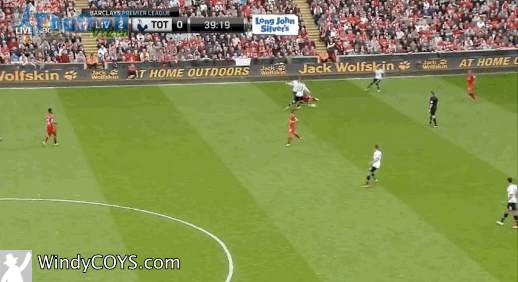 Spurs had plenty of possession in useful territories in the first half without benefitting, and it just felt that there was a lack of belief or attacking cohesion. Having gone 1-0 down against one of the most in-form teams in Europe, this was probably understandable. Could this be due to a lack of attacking game-plan, with a reliance on players to just go out, express themselves, and make their own decisions?
Walker missing didn't help, either – his constant runs forward on the right generally mean that the opposition full-back has another threat to consider, and can open up space for others. Naughton, on the other hand, does not venture forward as regularly.
More brave running, more intelligent passing, and better decisions could easily have brought us back into this game, despite our suicidal defending.