Poch's Progress
At just past the halfway point in the league season, it feels like a good time to pause for breath and consider the progress that we have made to date under Mauricio Pochettino, our latest Head Coach.
Expectations were relatively low at the start of the season. Whilst there are always fans and pundits who *expect* a top four finish having made a change (the "why bother changing it if we're not going to push on?" argument), the majority were happy to accept a lesser league position in another season of transition in order to establish a foundation and to develop the Bielsa-inspired playing philosophy that brought excitement to Southampton. I was certainly in this camp and, more than anything, I wanted to enjoy going to White Hart Lane again – to feel like our club and fans were unified and moving forward with a sense of togetherness.
It could be said, so far, that signs of the footballing philosophy have been less obvious than we might have expected, but that this has not really been detrimental to results. We are currently three points better off than we were last season when looking at the equivalent league results as well as being through to the semi-final of the League Cup and the knock-out phase of the Europa League.
After some fortunate results over the Christmas period, and some less-than-convincing performances, Thursday's astonishing victory against Chelsea felt like a turning point. The high press was implemented effectively, with Harry Kane once again leading from the front. The team played as a cohesive unit and, putting aside some defensive lapses, there was plenty to be positive about.
Pochettino still has much work to do but he has been helped by shaping a more definite 'first team'. Over the past six to eight weeks it has become clear which players he values and which he does not. These sorts of decisions were presumably made at this point with the January transfer window in mind, rather than the correlation just being a fortunate coincidence. The sidelining of certain players now gives them an opportunity to find a new club and for Pochettino to streamline the squad in order to bring in a few players of his own – players who he can trust.
Danny Rose's comments in today's Mirror seem to be hinting towards those players that are not working so hard being left out:
"Let's just say if you don't work hard under the manager, you're not playing! You better make sure you give 100 per cent each day in training, which is very hard and intense.

But I really enjoy it. As the long as the manager sees you are willing to work hard and want to fight hard for your team-mates then you will go far with him."
Pochettino is relentless in his pursuit of a fit, hard-working squad. After the Manchester United match he was asked: "what now? Rest, rest, rest?" He responded chirpily: "no, train, train, train". Our players (specifically Kane, Christian Eriksen and Ryan Mason) have recently featured in the 'most distance covered' stats that the Premier League sometimes produce: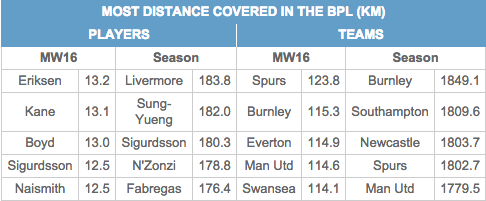 Eriksen initially struggled under the new coach, and his creative influence was missing at the beginning of the season. After a short bedding-in period, though, it has well and truly returned. But alongside that he has been utterly transformed. Where he was previously seen as a 'luxury player', he is now an absolute workhorse who pressurises defenders and creates opportunities for turnovers. Indeed, prior to the Chelsea match, Eriksen's distance covered was the fourth highest in the Premier League at 210.1km. Staggering.
It is notable that in the last six matches, Kyle Naughton, Aaron Lennon, Younes Kaboul, Étienne Capoue, Paulinho and Emmanuel Adebayor have played just 40 minutes between them. One must assume that all would be available for transfer if a suitable offer were to come in. Roberto Soldado has played 110 of the 540 possible minutes in that time and is another that is likely to be available, although it is difficult to see who would pay the kind of fee that Daniel Levy would demand.
Mousa Dembélé (250 minutes) seems to have come back into favour and might be granted a stay of execution, at least until the summer. On the other hand, whilst Vlad Chiricheș (180 minutes) has performed pretty admirably at right-back, he seems set to join Roma on loan with a view to a permanent move.
Interestingly, Eric Dier has not featured at all across this six game period either, but there's little chance of him moving on permanently – he would provide useful cover were the likes of Chiricheș or Kaboul to leave. Alternatively, there would be no shortage of takers were he to be made available for loan.
The final player regularly linked with a move away is Andros Townsend. Townsend has become a bit of an enigma and divides opinion in the stands. His precision penalty on the stroke of half-time against Chelsea was met with a celebration largely of relief from the player – he will certainly want to use that moment as a springboard, and I think he has shown enough to warrant being used for the rest of the season, at least as a rotation option.
Townsend is an imperfect player but he is certainly not beyond moulding. After seeing the work Pochettino has done to improve (or at least bring the best from) Nacer Chadli and Eriksen, I am hopeful that he can help Townsend to realise his potential – the very definition of a coach. Besides this, we have so few players capable of committing defenders that Townsend offers something a little different from the norm.
Should we be able to create some space in the squad, we might see a couple of players come in. Hector Moreno was a player that I mentioned in September – having played under Pochettino at Espanyol, Moreno is a player that our coach knows, likes and can rely upon. The partnership of Jan Vertonghen and Federico Fazio has become a reliable one (played 15, won 11, drawn 3, lost 1), and if one of them were to be injured, the team would certainly suffer. Moreno would provide excellent cover, and signing him in January would give him time to settle in before potentially becoming first choice next season.
Various journalists (including the well-connected Matt Spiro) are pointing towards Adrien Rabiot, the 19-year old midfielder from Paris Saint-Germain, signing on a six-month loan. Rabiot has been linked for a number of weeks, and makes sense as a stop-gap if Pochettino's first choice target (who is, presumably, still Morgan Schneiderlin) cannot be obtained at this point.
Rabiot has played just 215 minutes in Ligue 1 this season, but last season he managed 1112 minutes (11 starts). With Nabil Bentaleb heading off to the 2015 Africa Cup of Nations with Algeria in a week or so, Rabiot would provide useful cover. A quick comparison with Bentaleb (Rabiot of last season vs Bentaleb of this) seems to indicate why this would be a smart short-term move, with Rabiot averaging more key passes per 90 minutes, taking on more shots, but also making more tackles. His upright, head-up style would hopefully ensure that we don't lose the sense of calm that Bentaleb gives us in a midfield area that in the Premier League can be very chaotic.
An alternative to Rabiot would be to promote from within and use Miloš Veljković, whose loan at Middlesbrough is due to end around the time that Bentaleb leaves. Their Head Coach, Aitor Karanka, was full of praise after his 30-minute cameo against Ipswich:
"I am very pleased with Milos. I felt he was the best player on the pitch in the last game. He went onto the pitch at a difficult time and he showed everyone he is a mature player, even though he is only 19 years old."
Veljković got some game time in pre-season and looked like he could step up, but the counter-argument is that it might benefit him to stay on loan and play regularly across the rest of the season, rather than making a handful of appearances for us during January.
Alongside Rabiot, Spurs might want to sign another forward, with Soldado and Adebayor still struggling in different ways and for very different reasons. Danny Ings might represent a budget option – mostly because his contract is up in the summer – and at 22-years old (and being English) he seems to suit the Levy buying policy of old. It will, I suppose, depend on how Ings' numbers are portrayed in Paul Mitchell's 'black box', but his high-energy, honest style would suit the current framework and would mean that the burden on Harry Kane and Christian Eriksen is reduced a little to negate the possibility of burn-out. Naturally Burnley would be reluctant to sell as they will be reliant on Ings' goals for Premier League survival, but an offer of around £10 million might convince them to cash in.
January will also see the arrival of DeAndre Yedlin. Having only seen Yedlin at the World Cup, in the recent USA friendly against Colombia and once in the MLS, I am not best-placed to provide a verdict on whether Yedlin will be a hit. However, from the little I have seen I would suggest that most of his initial game-time will be in the Under-21s. That said, his arrival might mean that Pochettino is happier to sell Lennon and/or Naughton, since Yedlin could provide cover in both positions.
In closing, it would be remiss of me to not mention Pochettino's bravery in picking young players. Tim Sherwood has been receiving plaudits over the past week – after all, it was he who entrusted Bentaleb and Kane last season – and it is fair to say that Sherwood offered our youngsters belief and confidence. But Pochettino was not afraid to go with youth at Southampton, and it's unlikely that the platform that Sherwood provided had a significant impact on his selection criteria, albeit it helped iron out some of the youngsters' creases. Pochettino's use of Mason, and his interest in selecting development squad players on the bench shows to me that he would have done things his way regardless. The average age of our team against Chelsea was just 24. This is fairly remarkable, and I would suspect that this is more likely to go down rather than up as Pochettino has a say in moulding and developing his own squad.
And let's not forget that there are plenty more youngsters bubbling under the surface that might get a chance in the near future. Harry Winks has made his debut, Dominic Ball and Josh Onomah have made the bench, and Connor Ogilvie and Nathan Oduwa cannot be far behind. There is certainly potential for clearing out mostly-unused squad fodder, and promoting from within to replace them should Pochettino feel that youngsters are more likely to buy into his philosophy. It's just a pity that we don't have another young forward who could help to replace Adebayor and/or Soldado in the squad.
Pochettino's start at Spurs has been solid but unspectacular. We have made progress in the league and cups without always playing well and there have been improvements in key players as the season has progressed – most notably Kane, Eriksen, Chadli, Fazio and Ben Davies (who has put in some really steady performances of late). The nature of this time of the football calendar means that within a month it is possible that we could be out of all of the cups and falling down the league – if that does happen, let's not forget that this season is about building a philosophy, building a foundation, and building confidence in one of the best Academies in the country. But let's hope that doesn't happen and that we go on to win a cup – something to reward the hard work we've seen of late. Either way: so far, so good.
Happy New Year and COYS.