Tottenham Hotspur 4-2 Burnley – some thoughts
On Wednesday night Spurs scored four goals without response for the second time in the space of a fortnight. On New Year's Day, we went from 0-1 down to 4-1 up against Chelsea (finishing 5-3); this time we recovered from a more perilous 0-2 to win 4-2.
Burnley rested three key players – Danny Ings, George Boyd and Ashley Barnes, whilst we rested six in Hugo Lloris, Kyle Walker, Federico Fazio, Harry Kane, Nacer Chadli and Christian Eriksen. Burnley's fast start was somewhat exaggerated by two early goals, but they punished some poor defending well. The defending for Marvin Sordell's opener was particularly shambolic.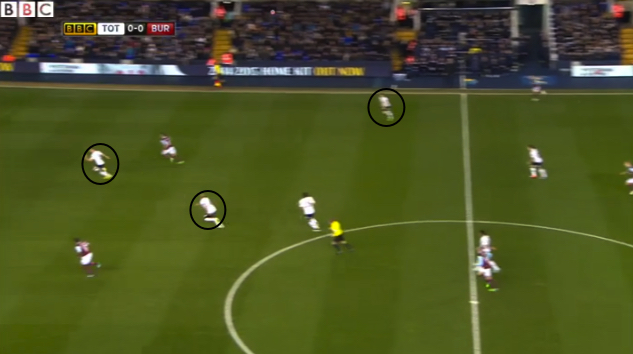 Having not having seen a replay from a different angle, it's difficult to try to explain what was happening here. Younes Kaboul was up-field – I can only think that he was trying to play offside – but with Jan Vertonghen already too deep to allow this, one has to question the lack of organisation and communication, and that surely comes down to captain Kaboul. This could be explained (if not excused), perhaps, by the fact that Kaboul and Vertonghen haven't played together since the 2nd November.
The second goal came after seven minutes. Benji Stambouli committed a needless foul, allowing free-kick specialist Ross Wallace to step up. His kick deflected off Roberto Soldado leaving Michel Vorm helpless.
The home crowd – assisted by this match being attended by the 1882 movement – roared Tottenham on, and they stepped up immediately. Andros Townsend made inroads on the right, and inverted-wingered the ball in for Soldado to flick on. Paulinho did superbly to get the ball down quickly and turned neatly to volley home.
From there it almost felt inevitable that Spurs would win – an unusual feeling for Spurs fans – and I think that the optimistic atmosphere in the stadium had a lot to do with it.
The positivity in the stands, though, was not always matched by positivity on the pitch.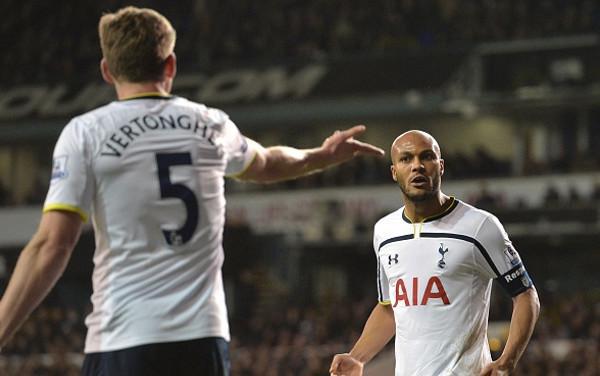 After another miscommunication, Vertonghen turned to shout at Kaboul – who had, again, attempted to play offside – and got a whole load of verbal right back. The crowd responded by chanting Vertonghen's name, a show of support triggered by a combination of factors: rumours about Kaboul's falling-out with other members of the squad, his lack of emotion on the bench when we've scored goals in recent weeks, and the fact that he had been totally inept in this match until that point.
The slanging match continued for a good few seconds and was followed up later by a similar falling out between Kaboul and Vorm. It is clear that all is not well, and Kaboul leaving during the transfer window seems inevitable (so long as there's a taker).
Kaboul struggled to cope with Sam Vokes' strength and movement, but Spurs looked good going forward in much of the rest of the half. As halftime approached, Paulinho nicked the ball in midfield and launched a counter. He was cynically fouled, but Soldado picked up the pieces and fed Townsend. He carried the ball before feeding in a perfect cross for Soldado, who somehow hit the bar. The miss was so bad that the BBC even made a separate video dedicated to it. His reaction was to drop to his knees in despair – Stambouli ran over to quite literally comfort him, so broken that he is. But it's well worth noting that he also continued to get unwavering support from the stands ("Viva Soldado, viva Soldado, he came from sunny Spain to play with Harry Kane, viva Soldado") – I don't think there are many players in the squad for whom there is so much genuine goodwill.
Fortunately for Soldado, his blushes were spared by a Capoue thunderbolt just two minutes later. Ben Davies crossed, Paulinho missed his kick, and the ball sat up nicely for a volley that nearly broke the net.
Just three minutes into the second half, stand-in right back Vlad Chiricheș won a corner, and then got on the end of it at the back post to bundle it home – it actually seemed to hit his arm, but I don't think he knew a great deal about it.
When Danny Rose scored a fourth three minutes later (to make it three goals in a five minute spell) it felt like we might go on to get a few more, but 4-2 was how it stayed. Rose's goal deserves praise – for the beautiful pass by Stambouli, perfectly flighted into the path of Soldado; for Rose's fantastically aggressive run into the six-yard box; and for Soldado's inch-perfect cross.
Nacer Chadli replaced Rose on the left, and made an excellent cameo – at one point putting Reid (I think) on his backside with his dribbling and close control.
The game did somewhat peter out, but was memorable for Josh Onomah, coming on to make his Tottenham Hotspur debut. I'll be publishing a short profile of Onomah later, so keep an eye out. Onomah already has a song, which has followed him through the age groups. At a previous 1882 event – an Under-18 match – James Welham came up with the ultra-inventive 'Do do do do do ONOMAH do do do do ONOMAH do do do do do do do do do do do do do do do do do do do do do!' to the tune of 'Mahna Mahna' from The Muppet Show. It's since followed him from Under-18 level to Under-21 level and now the first team… a proud moment for James as well as Josh! Onomah made some good touches and passes in tight areas, but didn't really get to show off his terrific dribbling ability.
Vorm – had no chance with either goal, and looked relatively quick off his line, which was something I'd been concerned about after recent appearances.
Chiricheș – aside from one suicidal pass in the first half, he defended well, was a decent attacking outlet and, of course, scored the goal to put us 3-2 up. I enjoyed a short burst of my song for him – "strolling up the pitch is super Vlad Chiricheș, do do do, do do do do do"…
Kaboul – this was not a good return for Kaboul. He struggled with Vokes (Chiricheș had to repeatedly come across to cover) and was arguing with his own teammates.
Vertonghen – after a shaky start alongside Kaboul, he put in a very assured performance.
Davies – clearly a better defender than Rose, but doesn't quite offer the same forward thrust. That said, his pass selection in the final third is consistently good, and it was his cross that led to Capoue's leveller.
Stambouli – had a very busy game and worked hard throughout. There are some signs of him starting to settle.
Capoue – like others, he had a shaky start where Burnley were winning a lot of second balls in his zone, but he improved and was very controlled in the second half. His goal was a beauty!
Townsend – a constant threat and a constant outlet. Ben Mee gave him too much space, and he took advantage over and over again.
Paulinho – better, as Andy Townsend would say! I tweeted at half-time that he was 'busy but imperfect' and I think that sums him up. He frequently runs with the ball into areas of the pitch which he then struggles to get out of, but I think we have to just accept his limitations and appreciate his few strengths: first-time flicks and knowing when to arrive in the box. He took his goal superbly.
Rose – he actually started his career as an attacking central midfielder and then became a left winger, but his timing was slightly off in an attacking sense. His arrivals at the back post were generally a little *too* late, but he did marvellously for his goal, making a fantastic, aggressive surge into the six-yard box and pointing to where he wanted the ball played.
Soldado – some relatively good link up play, a nice flicked header for Paulinho's goal, a wonderful cross for Rose's goal, but his match will be remembered for *that* miss. Viva Soldado.
Chadli – a genuinely exciting cameo in which he looked a real threat. "Nacer is a dolphin, Nacer is a dolphin, la la la la, la la la la…".
Onomah – I was so excited to see him get on to make his debut – I hope it's the first of many appearances. Look out for a short profile which I'll be publishing later.
Dier – it was good to see him back for the first time since the 6th December, nine games ago.