U19 Champions Trophy – Update
This morning a Tottenham Hotspur Under-19 squad lost in a semi-final match with Red Ball Salzburg in what has been a largely underwhelming U19 Champions Trophy performance.
Obviously I don't know how impacted other teams were by international call-ups, but Spurs were without Charlie Owens, Alfie Whiteman, Marcus Edwards, Jaden Brown, Japhet Tanganga and Sam Shashoua, plus Under-16 Nya Kirby for this tournament. Tashan Oakley-Booth did not make the trip either – possibly because we already had quite a few midfielders involved.
All players born after 1st January 1997 were eligible to play, and so Cameron Carter-Vickers, Harry Voss, Luke Amos and Shayon Harrison were also eligible for the tournament, but were either injured (Carter-Vickers, Voss) or considered too far advanced to justify their inclusion (Amos, Harrison). Chris Paul, Charlie Hayford and Armani Daly are in the midst of looking for new clubs and so were not included. But we did have a number of players dropping down from Under-21 football.
Squad List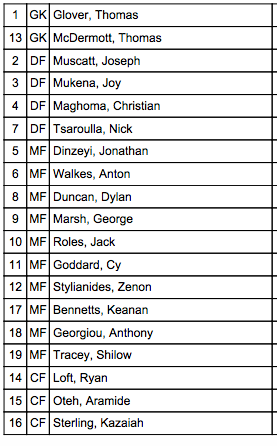 And in age order:
Anton Walkes 8 Feb 1997, 19
Anthony Georgiou 24 Feb 1997, 19
Cy Goddard 2 Apr 1997, 18
Ryan Loft 14 Sep 1997, 18
Christian Maghoma 8 Nov 1997, 18
Joe Muscatt 15 Dec 1997, 18
Thomas Glover 24 Dec 1997, 18
Zenon Stylianides 7 Jan 1998, 18
Tom McDermott 30 Jan 1998, 18
Shilow Tracey 29 Apr 1998, 17
Aremide Oteh 10 Sep 1998, 17
George Marsh 5 Nov 1998, 17
Kazaiah Sterling 9 Nov 1998, 17
Dylan Duncan 25 Jan 1999, 17
Jack Roles 26 Feb 1999, 17
Keanan Bennetts 9 Mar 1999, 17
Nicholas Tsaroulla 29 Mar 1999, 16
Joy Mukena 3 Jul 1999, 16
Jonathan Dinzeyi 16 Sep 1999, 16
Our results were as follows:
Saturday
PSV Eindhoven – drew 0-0
Borussia Mönchengladbach – won 1-0 (Maghoma)
Sunday
Japan Highschool Selection – lost 2-1 (Oteh)
Fortuna Düsseldorf – won 1-0 (Bennetts)
Monday
Red Bull Salzburg – lost 1-0
Our final match — the third place play-off against Japan Highschool Selection — will take place at 13:45 UK time.
To have only scored three times in 250 minutes of football (the matches consist of two halves of 25 minutes) will be disappointing for the coaching team. But if I were John McDermott/Matt Wells, I'd have been most disappointed at the lack of bravery in possession. At times it felt as though the centre-backs kept firing aimless balls forward or straight out of play – particularly in the match against Red Bull Salzburg.
The tournament illustrated that a number of these players are not up to the levels required, and will have helped McDermott make some decisions about who stays and who goes. There are a lot of decisions to be made about the first year professionals in particular at the end of the season, as we look to re-model (and possibly trim down) the development squad.
Disappointingly, throughout the tournament, it was often the younger players who took responsibility and showed bravery on the ball. My stand-out performers thus far have been Marsh, Roles and Tsaroulla.