Youth Update – March 2016
This is a long overdue youth update from me, so I apologise to anyone who doesn't follow me on Twitter or listen to my weekly segment on The Fighting Cock podcast, as you'll have had to look elsewhere for your youthy nuggets! There's a lot going on!
U19 Champions Trophy
Firstly, over this Easter weekend, an Under-19 squad will be taking part in the U19 Champions Trophy in Düsseldorf. Our schedule us as follows:
Saturday
PSV Eindhoven 10:30 local time, 9:30 UK time
Borussia Mönchengladbach, 17;00 local time, 16:00 UK time
Sunday
Japan Highschool Selection, 14:00 local time, 13:00 UK time
Fortuna Düsseldorf, 18:30 local time, 17:30 UK time
The next matches all take place on Easter Monday: here is the full schedule.
There should be a stream for at least some of the matches here.
The squad will most likely be made up of a mixture of Under-18 and Under-21 players who are not currently on international duty.
International Call-Ups
We have various players away representing their countries at various levels:
Nigeria Under-23s: Nathan Oduwa
Slovakia Under-21s: Filip Lesniak
England Under-20s: Harry Winks
England Under-19s: Kyle Walker-Peters and Josh Onomah
Northern Ireland Under-19s: Charlie Owens
England Under-18s: Alfie Whiteman and Marcus Edwards
England Under-17s: Jaden Brown, Japhet Tanganga and Samuel Shashoua
England Under-16s: Oliver Skipp, Nya Kirby and Reo Griffiths (Tashan Oakley-Booth and Timothy Eyoma were left out, possibly due to some sort of squad rotation).
Edwards scored two for the England Under-18s as they won 3-2 in Austria.
Onomah scored for the Under-19s in a 2-1 win over Georgia.
The full England Under-16s match vs Russia is here – Kirby gets the assist for the goal at 1hr59 in the video.
The full England Under-16s match vs USA is here – spoiler alert: it ended 2-2.
There was an excellent run-down of most of the involvement on the official site.
Under-18s
We have managed two wins and two defeats from our four matches in the Final Stage of the Under-18 Premier League.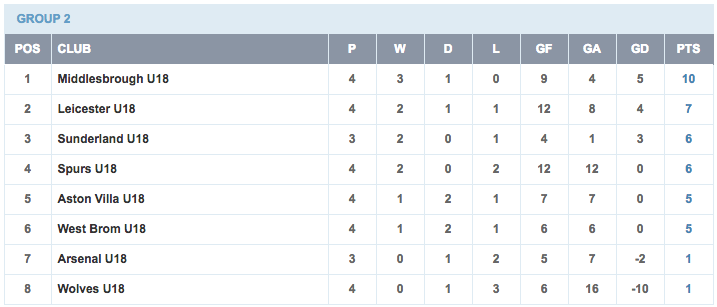 In the last match, a 7-3 victory vs Wolves, it was pleasing to see Oakley-Boothe and Eyoma promoted. The goals came from: Roles, Oakley-Boothe, Loft (2), Oteh, Muscatt, Duncan. The highlights are well worth a watch!
Oakley-Boothe, by all accounts, was outstanding on his first start, and came away with two assists and a goal. He is a big, big talent and one to watch. Shilow Tracey also played a part in three of our first four goals and you can see from the highlights alone that he was a threat on the right-hand side.
Under-21s
The Under-21s beat Leicester 3-0, with goals from Harrison 2 and Goddard. The highlights are worth watching for Goddard's spectacular volleyed finish.
That was Kazaiah Sterling's second appearance at that level, which is frankly ludicrous given that Shayon Harrison has been injured for a lot of the season. Sterling's call-up was well overdue, and apparently he had an excellent game.
That was the Under-21s' first league win since November, which goes some way to explaining the poor league placing: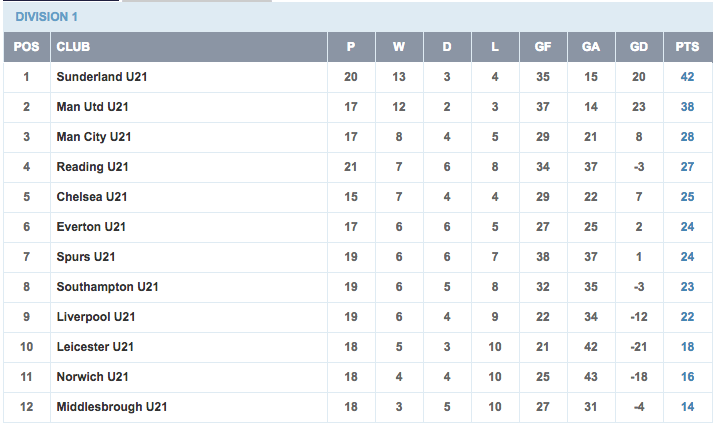 We are now eight points ahead of Norwich who are sat in the first of the two relegation places in the division, though they do have a game in hand over us.
The Under-21 league format has been heavily criticised and is currently under review. The Mirror recently reported that the structure will be changing back to something closer to the old reserve league from the 2017/18 season.
Musa Yahaya
Portuguese second division club Portimonense have signed Musa Yahaya on a five-year contract. This will hopefully end all of the rumours surrounding this player, who had been on a trial at Spurs. There were work permit complications, and I have been told that the club did not think it was worth pursuing – presumably because he was no better than what we had.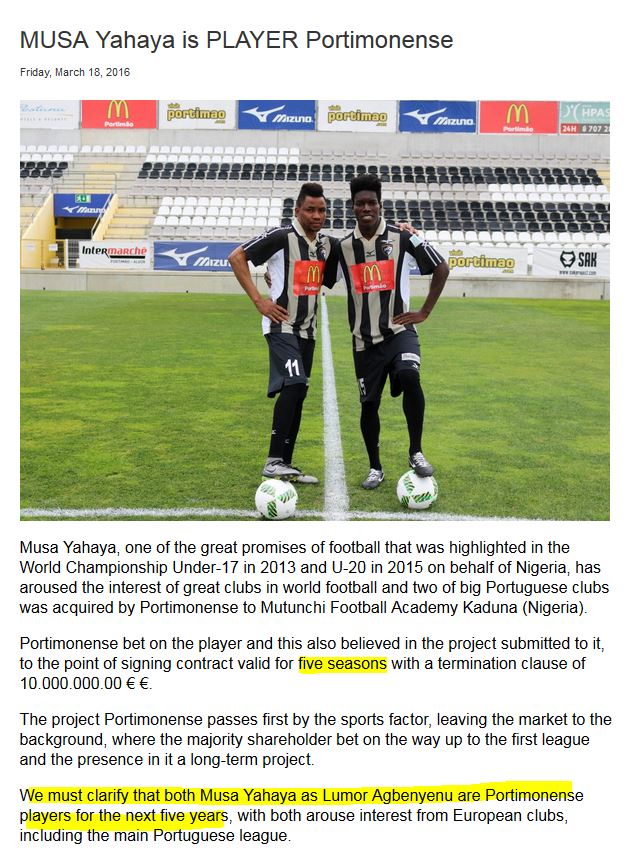 Marcus Edwards
As I understand it, the super-talent that is Marcus Edwards has yet to sign a contract. I gather that the club are confident of him eventually signing.
It is understandable that a player widely seen as the best English 17-year old in the country would not wish to sign Spurs' 'standard' first professional contract that they offer to all 17-year olds deemed worthy.
It is equally understandable that Spurs would not wish to set a precedent by offering a deal over and above what they normally would to a player of that age; we are not Chelsea (where Ruben Loftus-Cheek is paid more than Christian Eriksen, for example!).
Johstone's Paint Trophy
The Telegraph reported last week that there are ongoing discussions which may see 16 Premier League Under-21 teams entered into the Johnstone's Paint Trophy next season. Watch this space on that one.
UEFA Youth League
If we were to qualify for the Champions League (which looks likely), we would also be automatically be entered into the UEFA Youth League for Under-19s.
This season has seen Chelsea progress to the semi-finals:
Friday 15 April
• Semi-final at 13.00CET: Chelsea v Anderlecht
• Semi-final at 17.00CET: Real Madrid v Paris Saint-Germain
The competition is strong, a lot of games are televised, and the league helps to bridge the gap between Under-18 and Under-21 football, so I would be very pleased were we to qualify. I would have slight concerns about the talent level of the team that we could put out, as our eligible players are a real mix of abilities. But, in some respects, it will be a great way to sort the wheat from the chaff, so the cliché goes.
Loanees
It has not been a great season for Spurs loanees, amidst a very definite change of strategy since Mauricio Pochettino became Head Coach.
There is a greater emphasis now on keeping players in-house, and loans seem to only be taken up where the opportunity is too good to turn down. For example, Luke Amos had an offer from Bradford City, and Kyle Walker-Peters had a trial at Roda JC with a view to a loan.
DeAndre Yedlin has recently become a regular at Sunderland, playing their last five Premier League matches at right-back. He has now played 13 matches in total this season.
Grant Ward has had a mixed time at Rotherham United in the Championship since Neil Redfearn was sacked as their manager. Having started 18 consecutive league matches, he has had a run of eight where he has been in and out since Warnock took over.
Dominic Ball has also been in and out, not cementing himself in the Rangers team, but still getting plenty of minutes under Mark Wartburton in the Scottish Championship. Ball has started three times as a defensive midfielder recently, and I wonder whether this might be the long-term plan for him in light of the Eric Dier experiment. Perhaps he will get some first team involvement in pre-season to check on his progression.
Poor Connor Ogilvie has damaged his ankle ligaments and will miss the rest of the season, having become a firm favourite for Stevenage in League Two. All in, he started 24 times for them and he will be looking to progress next season – be that a League One or Championship club, or with a full season of Under-21 football and even, perhaps, the occasional first-team opportunity.
Alex Pritchard has only made two substitute appearances for West Bromwich Albion since joining in January. Tony Pulis has put this down to Pritchard's recovery from injury, saying:
"Alex has come in and has tremendous talent. He was injured at Tottenham for a long time so it's just making sure and I think Tottenham are concerned we don't push him too quickly too soon.

The last thing they want is the kid to get injured again so it's just about being patient with Alex as much as anything else.

He's trained well, he's worked well and he's desperate to be involved. But sometimes you have to hold them back and we have a responsibility to Tottenham for that."
Nathan Oduwa joined Colchester United in League One at the end of his loan at Rangers. So far he has only played 44 minutes with their manager Kevin Keen saying "there's a big difference between looking like a player and being a player and that's what he's got to learn."
Finally, Ryan Loft joined Braintree Town of the Vanarama National League on a 'work experience' loan, as Spurs described it. I assume this is what is also known as a youth loan, where young players can also play for their parent club's Under-18 and Under-21 sides whilst on loan. He has been on Braintree's bench, but has not made an appearance just yet.