June 30, 2016
At the beginning of the summer I was expecting numerous Development Squad players to be released in order to clear the decks for more promising younger players. This was a little hasty, and I'll explain why.
In a recent player update, the club confirmed that young professional Emmanuel Sonupe was released at the end of his contract, and that Under-18s Armani Daly, Charlie Hayford and Chris Paul were released at the end of their scholarships. Paul has signed a one-year professional contract at QPR (congratulations to him), whilst the others — as of today — have not yet found new clubs.
Next year, as well as the Under-18 Premier League and the Under-21 Premier League, our youth teams from Under-21 down will participate in at least one extra competition.
The 32 senior clubs that qualify for the group stage of the UEFA Champions League, as well as the 32 domestic youth champions are all entered into the 'UEFA Youth League', which is a sort of Youth Champions League. This is a competition for Under-19 players, and for next season players are eligible to play in the competition if they were born on or after 1 January 1998. To give you an idea of what this means for Spurs, Cameron Carter-Vickers, Kyle Walker-Peters and Shayon Harrison miss the cut, but Zenon Stylianides, Shilow Tracey, Kazaiah Sterling and Marcus Edwards are all eligible.
The rules also allow up to three players born on or after 1 January 1997 (i.e. three players a year older) to be included on the list of 40 players, so long as they fulfil various other conditions.
The regulations also state 'Any player who is fielded in three or more UEFA Champions League or UEFA Europa League matches (as of the group stages of those competitions) in the course of the 2016/17 season ceases to be eligible to play in the UEFA Youth League'. So we will need to be a little clever with the three overage players that we register; if there is any chance of Carter-Vickers, Walker-Peters and/or Harrison playing first-team football, there is no point in registering them.
Chelsea won this competition last year, and in doing so they played 10 matches, so it's fair to say that it's a tournament with a substantial number of games.
In addition to this, it is likely that we will enter the English Football League Trophy, formerly known as the Johnstone's Paint Trophy (but currently without a sponsor for the forthcoming season).
For a one-year trial, the tournament has been adapted so that as well as all League One and League Two clubs, it will include 16 category one academy sides.
The format will see 16 regional groups of four teams where the top two progress. I believe that this means it would be an 11-match run to the final consisting of: six group matches, Round of 32, Round of 16, Quarter-Finals, Semi-Finals, Final.
As a slight aside, this change has not gone down well with fans of League One and Two clubs, with the Football Supporters' Federation recently releasing a statement saying that academy sides entering "undermines the integrity of the competition". Personally, I wouldn't be happy if a cash-rich Academy side potentially stood between my club and a Wembley appearance/prize money.
It is — as yet — unclear as to whether Spurs will enter this competition, and there are reasons not to, as this article by a Liverpool fan site underlines:
These reasons include not being able to play anyone registered in the first team squad of 25 players, and that all games are to be played during the international breaks.

Therefore, Liverpool – and other Premier League clubs – will lose all their youth internationals as well as anyone in and around the first-team squad.

That would leave the Reds with a handful of players, plus U17 or schoolboys – being played up against full first-teams of players aged 10 years older than them.

Had the competition been more thought out and planned correctly, it would have been a good opportunity for Liverpool's young players to get competitive football.
If, as expected, Spurs participate in this tournament as well as the three others, the load will be significant for our Academy, and so it quickly becomes obvious why we have not shed what I consider to be the 'deadwood'.
By my calculations, we have just under 40 players to cover these tournaments; that does not include the new academy intake (which should be somewhere between nine and twelve players), nor does it take into account loans and first-team promotions.
As I mentioned in a previous article, Spurs have very clearly changed their loan policy over the past few years, with numbers dropping off significantly from around 30 loan deals eight years ago, to roughly a third of that now – see The Spurs Report's piece on this for more detailed information. If we assume that there will be between five and eight loans at any one time, that narrows the pool. If, as the Liverpool site said, the EFL Trophy matches are played during international breaks, that pool is narrowed further — we have a fairly high proportion of youth internationals.
Given the late return of players from the European Championships, we can expect the youngsters on the fringes of the first team squad (Carter-Vickers, Walker-Peters, Harry Winks), plus the returning loanees (Grant Ward, Dominic Ball, Connor Ogilvie) to be to be involved in the early first-team pre-season friendlies, and we have seen in the past how players can use that opportunity to put themselves in the first-team squad picture.
It is going to be very tough to navigate through four competitions with a relatively small squad of players to select from, and I think there will be a number of repercussions from this:
A negative: I don't think we will perform particularly well in the English Football League Trophy or Under-21 Premier League, with an added caviat that we might do better if next year's second year Academy players are heavily involved (and that is tricky, as a number of them will be playing Under-18 and UEFA Youth League games). A proportion of the players that played a lot of the Under-21 games last season are not good enough to break through to the first team, and are not showing enough signs of progress.
A positive: I expect one or two players to make an unexpected breakthrough. There are players who will get exposure to more game-time at a higher level than they otherwise might have had, and who just needed that chance to have a run in the team (be that Under-18, Under-19 or Under-21).
A final thought: perhaps we will sign some Under-21 players to help bolster the squads at different age groups. Or perhaps we'll see us borrow players, like when we saw Ipswich's Kundai Benyu play in the NextGen Series with us in May.
In the coming days we should have confirmation of the new academy intake and news on whether we are participating in the EFL Trophy; it will be interesting to see if Spurs release any type of statement on this, which might inform us to how this will be managed.
Interesting times of change ahead in the world of youth football.
June 18, 2016
During the England vs Wales match on Thursday, my Twitter-friend Dan Rattigan tweeted 'England don't deserve Kane'. I chortled to myself in the pub, hit the retweet button, and carried on my day. But then I came back to it later that night and realised how much it had resonated with me.
England don't deserve Kane

— Dan Rattigan (@djrattigan) June 16, 2016
Of course I'm a Harry Kane apologist; I'm a Spurs fan. So here are my excuses on his behalf.
Before this tournament I was feeling grumpy, because I didn't want to share Harry with other football fans — particularly those casuals who only show up when a big tournament comes around. So I should be happy, right, that I'm not having to? You'd think. Quiet in the first match, and hauled off at half-time against Wales, the backlash has begun, and I'm feeling like a protective boyfriend whose partner has just had her backside groped in a grotty nightclub.
Kane looks sluggish, and it doesn't take too much digging to understand why. The Daily Mail (*spits*) did some really useful analysis (I know, me either) of the number of matches Kane has played over the last two years.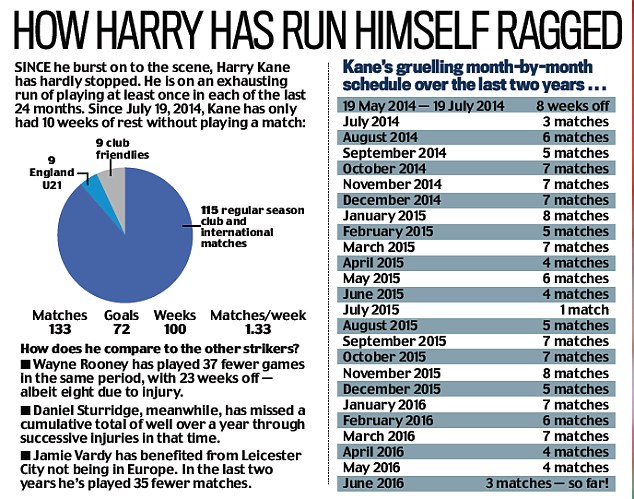 It's understandable that Kane looks tired.
But has Kane really been that bad? He's been quiet, certainly. He's not had much of the ball, he's had no presentable chances, and he has not looked much of a goal threat.
On Thursday, Kane had just 13 touches in his 45 minutes; that's not like him. Normally he is so involved, creating a platform for his team to play from. And yet Jamie Vardy only had seven touches in his time on the pitch. Vardy came on, scored a poachers goal from a position that would often have been offside and is spoken of as a hero, with fans in pubs across the country considering the alcoholic beverages and recreational drugs that may or may not be on offer at his upcoming soirée.
Whilst the other 'super sub', Daniel Sturridge, played 1700 minutes last season compared to Kane's 4027. He's fresher, looks sharp, and should be used. I'm sure he will be now, having come on and scored an impressive last-minute winner.
But I have no doubt that Kane would have buried the chance that Vardy scored to bring England level. And I have no doubt that had Kane remained on the pitch with either Sturridge or Vardy, he'd have had a positive impact in that second half.
The bigger issue, for me, has been the lack of service for the forward(s). Much of that can be put down to Raheem Sterling — bereft of confidence and looking a shadow of his former self — but even England's better attacking performers (Wayne Rooney, Dele Alli, Adam Lallana) have failed to provide Kane and co with many clearcut chances.
Contrary to popular opinion, I actually think that England have generally played well, looking structurally sound, and conceding few chances in open play. They have played some neat and tidy football, which has been eye-catching at times, and a bit too side-to-side at others. We must remember, though, that the teams we have played so far have defended deep and in numbers, and it is never easy to penetrate sides that do that, as Spurs often found out last season.
For the Slovakia game I'd be looking at starting Sturridge and Vardy, but only to give Kane a bit of a break. Bring him on in the final twenty against tired legs, and hopefully he'll get a goal to pep him up ahead of the next round. I would absolutely start him thereafter, because he's our best forward. But I do think that he will need Sturridge and/or Vardy on the pitch with him, or for Alli to play high on the left as he did for Spurs for much of the season. Essentially, he needs someone to play off.
England don't deserve Kane because 'they' don't know how to love him like 'we' do.
Final thought. If you only read one thing today (other than this!), read this masterpiece about Eric Dier by Barney Ronay.