England Don't Deserve Harry Kane
During the England vs Wales match on Thursday, my Twitter-friend Dan Rattigan tweeted 'England don't deserve Kane'. I chortled to myself in the pub, hit the retweet button, and carried on my day. But then I came back to it later that night and realised how much it had resonated with me.
England don't deserve Kane

— Dan Rattigan (@djrattigan) June 16, 2016
Of course I'm a Harry Kane apologist; I'm a Spurs fan. So here are my excuses on his behalf.
Before this tournament I was feeling grumpy, because I didn't want to share Harry with other football fans — particularly those casuals who only show up when a big tournament comes around. So I should be happy, right, that I'm not having to? You'd think. Quiet in the first match, and hauled off at half-time against Wales, the backlash has begun, and I'm feeling like a protective boyfriend whose partner has just had her backside groped in a grotty nightclub.
Kane looks sluggish, and it doesn't take too much digging to understand why. The Daily Mail (*spits*) did some really useful analysis (I know, me either) of the number of matches Kane has played over the last two years.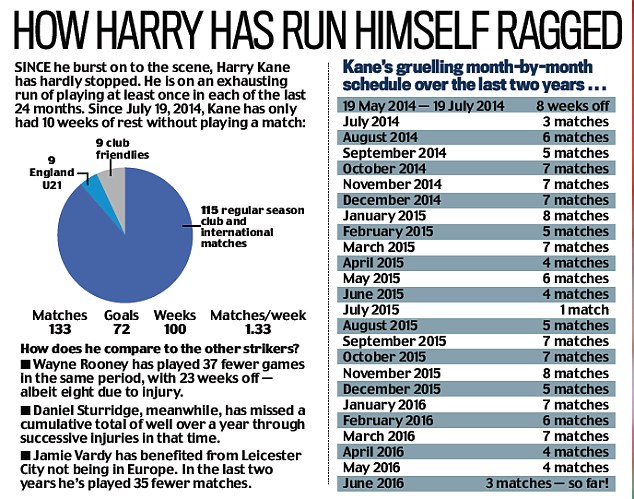 It's understandable that Kane looks tired.
But has Kane really been that bad? He's been quiet, certainly. He's not had much of the ball, he's had no presentable chances, and he has not looked much of a goal threat.
On Thursday, Kane had just 13 touches in his 45 minutes; that's not like him. Normally he is so involved, creating a platform for his team to play from. And yet Jamie Vardy only had seven touches in his time on the pitch. Vardy came on, scored a poachers goal from a position that would often have been offside and is spoken of as a hero, with fans in pubs across the country considering the alcoholic beverages and recreational drugs that may or may not be on offer at his upcoming soirée.
Whilst the other 'super sub', Daniel Sturridge, played 1700 minutes last season compared to Kane's 4027. He's fresher, looks sharp, and should be used. I'm sure he will be now, having come on and scored an impressive last-minute winner.
But I have no doubt that Kane would have buried the chance that Vardy scored to bring England level. And I have no doubt that had Kane remained on the pitch with either Sturridge or Vardy, he'd have had a positive impact in that second half.
The bigger issue, for me, has been the lack of service for the forward(s). Much of that can be put down to Raheem Sterling — bereft of confidence and looking a shadow of his former self — but even England's better attacking performers (Wayne Rooney, Dele Alli, Adam Lallana) have failed to provide Kane and co with many clearcut chances.
Contrary to popular opinion, I actually think that England have generally played well, looking structurally sound, and conceding few chances in open play. They have played some neat and tidy football, which has been eye-catching at times, and a bit too side-to-side at others. We must remember, though, that the teams we have played so far have defended deep and in numbers, and it is never easy to penetrate sides that do that, as Spurs often found out last season.
For the Slovakia game I'd be looking at starting Sturridge and Vardy, but only to give Kane a bit of a break. Bring him on in the final twenty against tired legs, and hopefully he'll get a goal to pep him up ahead of the next round. I would absolutely start him thereafter, because he's our best forward. But I do think that he will need Sturridge and/or Vardy on the pitch with him, or for Alli to play high on the left as he did for Spurs for much of the season. Essentially, he needs someone to play off.
England don't deserve Kane because 'they' don't know how to love him like 'we' do.
Final thought. If you only read one thing today (other than this!), read this masterpiece about Eric Dier by Barney Ronay.