Know Your Role
Hey, remember when we comprehensively beat The Best Team In The Country™ last week? That was nice.
What staggered me about the City game was not so much the quality or even the aggression with which we played, but how every man stuck to his task impeccably. It's been a trademark since Mauricio Pochettino's second season, but rarely so clear.
From our set-up from City's goal kick (check out Wanyama midway inside the City half)…
Our set-up from their goal kicks is perfect. pic.twitter.com/74vyeA5V4Y

— Chris Miller (@WindyCOYS) October 2, 2016
…to Son Heung-min's pressing of Claudio Bravo, knowing full well that Dele Alli and Erik Lamela were backing him up and backing City in. In this match Dele made an incredible 90 sprints, Lamela 76, and Son 73. City's Aleksandar Kolarov made 78, but nobody else on the pitch cleared 67 — such was our intent to put their goalkeeper and centre-backs under pressure.
But nobody covered more ground than Christian Eriksen (12.72km). Eriksen had an imperfect game, in which he won just one out of his five attempted tackles and dropped 5% lower than his average pass completion of 78.6%. What he did brilliantly, though, was cover huge areas of the midfield, supporting the full-backs in possession and picking up the pieces when City lost the ball.
Whilst Victor Wanyama was throwing his weight around, making six tackles and five fouls to disturb City's rhythm, Eriksen was latching onto loose balls and retrieving possession. In fact, he gained possession 16 times in the match — the next highest number of ball recoveries for Spurs was Victor Wanyama's nine.
But Eriksen does have more to do, and he has still not found his best form. He failed to complete a single pass into the box, and notably wasted two or three fantastic counter-attacking opportunities by misplacing passes — one in particular drew groans at a crucial period, and that's the side of Eriksen's game that hasn't quite clicked yet.
Minutes per #THFC goal or assist (PL only):
1. Son, 60.0
2. Kane, 141.0
3. Rose, 180.0
4. Lamela, 215.5
5. Eriksen, 253.0#COYS

— Chris Miller (@WindyCOYS) October 6, 2016
And whilst he gained possession 16 times, he lost it 19 times. Put into context, though, that is a net loss of 3 compared to Jan Vertonghen and Erik Lamela's 10, Dele's 13, Moussa Sissoko's 14, Son's 19 and Danny Rose's staggering 29. In fact, the only players on the pitch to gain possession more than they lost it were John Stones (2), Eric Dier (3) and Victor Wanyama (1). It was a fast-paced, high-risk game, and so it was natural that the ball would be surrendered frequently.
Of all Spurs players, only Rose had more touches than Eriksen (78 to 70) and Eriksen attempted 15 more passes than any of his teammates. He kept things moving nicely, and that is a role that cannot be understated.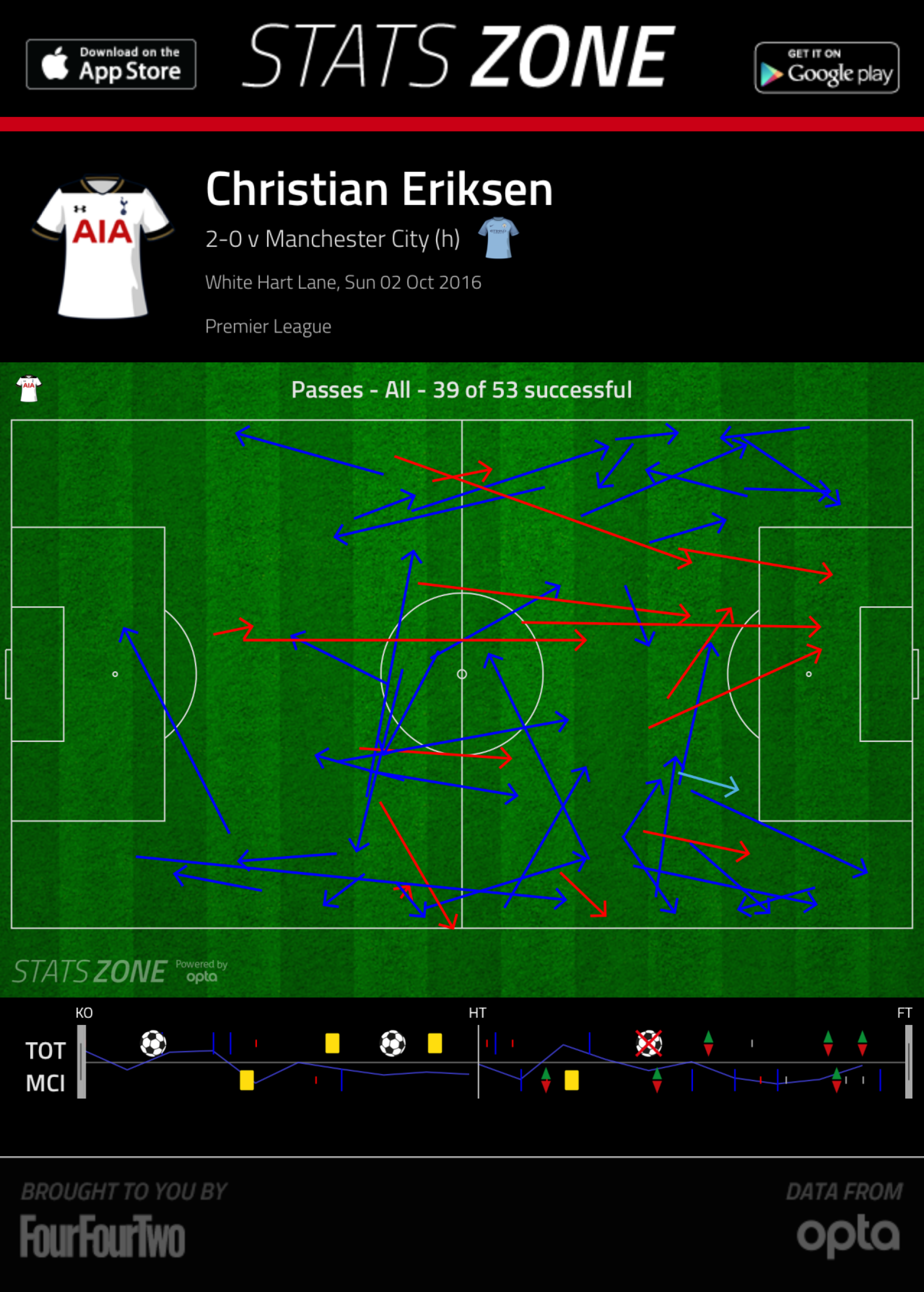 Alongside Eriksen, though, was the game's outstanding player. As I said on this week's Fighting Cock, Victor Wanyama was not a player who I was particularly excited about signing. It made complete sense, of course, because Eric Dier played too many matches last season, and Pochettino knows exactly what Wanyama is capable of. In fact, the only reason Eric Dier broke through at defensive midfield last season was that Pochettino failed to sign Wanyama.
On Sunday, Wanyama played the archetypal Pochettino defensive-midfield role. Dropping between the centre backs to create a three in possession, covering the full-back area when Kyle Walker and particularly Rose had pushed on, and disrupting City's flow in the centre of the pitch with tackles and tactical fouls. After an early booking I think we all expected him to be substituted or sent off, but it seemed to add an extra focus to his game, and he put in a nearly perfect defensive midfield display.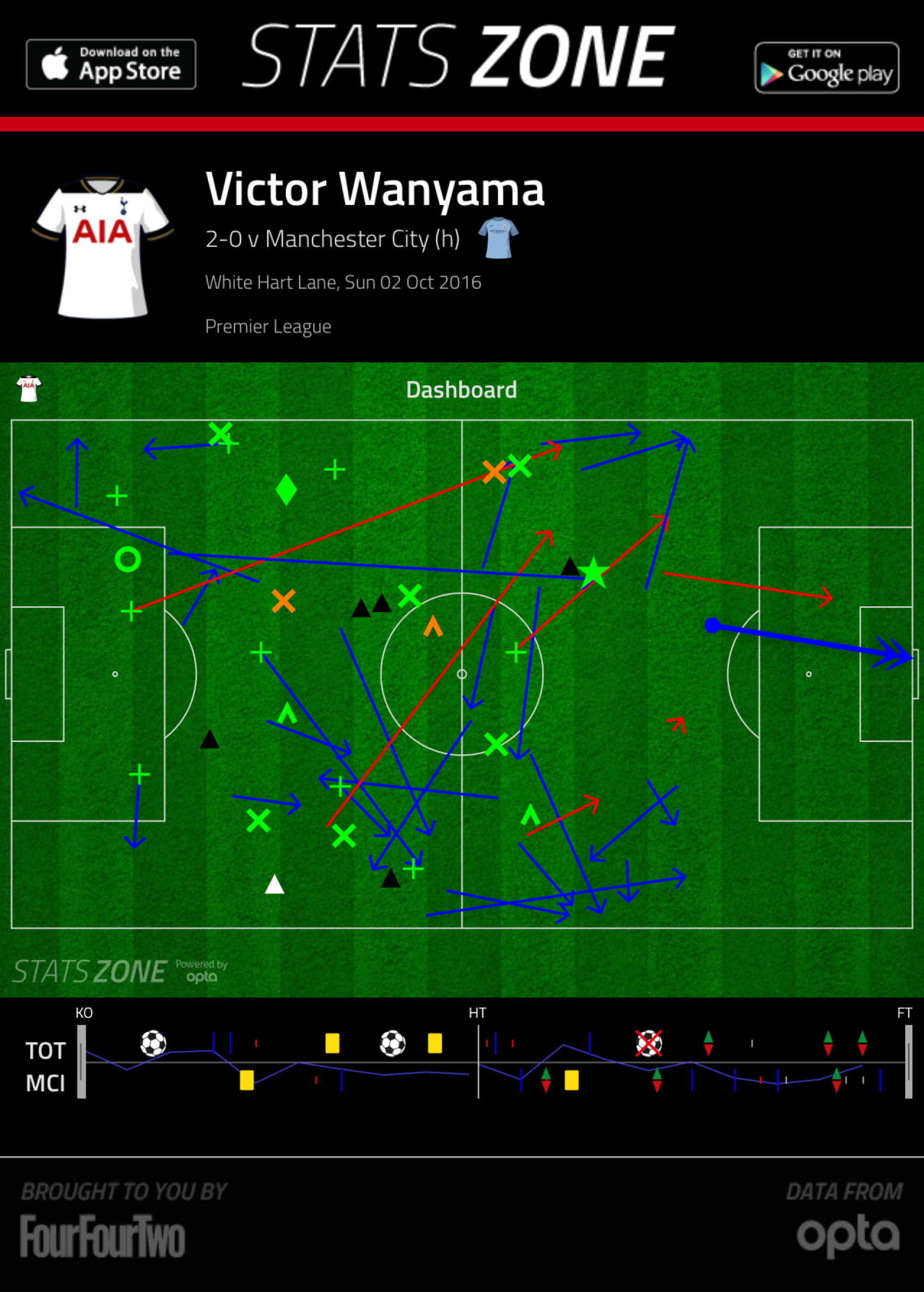 Wanyama's control of midfield since Mousa Dembélé was injured has led to Pochettino switching to a 4-1-4-1, and his post-match comments suggested that this is the set-up for the foreseeable future.  "The design to play is not only [for] today. We played against CSKA [Moscow] and against Middlesbrough and different games with only one midfielder holding. I think that the future and the project of the team is to play with only one."
Dembélé's return, therefore, will cause an interesting selection dilemma. One would imagine that Sissoko would drop out with Alli moving wide left and Lamela right, but it's a nice problem to have.
Spurs will need to show similar focus if they want to match City this season, and the early signs are that we are an even meaner machine another season on.