Win-win
Yeah, I'm a glass half full kinda guy but I can't help but see tomorrow's match as win-win. We win and we qualify for the Champions League. It's where we want to be, it will galvanise the club ahead of the impending move to our new home, and it will go down as one of the most famous victories in our history.
If we lose: it's Barcelona! There's no disgrace in losing away to Barcelona! We'd drop into the Europa League, we can give some of our young players some much-needed first team exposure, we can rotate the team and focus on securing top four again in an ultra-competitive Premier League season.
So ultimately I'm seeing this as a shot to nothing. It's a little frustrating, because it needn't be this way at this stage, but the Champions League is ultra-competitive itself and one or two slip-ups cost you. So I will be relaxed, letting it play out without feeling overly concerned about the consequences. I'll be able to enjoy the match for what it is.
We'll hopefully be doing a bit of a Barca de-brief on The Extra Inch so do keep an eye (or ear?) out for that. We're now on Spotify and Stitcher if that helps. If you enjoy it, please consider leaving us a review, as it helps us attract sponsorship meaning that we can pay Nathan for producing the podcast.
I'll hope that Barcelona it's the turning point in our season in terms of consistent performances, because *that* hasn't happened yet. I keep seeing articles in which Spurs' numbers look bad. In almost every metric I've seen, we're some way off nearly all of the clubs around us; the latest being some pass-chain data that Duncan Alexander used in this article for the BBC: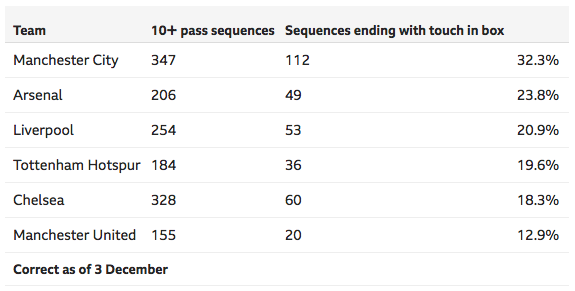 The numbers of 10+ pass sequences seem staggeringly low, even taking into account our style.
And yet having beaten Leicester City we're a point worse off than our best ever points tally (37 in 2011/12) after week 16 in the Premier League. Grinding.
We all know the reasons, but let's summarise them again:
The World Cup
The lack of summer signings
Stadium delay
Broken Harry Kane (fixed now?)
Broken Mousa Dembélé (fixed never sad face)
Broken Victor Wanyama (I can't even)
I could go on…
Pochettino has had to change formation to adjust for life post-Dembélé. He's had to play Lucas up top with Kane to do some of his running. He's had to re-establish Moussa Sissoko in the team. And he's made it work. The guy just continues to work miracles, and – despite the Arsenal nightmare – I continue to think he's one of the best things to ever happen to us.
One more positive before I sign-off. Have you seen how well our Under-18s are doing? I'm a bit down on the situation with our Under-23s (for various reasons, perhaps I'll blog on them sometime) but the Under-18s are unbelievable. I can't get down to Hotspur Way much these days but I've been living vicariously through Lennon McCandless-Branagan (hope I've got that right, Lennon!), who has barely missed a match across all youth levels and writes the most thorough of reports on his website. Kudos to Lennon for his incredible support and thank you for making it so easy to follow our fabulous Under-18s (who have a plethora of individual talent).