Adversity adspurscity
As a Spurs fan for over thirty years I've become accustomed to our clutching of defeat from the jaws of victory; to my team falling at the final hurdle; to inevitable, reliable, reassuring mediocrity. And so what Mauricio Pochettino has brought to the club — although including the occasional spattering of all the above — has been a real breath of fresh air.
We compete until the last. We are — 'on our day', as the expression goes — a match for anyone. And we're sometimes a match for anyone even when it's not our day, as Wednesday showed.
Our captain and talisman missing. Our pair of England centre-mids injured. Dele and Victor Wanyama a long way from peak fitness. The resurgent Moussa Sissoko going off in the first half. No Erik Lamela or Serge Aurier to call upon from the bench. But that didn't stop our masterful Mauricio getting a tune from our boys. Speaking of a tune…
When everything was going against them he made them believe. And that's sort of encapsulated this season. No stadium. No signings. No Harry Kane for long periods. No Son Heung-min (my Player of the Season) over a hectic, crucial period. Eric Dier and Harry Winks plagued by injuries all year.
Despite everything we are clinging onto the top four and now, of course, we've progressed to the SEMI-FINALS OF THE CHAMPIONS LEAGUE! It still doesn't feel real.
It almost under-sells Pochettino, though, to distil our season into that one match, no matter how exciting, engaging and enthralling it was.
And the reason I say that is that, once again, Pochettino has kicked on as a coach. Stay with me on this, because I think we'd all agree that we've fallen back a little in terms of our on-pitch performances and play-style.
But he's doing more with less. Again. And he's doing it by using a multitude of formations, some of which are changed in-game. He's responding to opposition managers' tactics (notably against Liverpool and Manchester City most recently). He's often heavily rotating the side and managing it just about right (notably against Huddersfield most recently) and he's even starting to integrate young players, with Juan Foyth, Oliver Skipp and Kyle Walker-Peters starting to feel like genuinely trusted players rather than token inclusions. All are expected to be in the 18 today.
Systems-wise, Pochettino used at least three in Wednesday's incredible game. I've often described Pochettino's formations as 'calculated gambles'. With the narrow diamond that we started with, we essentially gave up the width but gave ourselves two pacy attacking players directly up against City's centre-backs. And rarely, in my experience of watching Spurs, has such a knife edge been illustrated within the opening few minutes of a match.
City destroyed us down the flanks. They created overloads around the immobile Victor Wanyama before quickly getting the balls into the channels to take advantage of our full-backs having moved narrow, leaving a ludicrous amount of space which they exploited. Our full-backs were made to look sub-standard, mostly by the system, but partly due to poor decision-making. But, equally, Lucas and Son were hugely threatening and Son scoring twice with Lucas leading the charge forward for each goal showed that Pochettino did have a definite game-plan.
Moussa Sissoko and Dele had struggled defensively alongside Wanyama in the diamond, with Sissoko unable to cut-out the pass for the opening goal and Dele likewise regularly being caught ahead of the ball. And whilst Sissoko's injury and our subsequent change fixed the midfield problem, it introduced Fernando Llorente too early in the game and negated most of our threat. We moved to a flat(ter) midfield four, which had been largely successful in the first leg, with Son shunted out to the left. The full-backs suddenly had protection and grew into their tasks as a result. But with Llorente up-front, we were playing with a target man who needs players around him.
Llorente is a skilful footballer who has a great touch and can link well with others, but he is painfully one-paced, and is unable to hold the ball up when he is isolated in the same way that Harry Kane, or even Son Heung-min nowadays, are able to. He is a threat from set pieces, though, and this proved vital as Pochettino's second calculated gamble *just about* paid off too.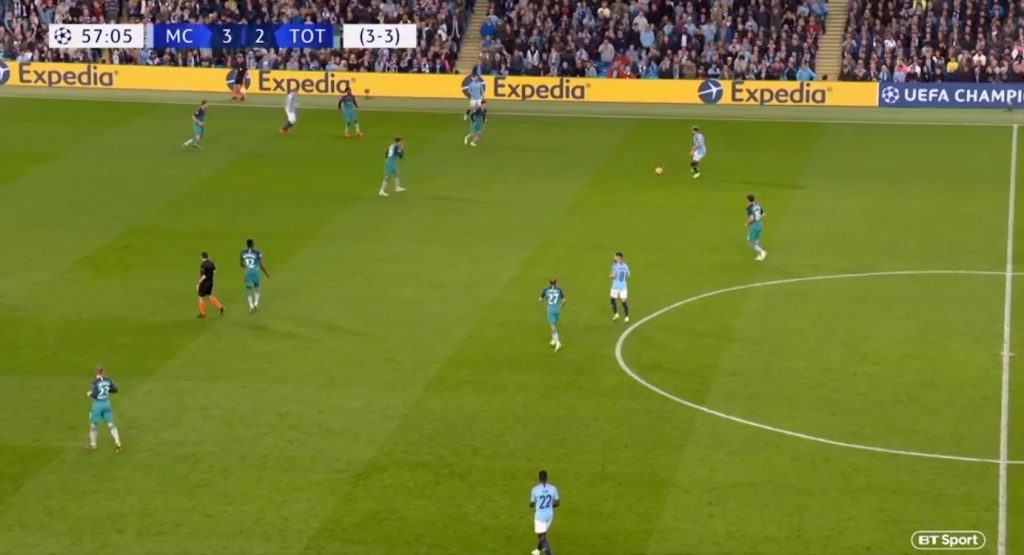 After City's fourth goal around the hour mark we switched again, and this change ultimately saw us get the vital third goal. We pushed Son forward on the right, had Lucas on the left with Llorente up front, Eriksen floating behind in a 4-2-3-1-ish shape. Just prior to the breakthrough, Son popped up in the middle and made a darting run forward to the right, where he won a corner, and from this we won a second from which Llorente scored.
After our goal we replaced Lucas Moura with Ben Davies and played Rose ahead of Davies on the left, before bringing on Davinson Sanchez and finishing the match in a back five.
Pochettino made his tactical changes at just the right times in this match. Given the plethora of attacking talent Pep Guardiola had at his disposal, they might have expected to get more from this game. However, the issue was not with their attack. After all, they did score four. The problem was with their defence. Aymeric Laporte made uncharacteristic errors, but Fernandinho being left out was a big risk, and one wonders if Spurs' first two goals might have been negated had he been on the pitch.