Infinite content
What you find with football club content is that when things are not going well, the amount of content related to that club increases. This week I have fallen into the trap myself! Let me assure you that this is (mostly) coincidence in my case. And yet I did find it relatively easy to get my words out this week; hindsight is a wonderful thing, etc etc etc.
I've been writing my gloves off (that's not a saying, I know) these past couple of weeks and I thought I would plonk some links down here in order to aggregate some of it as there's a chance you'll have missed some. And, to be honest, a couple of these pieces are things I'm fairly happy with – which is a rare thing with me and my writing. So, going from the most recent:
I wrote this for 90min on how Pochettino may want to freshen up the team.
I wrote this for Paddy Power on what's gone wrong and how we move forward.
And last week I'd written this, again for Paddy Power, on how Poch could do with cheering up a bit.
And aside from writing, we've released several episodes of The Extra Inch podcast, including a recent one where we dissected Southampton and then couldn't bear to dissect Bayern. That episode, 'The Extra Flinch', has had far fewer listens than usual; I wonder why?! Anyway, have a listen to the podcast if you've not before – it's on iTunes, Spotify, Acast. If you enjoy listening it would be lovely if you'd leave a review! Here's what some fine, fine people have said about us on iTunes.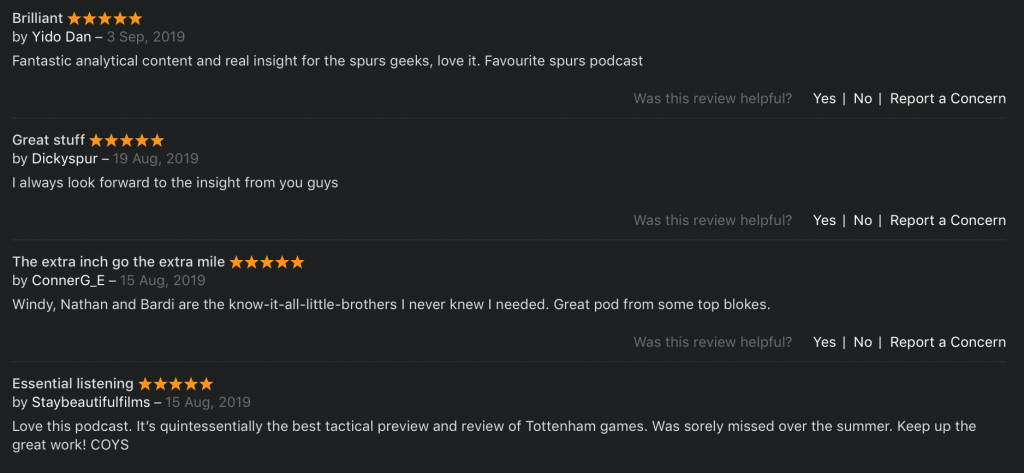 ---
I recently added a Donate button to this site. It's on the 'About' page. I explain why on there. Cheers!