Happy Again
It's irrelevant that it's only Sheffield United, who are, this season at least, one of the worst Premier League teams in history. Unless you're a Mourinhista you're probably feeling like me today: happy again.
It's seeing Dele back out there having fun, it's having Gareth Bale re-installed in the starting eleven and banging in a brilliant hat-trick, it's seeing Toby Alderweireld look up ahead of pinging a diagonal and there actually being a few options to hit. It's pressing the ball in the opposition third. It's watching a back-line which isn't defending the edge of our box constantly. It's having an interim manager who is invested in the future of the club.
It's sitting and watching the whole 90 minutes without getting distracted and messing about on your phone. It's feeling like things are moving in the right direction again.
The approach was one that built on what we saw against Southampton (and that was, sadly, entirely absent against Manchester City). It saw a lot of movement ahead of the ball, players rotating positions regularly, making runs in behind and coming short to create triangles.
And this is why it's irrelevant that it's only SU – because it's not necessarily about the success of the approach but the approach itself. And I think given that we've seen the approach in the two league games that Ryan Mason and his team have overseen, we can assume that this is what he will use for the last four games.
Playing attractive football is sometimes seen as frivolity. A nice to have non-essential. Unless it is accompanied by good results, it's not important. But that's not the case at Spurs — it is as much a part of our club's identity as being the club of firsts or our lilywhite shirts or our To Dare Is To Do club motto. You all know the historic quotes.
But it's not just aesthetes vs pragmatists. The romantics vs the objectives-focussed. My argument has always been that this Spurs team gets better results when they attempt to play more progressive, front-foot football (with some exceptions). The majority of our current squad is far better suited to having the ball and trying to create than not having the ball and trying to defend.
Quick sideways look here at the expected goals timing charts from Understat to reflect on our intentions in the two Sheffield United games.
In the game back in January it ended 0.98 vs 1.28 on expected goals. In yesterday's match it ended 2.26 vs 0.47. So already things are looking better on that front, but then when you examine the timings chart, you can see that there was simply a far more productive output from 60 minutes on. 0.38 first game vs 0.88 second game.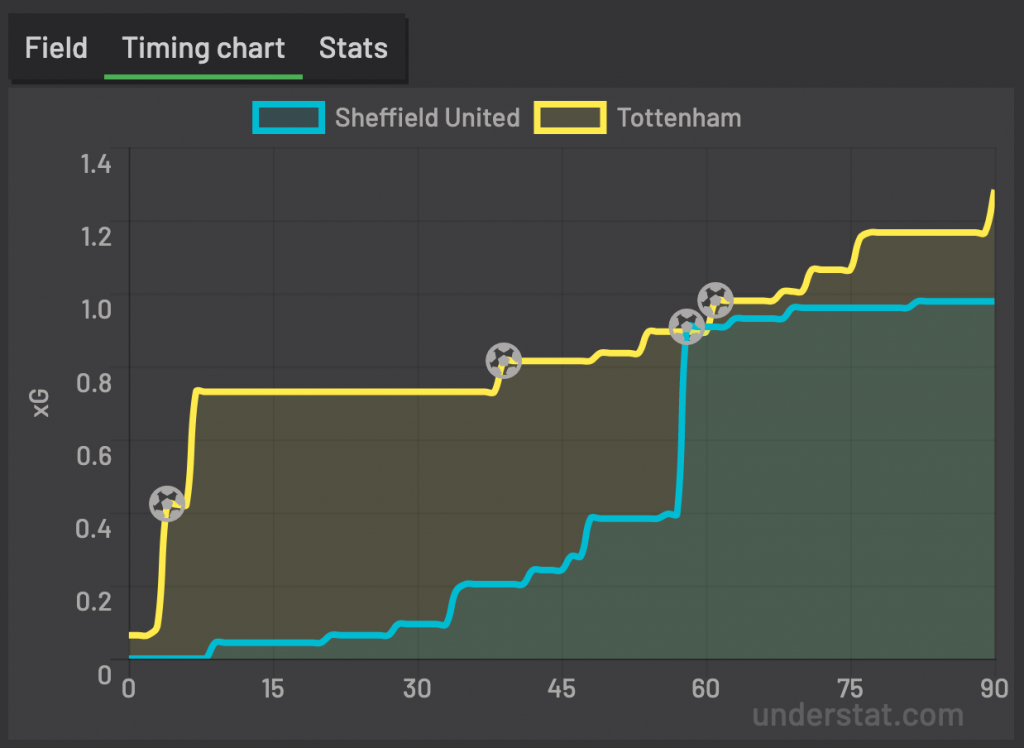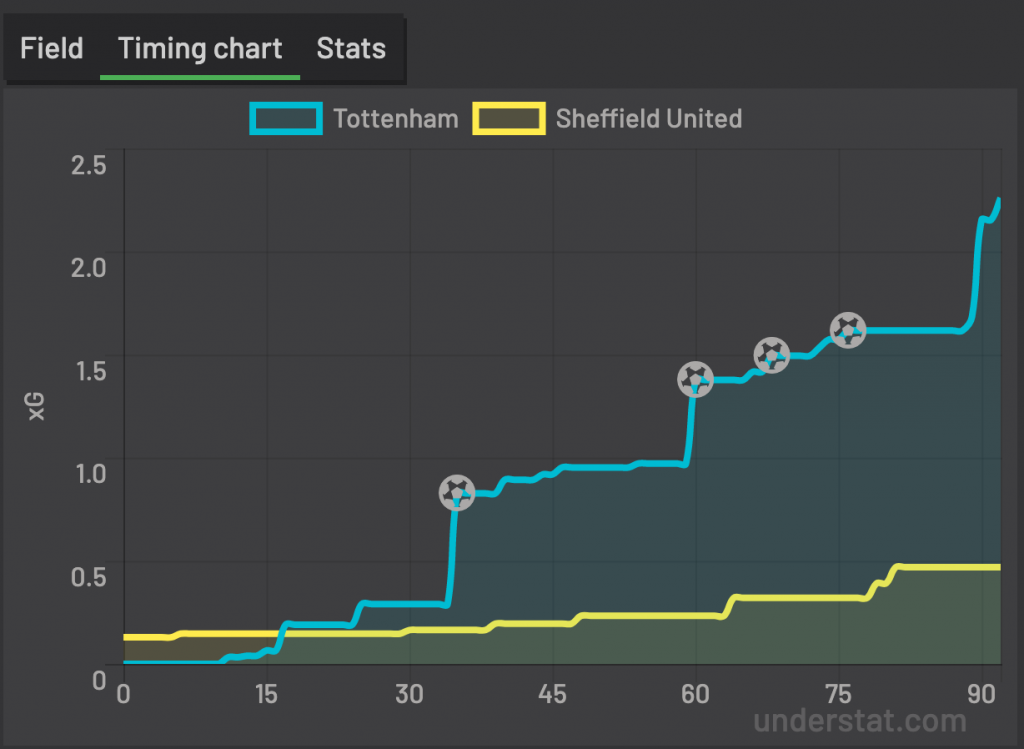 It's given us a glimpse of what next season could and should be like and it already feels like the dark clouds have started to lift.