The Tottenham Hokey Cokey
Let's be clear, it is perfectly reasonable and perfectly sensible for two parties to end a negotiation because a compromise cannot be reached. If one side or both sides have particular needs, requirements, values on which they will not bend, then walking away is clearly the right decision. But, allowing that to play out in public, particularly on the day of the deadline for season ticket renewals, is pretty shameful. As is allowing negotiations get as far as they appear to have got; what a waste of time and effort.
We know that Spurs can keep a lid on all of this stuff — we know that because, until the Mauricio Pochettino and then Antonio Conte rumours broke, information on who we might or might not be considering had been pretty well protected. No ITK, no 'leaks' aside from very generalised reporting in which multiple names were mentioned in regards to a shortlist, the types of names that we, as fans, could have (and did) already come up with. There's no way that our beloved beat journalist, Alasdair Gold, would tweet his modest equivalent of a 'here we go!' unless he'd essentially got the nod from the club that Conte was a goer.
Alasdair's interpretation of the current state of play is that Spurs and Conte both got deep into talks before Spurs realised that he wouldn't be all that focussed on young players after all and Conte realised that he wouldn't have bucketloads of money to spend (my words, not Ally G's!). This is extraordinary, completely baffling to me, to the extent where I am not completely convinced that it happened this way, because it's so unbelievably amateurish. These deal-breaker elements of their respective lists of needs and wants would surely be covered at the very beginnings of negotiations?!
Here are the possible options for what happened as I see it:
We, as a club, are not only terrible at communicating to the fans, but terrible at communicating to managerial targets as well. We didn't map out our expectations to Antonio Conte or, indeed, listen to his own set of expectations. The negotiations subsequently genuinely fell through because we reached an impasse.
We decided that values were not all that important after all, went all-in on Conte and he rejected us. Maybe because he wanted a higher salary, maybe because he wanted to bring more staff than we would allow, maybe because he wanted more assurances over transfer spend or Harry Kane's future, maybe multiple parts or all of the above.
Daniel Levy got so far along the line with the deal and then had an epiphany — hang on a minute, I wanted free-flowing football and young players.
Spurs played Alasdair and other reporters close to the club and used them to drive up season ticket renewals. It feels rather like a conspiracy theory but, well, it's Spurs.
Spurs are playing another candidate — Conte never got as far along the track as it seemed from the outside and, instead, we're using this to try to put pressure on another candidate. Pochettino?
A combination of some of the above — Alasdair seems to think maybe both 2 and 3.
I wasn't all-in on Antonio Conte myself. He is a brilliantly talented and highly-successful manager, but he didn't feel the right fit for us based on what Daniel Levy claims to be looking for. Let's remind ourselves of what that is:

That's just not Conte. He plays fairly entertaining football, but it's certainly not free-flowing — rather, he drills players to within an inch of their lives and creates a series of mechanical automations and rules to get the ball from A to B to C effectively and, as I say, not unattractively. I think the football would have been an undeniable improvement on what we saw last season, we would have built from the back in possession structures, but 'free-flowing' is pushing it. He's also just not a coach who would be focused on using young players; he would expect significant outlay and he would want proven, Premier League-ready quality; he needs near enough immediate success because he only tends to stay around for relatively short spells, as we can see from his managerial record.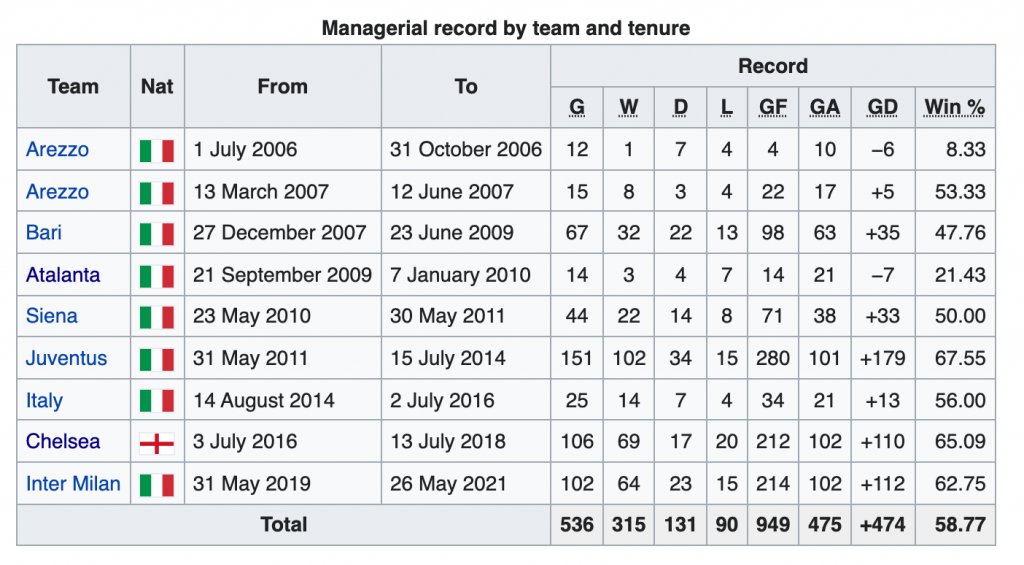 And he's a pretty abrasive character who is often outspoken and both challenging to and demanding of his superiors. Let's be honest, he's a bit of a dickhead. I'm sure we'd have accepted him as our dickhead, but a dickhead nonetheless.
So, from the outside at least, we appear to be back to square one, albeit a slightly different square one. Because it does appear that we are about to hire Fabio Paratici as a Director of Football or Sporting Director or whatever title we decide to give him. He's a man we tried to hire in around 2018 when Pochettino was in charge.
One must assume that Levy has already spoken to Paratici about his own managerial shortlist and wouldn't have approached Conte were he not on it because, well, that would be insane. So, I guess, now some if not all of the negotiations will be delegated to Paratici and he picks up the baton. Perhaps the club goes back in for Pochettino and pays whatever it takes to prise him away from Paris Saint-Germain. Perhaps they move on to a different target.
It is really important that Spurs get their man sooner rather than later, as we have a very fulsome summer of business ahead of us with a lot of deadwood to flog and some key positions to fill. Perhaps some of that can be done before an appointment is made but it would seem very wrong to start buying and selling players en masse without a coach in place, albeit having a Director of Football makes that slightly more palatable.
As it stands, we appear to be a club that has become very disorganised when it comes to on-pitch matters and that's exactly why the appointment of a Director of Football is a good decision.
---
I am the host of The Extra Inch; a Spurs podcast that delves into the analytical side of Tottenham games. Check us out! If you already follow the podcast, consider becoming an xSub for additional content.
I recently added a Donate button to this site. It's on the 'About' page. I explain why on there. Cheers!