Squad Building
This is the fun bit of the off-season — the hope! Wondering how your squad will look, welcoming new players, waving off old players who you're a bit sick of. Though it must be said that Spurs have done very little business so far, selling Juan Foyth (who I definitely was not sick of) and releasing a bunch of young players. Elliot Thorpe is about to join Hoffenheim having rejected a contract. That's a loss in my opinion; I mentioned him in The Fonseca Files (Part 2) as someone who could play a part in pre-season.
I published Home Grown Players (HGP) Quota – Summer 2021 Transfer Window earlier, in which I look at how the HGP quota impacts upon our squad building. Things don't look too bad, though some forward planning in terms of bringing through more 'club-trained' players would be useful for future European campaigns. We clearly do need a mass clear-out this summer, though. Not just to recoup wage funds or to build a transfer kitty, but to ensure that we do not go into the season with high-earners unable to be listed in our Premier League squad.
I've used my fine friend Nathan A Clark's squad depth chart format to look at ours as it stands. I've added in an 'up for sale' section, in which I've optimistically left out Harry Kane. I've generally included youth players who have been seen training with the first team.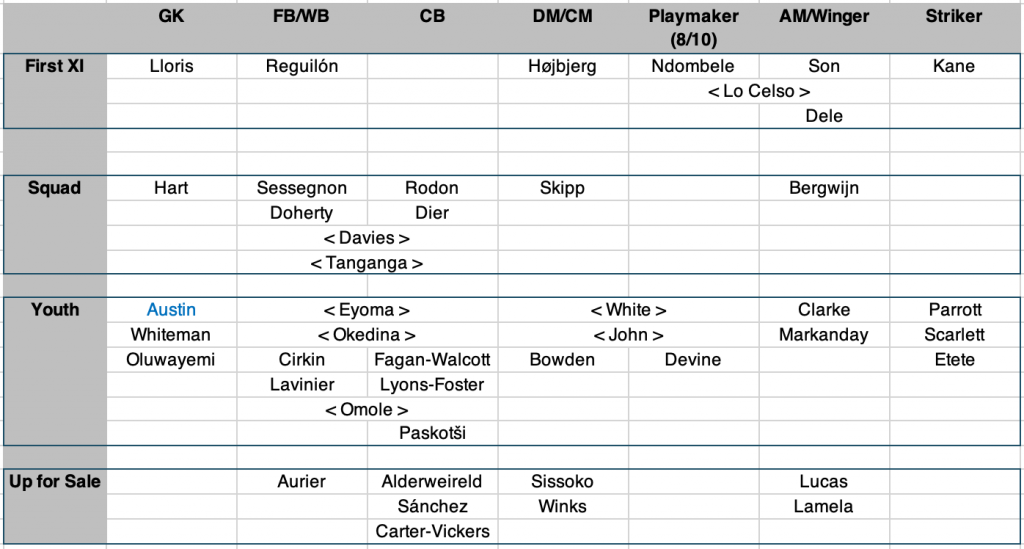 I think this shows neatly how much work there is to do. Not just in terms of the player sales to finalise, but in terms of filling first team squad gaps. I make it eight first teamers (including Dele, including Kane). You can make an argument to include Rodon in there, but certainly not based on what his opportunities at Spurs so far.
If we sign Takehiro Tomiyasu, as expected, he'll slip into this in the same way that Davies and Tanganga do — a hybrid FB/CB. I have watched some scouting clips and he strikes me as quite similar in style to Vedran Ćorluka, who I was very fond of. He's not especially good in the air for a tall player, but he's very handy on the deck. He's an aggressive, 'handsy' defender who uses the ball well both through his passing and dribbling out. He is both-footed in a way which is unusual, i.e. he can pass and dribble with his left foot, to the extent that, before the reports emerged suggesting that he was being signed to play a defensive right-back role, I had ear-marked him for the left sided centre-back in a back three.
And so onto Kane. Rumours emerged this week that we are chasing Danny Ings in order to play with two up front. Putting a player alongside Kane to do some of his running for him is eminently sensible. But I can't shake this feeling that a story about us wanting to sign Ings 'to play with Kane', days after rumours that we've decided that we will not accept any offers for Kane is a bit suspicious and that perhaps we are letting these stories emerge to avoid paying a 'Kane tax' on any incoming replacement… or maybe I'm over-thinking it all.
I suspect I may be revisiting the depth chart prior to 15 August, particularly once we've seen a few pre-season games and have an idea of which formation(s) we might be using.
---
I am the host of The Extra Inch; a Spurs podcast that delves into the analytical side of Tottenham games. Check us out! If you already follow the podcast, consider becoming an xSub for additional content, including videos, and extra podcasts.
I recently added a Donate button to this site. It's on the 'About' page. I explain why on there. Cheers!