The First Days of Nuno
It would be completely reasonable to think that the idea that that the Spurs training ground is suddenly a happy camp again is projection on my part. I feel happier about Spurs, so I assume that the whole place feels happier. But I do have a bit of intel on this and, yeah, it's happier. The mood has been transformed, I'm told.
From the fans' perspective, we've had three enjoyable pre-season matches (one draw, two convincing wins) with some well-coached attacks and some of the club's most promising youngsters involved. We've also had our beloved Son Heung-min sign a lengthy new contract and subsequently give one of the most wholesome and delightful interviews seen on Spurs' social channels. Things feel good!
The transfer business has kicked into gear in the past week, with Pierluigi Gollini and Bryan Gil coming in and Toby Alderweireld and Erik Lamela leaving. Negotiations for Cristian Romero continue, Takehiro Tomiyasu seems to be the passing of a medical away from signing, whilst several players have reportedly been told to find new clubs. We'll know a lot more about the shape of the squad by this time next week but my view is that things are moving in the right direction.
We're also starting to understand the shape of the tactics a lot better by now, despite Nuno Espírito Santo's claims that pre-season friendlies would be a fitness exercise. So what can we see so far?
Well, this is frequently our attacking shape – a line (ish) of four or five (in this case five) players spread roughly evenly across the pitch in advanced areas, able to move towards the ball to receive (as Dele is doing here, receiving on the half-turn), or run in behind, as Steven Bergwijn is beginning to do on the near-side and Nile John is doing on the far-side.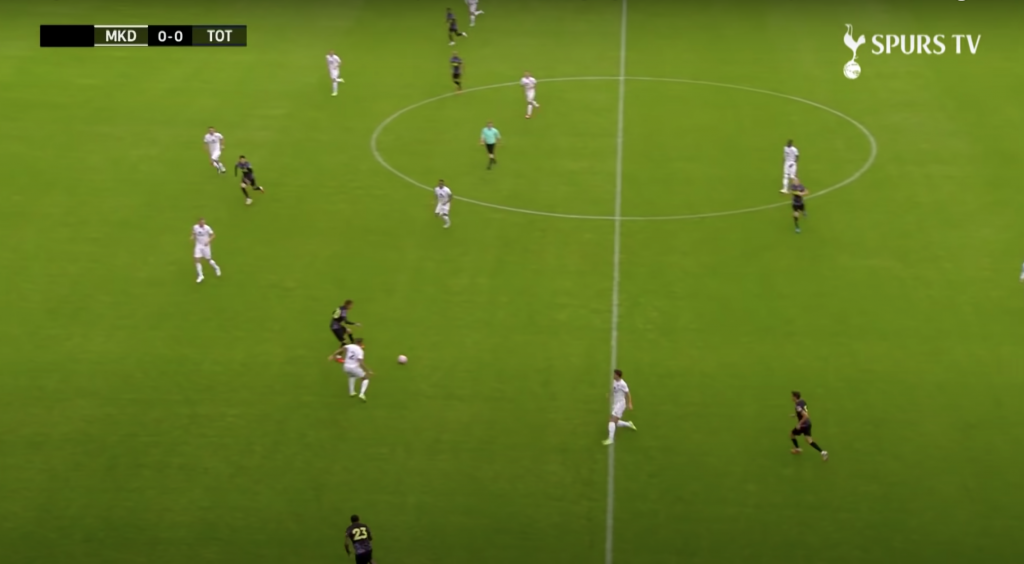 And this is interesting. Here we see our narrow 4-3-3 defensive shape. Nile John is contesting for the ball. He is successful in doing so; note Sergio Reguilón's position as the far-side full-back. Firstly, he is on the outside of his man — he is close enough to cover round if needs be, but this is a position that allows him to burst forward if we are successful in winning possession.
And, yeah, that's what happens – John successfully wins the ball and offloads it to Oliver Skipp. I jokingly called Skipp 'The Scan Man' in one of the videos I recorded on him with Nathan because he's always scanning; that, is he's constantly turning his head and checking his position in relation to those around him. Once you notice it you can't stop noticing it. Here, Skipp scans, receives and scans, and switches the ball across to the opposite side of the pitch with his second touch.
Notice the ground Reguilón has gobbled up in three seconds. Winning the ball in midfield seems to be a trigger for the full-backs to quickly join the attacks and create overloads. There's another example of this in the Leyton Orient match when Winks wins possession and Maksim Paskotši gets on his bike – but he's a little slower off the mark than Reguilón, perhaps because Paskotši is primarily a centre-back by trade. Reguilón overlaps Bergwijn and is played in beyond the defence; he should score, but his shot is that of a man who is playing his first match of pre-season.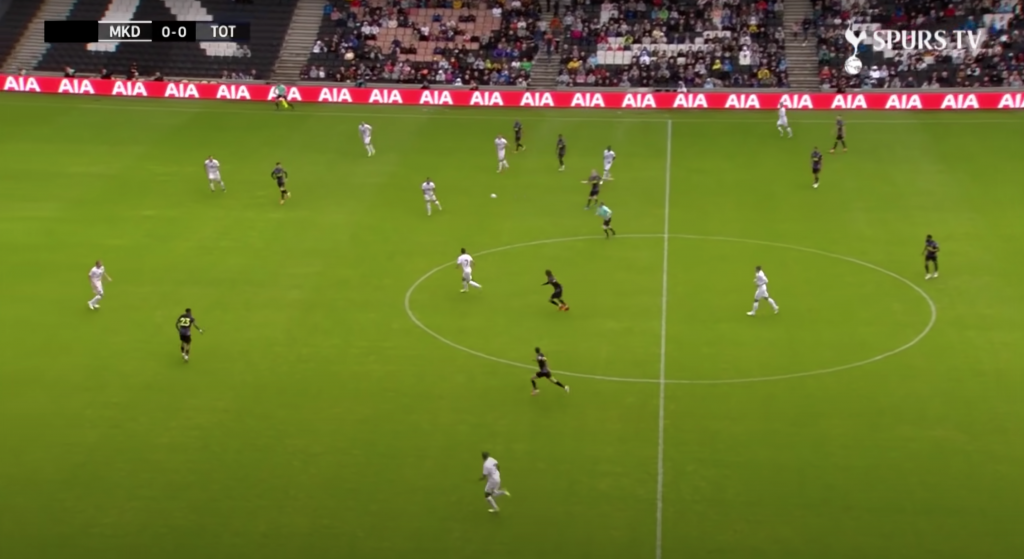 Our first two goals came from through-balls finding Son making well-timed runs beyond the defence. This has been a feature of pre-season so far too — Dane Scarlett's goal vs Leyton Orient, Son's goal vs Colchester (he makes a great run from in to out for our third too), and the two here — lots of runs, lots of players looking for early passes. Lucas Moura has been notably exceptional at getting his head up and picking out a runner.
The next two matches will be much sterner tests, obviously, and they might also be the first run-outs for a few players. I think it's important to bear that very much in mind and not jump to too many conclusions off the back of them. Hopefully we'll see similar patterns and cohesiveness in attack.
---
I am the host of The Extra Inch; a Spurs podcast that delves into the analytical side of Tottenham games. Check us out! If you already follow the podcast, consider becoming an xSub for additional content, including videos, and extra podcasts.
I recently added a Donate button to this site. It's on the 'About' page. I explain why on there. Cheers!