Moving forward
Last night I decided that, in the morning, I would lay in bed with a cup of tea and blog about the current Spurs situation. And then the Julian Nagelsmann news broke. I debated leaving it. I'd be leaving it because my views seem to be out of step with the current vibes (at least on Twitter and in our Discord). I knew what it would lead to — being accused of being a Levy shill/cuck and lacking ambition or being 'part of the problem'. I tweeted a pretty innocuous thing and, sure enough, woke up to said accusations.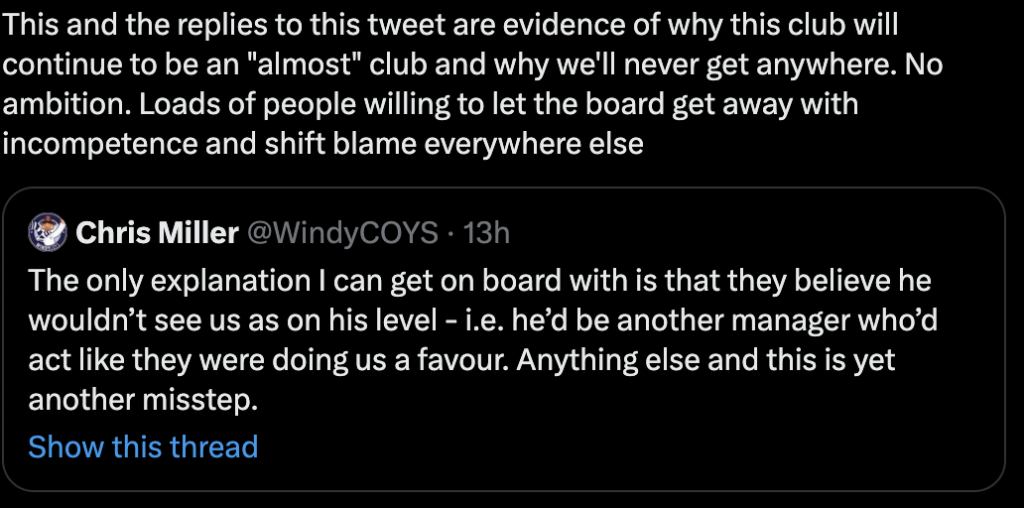 This guy went more route one…

Yesterday I helped my friend Nathan write a To-Do List for Tottenham's next Director of Football. The only point I disagree with is the 5th — I wouldn't sell Kane at any cost, even if it meant we only got one more year. I'd also keep Son for another season. The rest I think is absolutely bang on the money.
I think it's essential that Spurs appoint a Director of Football as the number one priority. I'm encouraged by links to Johannes Spors and understand that we've spoken to Lee Dykes of Brentford, who has overseen some excellent recruitment and is accustomed to working in an exceptionally well-functioning model. Sami Mokbel reported yesterday that Roma's Tiago Pinto and Eintracht Frankfurt's Markus Krosche are also being considered. I have not yet done much reading or research on these two new (to me) names, so cannot comment too much on their suitability.
It's quite difficult to analyse Pinto's transfers for Roma over the last couple of years because you have to factor in the Mourinho-tax (i.e. he signed Nemanja Matić). I'm not impressed with some of the fees he achieved for outgoing players (Nicolò Zaniolo €15m, Jordan Veretout €11m) but, again, who knows the impact Mourinho had on those prices. The biggest red flag, obviously, is that one of the first things he did was fire Paulo Fonseca and appoint Jose Mourinho.
Krosche has done some interesting transfer business and also appointed Oliver Glasner, who won the UEFA Europa League in 2021/22 but finished 11th in the Bundesliga that season and currently has them 9th. It's reasonable to say that that is not too out of kilter though — their last ten league finishes are: 6-13-9-16-11-8-7-9-5-11. Anyway, Director of Football is the immediate priority. And only then should we move on to coaches.
Aside from, perhaps, Steve Hitchen's list of Mauricio Pochettino, Erik ten Hag and Graham Potter prior to the appointment of Antonio Conte by Fabio Paratici, I think the current list of linked coaches is the best I've known from Spurs. I'm not taken by Xavi Alonso as I think his style of play is too counter-attacking, but Arne Slot, Ange Postecoglou, Vincent Kompany, Roberto De Zerbi and Ruben Amorim are about as good as I might expect. Julian Nagelsmann was my number one choice. I would have been happy with the re-appointment of Mauricio Pochettino. I'll address why I suspect we are not progressing with either.
My main (but not only) concern with Mauricio Pochettino was that he would not fit within a system which included a Director of Football. During his tenure, he requested to move from Head Coach to Manager, gaining more control and responsibility. He personally vetoed the signings of Youri Tielemans and Ricardo Pereira, players who I believe would have significantly improved us at the time. I believe that coaches should have input into signings and should not be given players that they do not want and will not use (*cough*DjedSpence*cough*, but I believe that Pochettino, in vetoing these particular signings, was allowing 'perfect' to be the enemy of 'good'. Maybe he would be willing to change. I'd have given it a chance. I have no idea what terms Daniel Levy and Mauricio Pochettino are on, and it's entirely possible that Daniel Levy is too proud and stubborn to go back to Pochettino anyway. If we'd wanted to appoint a permanent coach once Conte left, Pochettino would have been the ideal choice. Given that we decided to wait until the end of the season, I think Pochettino was legitimately and rightly pushed down the pecking order.
I believe Julian Nagelsmann was the ideal candidate. I really enjoyed recording this podcast with Adam Khan about him. My understanding is that Nagelsmann, during early sounding out, made some 'suggestions' that implied that he would require a level of control over and above what one might expect a Head Coach to have (edit: I understand that this is accurate). In my opinion we cannot enter into another situation like the one we had with Mauricio Pochettino or even Antonio Conte, where a coach is given too much power (or perceived power) and it becomes a power struggle with the club. For me, working within a structure is non-negotiable. There was also always a chance with a star appointment like Nagelsmann that he, like Conte and Mourinho before him, saw himself as above us.
In my opinion, where Daniel Levy went wrong with the appointments of Mourinho and Conte was veering away from the club strategy. He actually called this himself (prior to appointing Conte, sadly).
"As a Club we have been so focused on delivering the stadium and dealing with the impact of the pandemic, that I feel we lost sight of some key priorities and what's truly in our DNA."

"We are acutely aware of the need to select someone whose values reflect those of our great Club and return to playing football with the style for which we are known – free-flowing, attacking and entertaining – whilst continuing to embrace our desire to see young players flourish from our Academy alongside experienced talent."

From Chairman's Message, 19 May 2021
I was excited about the appointments of Mourinho and Conte. I found the names irresistible and convinced myself that they were what we needed to capitalise on having Harry Kane and Son Heung-min. I was open to them being given more control because of their histories of success. I was absolutely wrong, and I realised this quite early on with Mourinho and slightly later with Conte. Levy cannot make the same mistakes again.
Finally, Ryan Mason. I am repeatedly asked how I feel about Ryan Mason taking over at Spurs given how he has started. I have a lot of affection for Ryan Mason, having first watched him play for our Under-18s as a skinny 16-year old (him, not me). I thoroughly enjoyed listening to him on the High Performance podcast. He comes across extremely well, is smart and reflective and modern and open to new ideas. I also really like the blend of skills he has with Matt Wells as his assistant. I urge you to read this on Wells (who also happens to be Cliff Jones' grandson). I believe that Wells — who uses a video analyst in the stands to clip up moments for the half-time team talk — is responsible for recent tactical changes.
Mason and Wells are proper Spurs. I hope that one day they return to manage us, but I don't think now is the right time. I'd like to see them both go to a club in League One or League Two and gain some more experience. I totally understand that every appointment comes with a degree of risk, but the idea of appointing a Head Coach who has overseen just thirteen matches (as it will be by the end of the season) as a first team Head Coach is too risky for me to consider at this stage, despite my love and admiration for Ryan.
I fundamentally do not trust Daniel Levy to make good football decisions. I hope that he appoints a Director of Football that we can have faith in, and that the Head Coach that they land on is focussed on those stated priorities and with working as part of a team to get there. Then we can finally move forward with a clear vision.
Finally, and just to close the loop, the last time I wrote was in mid-January, where I was urging the club to fire Antonio Conte. Had we done so and appointed Mason and Wells then, I believe we could still be in with a chance of Champions League football next season. Daniel Levy left it until Antonio Conte made his job untenable to make the decision to part ways. He then made the catastrophic decision of sticking with Conte's second in command, implying that he didn't think that the tactics were the issue, just the personality at the helm. The reporting has suggested that things had become completely toxic around Conte, and I have been told that this is accurate. But it was not just the toxicity of his leadership, but the toxicity of his coaching and tactics. I think we've totally wasted the latter half of this season, which is a damn shame.
However — and I preface this by accepting that I am an eternal optimist — every summer there's an overstated buzz around returning players on loan or young players or previously ostracised players getting a second chance (or first chance in some cases) with the first team squad. This summer I think it's justified. Given the way Conte unceremoniously 'disappeared' a bunch of players (and I'd include Pape Matar Sarr in that), I think there's a lot to look forward to this summer. We have some exciting young players to involve in pre-season in Destiny Udogie, Djed Spence, Bryan Gil, Sarr, Alfie Devine, etc. We also have a bunch of other returning loan players who may or may not be fancied by the incoming coach. I'm really looking forward to seeing how the squad shapes up over the next three months and I remain very hopeful ahead of next season. That will soon change if we don't get the DoF appointed quickly, with a Head Coach to follow soon after the season is over.