Ahead Of Schedule
I'm so pleasantly surprised by how much the team has picked up Ange-ball (see: Have Spurs already mastered build-up play?). I honestly thought it would take several months for us to successfully transition from the dismal shit that Conte was trotting out to a modern positional play model, complete with intriguingly high defensive line, intense high pressing, inverted full-backs and a single pivot in midfield.
The first three games of the season were — on paper — tricky. And yet, we've looked highly competitive and, at times, dominant in each, improving along the way. For example, the latest game saw, in my view, the best use of substitutions yet. Ange Postecoglou changed the flow of the game with his bench options.
One of those that came on and helped secure the win was Pierre-Emile Højbjerg. He has been touted around this transfer window, and I think he's a useful player to present as a case study for our squad management in this transfer window (and beyond).
Højbjerg is an interesting one as he's both our best alternative to Yves Bissouma, and also arguably our best 'game closer' in the role he was used in against Bournemouth. But he's also a highly saleable asset: a competent Premier League player with bags of experience and, at 28, probably either peak age or just post-peak. As such, in this crazy market he must be worth around £35m. The amounts we've been offered this window, it seems, fall well below that.
So should we sell? Well, I don't think so. But the predicament we're in is that we've *already* got too many players for the 25-man squad before we even consider adding new players. So we've left ourselves potentially accepting bids for players we'd ideally rather not sell (Davinson Sánchez is probably also in this boat) else we risk players being left out of the 25-man squad and, thus, sidelined and miserable until January and, in the meantime, losing value.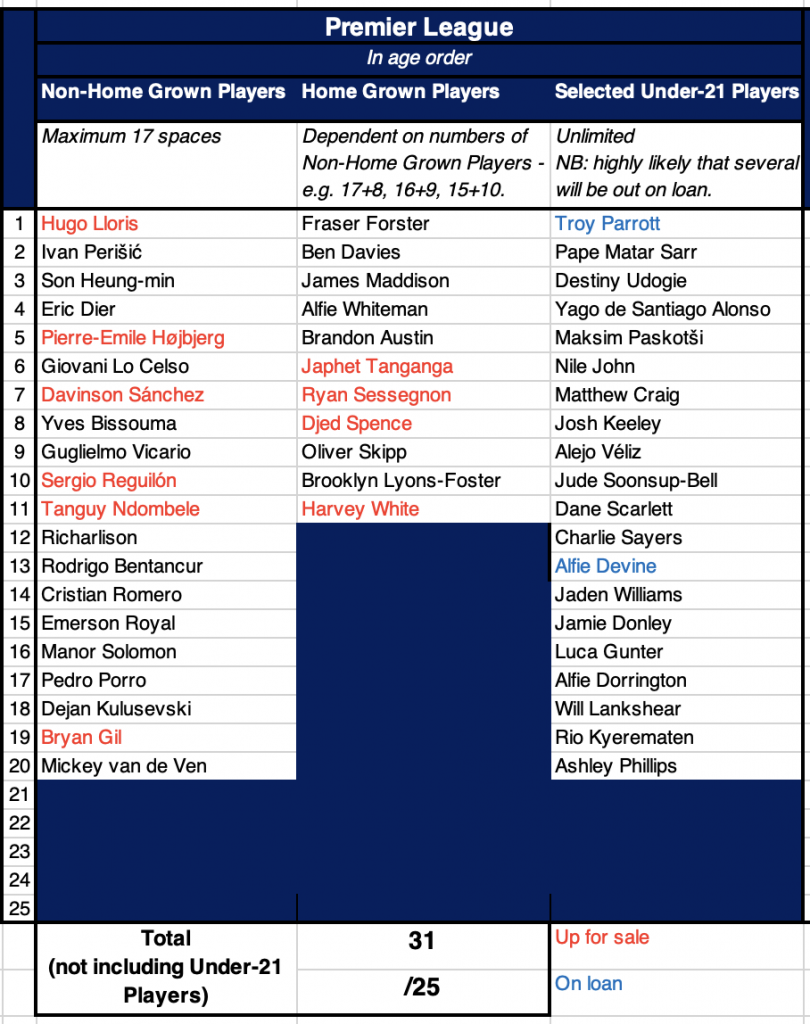 So what do we do? The options appear to be:
Sell the likes of Højbjerg and Sánchez now for fees probably (significantly?) below what they're worth.
Loan or even release a bunch of players in the final day or two of the window.
Accept that we will have to leave players out of the 25-man squad.
Possibly a combination of all three.
Højbjerg out of the starting XI with two years left on his contract and one of the older players in the squad. Selling him makes sense from a business perspective, particularly as he is one of our more sellable assets and actually has suitors. However, given his still-important role in the squad, the only scenario which I'd sell Højbjerg and even Sánchez in now would be if we were to replace them… which kinda defeats the purpose unless we get Under-21 players or, possibly (depending on others we can shift), home grown players. So, we find ourselves in a tricky spot.
We've been lumbered with more players than we'd have liked because:
A bunch of our players have lost value over the last few seasons because they've either been under-utilised, frozen out, set-up to fail, or they were poor team fit signings in the first place.
Wages in the Premier League are higher than in other European leagues and players don't often actively choose to lose money.
Some of our players are deluded and think they should be playing at a level that, at this point, is frankly unachievable. I'm looking at you, Hugo.
Prices have gone bananas so you better be sure you're paying up for someone you really want.
But I do think we need to see this window as the start of a longer-term process. It's going to take us two or three more windows to re-shape this squad, which had become bloated, poorly balanced and was older than I'm sure Daniel Levy would have liked given the choice. We've made great strides, and we are ahead of where I expected us to be right now, but there's lots more work to do. Don't let 'perfect' be the enemy of 'good' as they say.
COYS.