AVB gets the midfield balance right
Spurs fans were very excited about their central midfield options prior to the season's kick off; understandably so. Whilst admiring the size, strength, stamina, and defensive capabilities of the players available – Sandro, Capoue, Dembele, and Paulinho – we were calling it the best central midfield in the Premier League.
We all expected a shift to the 4-3-3 that André Villas-Boas was renowned for in his year at Porto. There, he utilised Fernando as a dedicated holder, João Moutinho as the "recycling" link player, and Fredy Guarin as the breaker – tasked with getting forward to support the central striker. The majority of the creativity, it could be said, came from wide areas, where Hulk played as an inverted winger – cutting in and firing shots away – whilst Silvestre Varela was more of a touchline hugger.
At Spurs, the mapping of skill sets seemed to suggest that Sandro or Étienne Capoue would play as the deepest-lying player, Mousa Dembélé would take on the João Moutinho role, and Paulinho would be the one to break forward. This sounds plausible on first thoughts, but when you consider the respective playing traits more closely, it becomes clear that it doesn't quite hold up – there's a distinct lack of creativity, as none of those mentioned are particularly adept at moving the ball forward, and moving it forward quickly (albeit Capoue gives it a good go).
Dembélé is a wonderful dribbler and rarely loses the ball, but his tendency to dwell in possession in addition to his lack of vision do mean that we are sometimes restricted when we have the ball. As a result of both this and Sandro's lack of match fitness, AVB started with Sigurdsson as a number 10 in a 4-2-3-1 in our first match of the season, at Crystal Palace.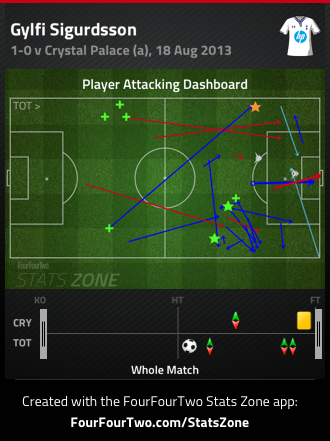 Whilst Sigurdsson didn't have a particularly good game, he made a number of forward passes, had a couple of efforts on goal, and set up some shooting opportunities from wide areas. Soldado touched the ball 41 times in the match and was relatively involved.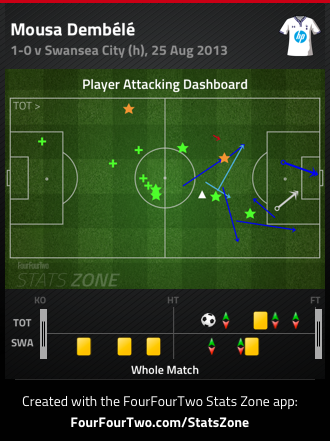 Against Swansea, Villas-Boas made a more defensive selection, opting for Dembélé as the most advanced central midfield player, with Paulinho and Capoue alongside him. Dembélé's attacking dashboard illustrates how he struggled to involve himself in the final third, and Soldado ended the game with just touches 21.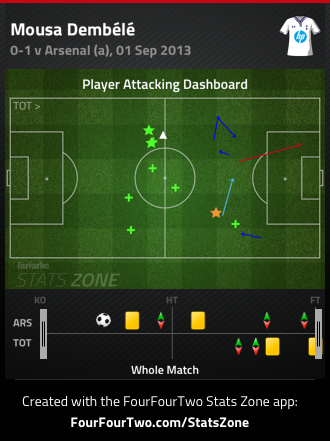 Villas-Boas stuck with the same midfield against Arsenal, with similar results. Soldado was isolated again, and ended the game having had 25 touches. Dembélé again struggled, and barely managed a successful forward pass in the final third.
As the transfer window came to a close, Spurs confirmed the signing of young Dane, Christian Eriksen. In the last year of his contract, signing Eriksen for the cut-price fee that could rise to £11m was a no-brainer. His age and European reputation mean that his price will unlikely fall below that level, even if he fails to settle. However, if his debut performance is anything to go by, his stock should continue to rise.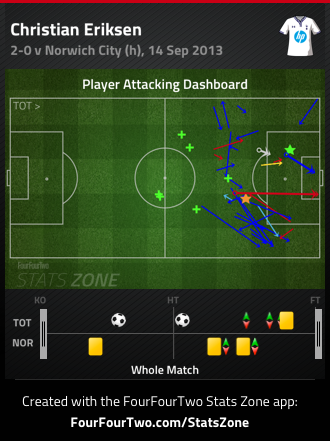 Although Soldado wasn't that much more involved than the previous two matches (he had 32 touches), Eriksen's introduction led to Spurs seeing a lot more of the ball in dangerous areas, and we scored our first two goals from open play this season – Eriksen grabbing the assist for Sigurdsson's first (after a nice piece of link-up with Soldado) as well as the assist of the assist (!) for the second.
He had license to roam – playing most of his passes to the right (as the above graphic shows) presumably because we had much more natural width on that side, with Townsend more of a touchline hugging winger than Sigurdsson (at least as a starting position, as he typically comes inside once he receives the ball). The improvement in the team after the introduction of Eriksen is not purely down to the individual – although he's clearly a talent who should prove to be an exciting signing for Spurs – but the 'type' of player required to play that role.
The team is set up perfectly for an intelligent number 10 to thrive, so long as he is found often and early. The defensive screen is excellent, and the only question mark is whether we have enough quality in the deep midfield region to move the ball quickly to a 10 – it is vital that he receives the ball before the opposition has a chance to reorganise after a turnover. By that I mean that when the defensive midfield players win the ball with their high tempo pressing, they need to play quick passes into Eriksen's feet if possible so that he can exploit teams during transitions from attack to defence.
With Lamela also adept at playing the role, as well as the returning Lewis Holtby – so impressive against (the admittedly poor) Dinamo Tbilisi – Spurs now have the right kind of players to play off Soldado, and do not need to fit square-ish pegs into round-ish holes. For the foreseeable future, I would expect AVB to stick with the 4-2-3-1, with two from Sandro/Capoue/Paulinho and Dembélé as the '2' – most likely a combination of one of Sandro/Capoue and one of Paulinho/Dembélé once all are fully fit and available.