So, what's going wrong? Part 1
I started writing this blog post almost immediately after the Newcastle game and, between then and now, I've read some fantastic articles on Spurs. So a quick shout-out first to the following, which are all worth your time (but not before you've read the rest of this post, eh?!):
18 Lessons Villas-Boas, His Team And The Fans Have To Take On Board by Raj Bains.
Tactics Tuesday: Bad Townsend, Good Townsend by Brett Rainbow.
Statsbomb Mythbusting: Christian Eriksen vs Newcastle by Ted Knutson.
Before I begin getting my teeth into where I think it's going wrong for us, it's worth pointing out that it's not all doom and gloom for Spurs – certainly not results-wise. For example, if you replace the relegated clubs in alphabetical order (i.e. QPR are replaced by Cardiff, Reading by Crystal Palace, and Wigan by Hull City), Spurs are three points better off than they were in the corresponding fixtures in 2012/13 – the season in which we famously achieved our highest Premier League points tally (with thanks to @EdwardPrz for the stats).
However, it would be foolish to pretend that everything is rosy, and the style of football and – more importantly to most – the lack of goals, have led to many Spurs fans starting to grumble about Andre Villas-Boas.
I wrote back in October that AVB needed to find a Plan B, citing the following reasons as to why I had some concerns over the direction we're going:
– Tactical inflexibility
– No 'passer' in midfield
– Set pieces
– Lack of involvement of youth players
– Potential short-termism
Nothing I've seen since then has changed my mind on any of the above, although we've actually managed to score from a set piece; Vertonghen scored against Sheriff and had a very good chance with a back post header against Newcastle too.
It's difficult to pinpoint exactly where things are breaking down, except of course for the obvious; we're not scoring. Is one or a number of the following to blame?
– The high line leading to an overly compressed pitch.
– Inverted wingers failing.
– The number ten struggling to create.
– Soldado not doing enough.
– A lack of passing ability in the midfield '2′.
– No Plan B / ability to change our approach.
I think it's simplest to take each in order.
The high line compressing the pitch too much
Our high line – Villas-Boas' most famous tactic – has been a defensive success overall, although when it goes wrong, it looks very, very bad (see the West Ham game for an obvious example). However, looking at how it impacts on our attacking abilities, many have begun arguing that opposition teams have sussed out the tactic and are using it against us.
If our opponents get bodies behind the ball it means that, given that almost half of the pitch is already 'out of bounds' due to our central defender's positions, the likes of Soldado and Eriksen are incredibly restricted in terms of space to move into, and space to work in.
It's all well and good controlling possession, but if there's no space to make a late dart into or to find a killer pass from, the conversion of that possession into genuine chances is highly restricted.
Personally, I think the benefits outweigh the negatives. Aside from West Ham – which we have to see as a blip (the poor marking for the opener, the lack of pressure on the ball for goal two, and Vertonghen, Dembele and Dawson committing themselves for goal three were individual errors, for example) – we've looked compact, solid, organised, and 13 clean sheets in 19 games suggests to me that the high line is working from a defensive viewpoint.
At the other end, I think AVB puts a lot of faith in our players (rightly or wrongly) to play in tight spaces, and we mostly have players technically good enough to do that – Paulinho's perfect first-time assist for Soldado against Villa is a good example of when it can work. Lamela's lovely cross for Paulinho's cheeky goal against Cardiff is another.
Also, when you look at how Bale (and Townsend to an extent) played, there's still space to be had – it just depends on other players helping to create it, and how we use the ball once we have it in the final third.
I don't think our deep midfield players help us by carrying the ball forward. In doing so, they just encourage the central region to become even more congested as they are pressed in the opponents' half, and also put pressure on themselves to find an eye of a needle pass – and let's be honest, neither Dembele or Paulinho have that in their locker. And they certainly don't have the ability to do it more often than not.
The key is to pass the ball quickly and early – to get it to the front four ideally as soon as we win it back. I think Sandro will be vital in this – he doesn't dally. He wins the ball high up the pitch with his incredible pressing, and looks to offload it quickly – the others need to learn a thing or two from that. Of course, Capoue's return will also help; he's a talented passer, and an excellent reader of the game.
Inverted wingers failing
Many see the inverted wingers that we utilise as our main problem, as they come inside and congest the central region which we want to exploit. I wrote in October that inverted wingers can work well – and indeed are used by Barcelona, Bayern Munich and Real Madrid – but that overlapping full-backs providing the width, and quick, direct passing from midfield are vital.
A wide player coming inside creates an overload in a vital area, and a technically-gifted team should be able to use this to their advantage. However, we've not made the most of this numerical superiority for a number of reasons – one of which is, probably, the personnel selected.
Rather than spend time analysing Andros Townsend specifically, I'll instead signpost you to Brett Rainbow's excellent article, which summarises the good and bad aspects of Townsend's play.
One thing I'd add is that, for me, Townsend needs to play higher up the pitch. Too often he is found dropping deep to collect the ball, and I've no doubt that this mostly comes about because our central midfield two are not good enough at taking the ball from the centre-backs, and moving it forward quickly. Townsend's great at driving forward from deep areas, but it means that by the time he's required to make an incisive pass or beat the last man, he's lost the impetus he initially had.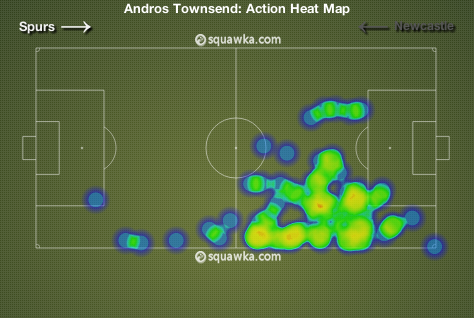 Townsend's heat map vs Newcastle – I'd like to see him hit the byline more often.
Given that Walker is so good at carrying the ball forward, I would ask Townsend to start 10 or 15 yards higher than he currently does, and to look to link-up in the final third rather than in front of the defence, where he often frustrates by taking on ambitious shots due to lack of other options. I would also suggest that if there is no pass on, then he should turn and play back out – he needs to retain possession nine times out of ten, whereas currently he is more likely to strike at goal from range.
On the other side of the pitch, Sigurdsson is not the most popular player in our squad, but he has managed three Premier League goals this season (33% of our total league goals). He has scored these at a rate of a goal every 191 minutes, whereas Townsend, Lennon, Lamela, Eriksen, Chadli and Holtby have managed a single goal between them in 2161 combined minutes – and that was a cross that flew over everybody and in.
Looking back to last season, Sigurdsson's current competition for the left-sided berth, Lennon, was our top assister with seven, and also managed four goals. Sigurdsson ended the season with three goals and four assists. However, forgetting appearances and instead focussing on minutes on the pitch, Lennon ended with an assist every 403 minutes played in the league, with Sigurdsson managing one every 309 minutes – a far better rate.
Lennon ended the season averaging a goal or assist every 257 minutes, whilst Sigurdsson had a goal or assist every 176 minutes (Bale 117 for comparison). Sigurdsson may not have the pace and ability to carry the ball a long distance up the pitch, but is, simply put, a much more "productive" player than Lennon.
Many fans seem to want to play Lennon on the right, where they think he'll beat his man on the outside and produce crosses for Soldado. Personally, I can't remember Lennon terrorising defenders too much since the 9-1 win over Wigan Athletic four years ago.
Lennon most certainly has his uses, and I like him as a squad player/impact sub, but in my opinion, the fact that he's renowned mostly for his steady defensive performances – tracking back and providing cover – speak volumes, and I see Sigurdsson as far better suited to our current style; selecting him is a no-brainer whilst others aren't scoring.
Sigurdsson needs to up his game, and will benefit from Rose being back. However, he's our most viable option on the left. Townsend has had good and bad games this year, and I think a few subtle changes could lead to him causing far more damage than he currently is. If, however, he doesn't start to add more goals and assists to his game, Lamela will surely get a chance to play from the right soon.
The number ten struggling to create
Holtby is often referred to as a functional player, and he was rightly praised for his role in stopping Everton playing in our recent 0-0 draw. However, given his creative abilities displayed for both his former club, Schalke 04, as well as the German Under-21 side, it is unfair to tag him as purely a grafter, although it's fair to say that he puts in a shift. He came back into the starting eleven after strong performances in the Europa League, but has struggled to nail down the starting spot, with Eriksen starting against Newcastle.
On the other hand, there's little doubt that Eriksen has the ability to spot a pass, although questions remain over whether he is doing it enough. Ted Knutson puts forward a convincing argument for Eriksen's performance against Newcastle being a productive one in his article Statsbomb Mythbusting: Christian Eriksen vs Newcastle, where he highlights Eriksen's 9 key passes – a rare feat. The fact that one of these was a nudged tee-up for a free kick, and three were square passes in deep areas leading to long-range efforts mean that, for me, the truth is not quite so clear.
I still feel that Erlksen is struggling a little physically, and drifts in and out of games. It is still very early for him as he attempts to adapt from life in the Eredivisie. Whilst some players have settled tremendously well having made that same move – the likes of Luis Suarez and Jan Vertonghen, for example – there are others that did not impress so much – Mateja Kezman and Afonso Alves spring to mind. Eriksen seems to have many of the required attributes though and, at just 21, time is on his side.
Whilst Eriksen is flitting in and out of form, I think there's an opportunity to experiment with Erik Lamela as our ten in certain matches. It was a role he played on a number of occasions for Roma and, having excelled against Sheriff, I felt that he deserved to keep his place in the Newcastle game – probably in the centre.
He is a talented dribbler and also has a bit of presence, so might help us to retain the ball better around the edge of the box. However, there is certainly no rush to bring him into the team; he is going to take time to settle to a very different way of life both on and off the pitch.
That's your lot for today. In part 2, I'll be covering the following:
Soldado not doing enough.
A lack of passing ability in the midfield '2'.
No Plan B / ability to change of approach.