So, what's going wrong? Part 2
In Part 1 I discussed:
– The high line leading to an overly compressed pitch.
– Inverted wingers failing.
– The number ten struggling to create.
In this section I'll focus on:
– Soldado not doing enough.
– A lack of passing ability in the midfield '2′.
– No Plan B / ability to change our approach.
Soldado not doing enough
There are two main schools of thought on Roberto Soldado:
1. We've bought a dud; he's not good enough.
2. We're not playing to his strengths.
I think the truth is somewhere in between. He hasn't played especially well – and I've voiced concerns before about him not doing a great deal other than finishing off chances – but we've not found him in the box enough. The question, then, is: is that due to his lack of movement, or is it due to the lack of incisive passes finding him?
I think at times we delay our passes too long. For example, as you can see from this still of the Everton game, Lennon has an opportunity to cross for Soldado – he could cross with his left foot, or the outside of his right, such is the space that he has.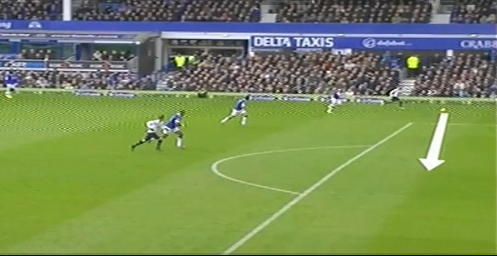 Against Everton, Lennon didn't play the early pass.
Instead Lennon checks back onto his right, and curls in a cross which leaves Soldado having to create power on his header from a standing start. Effectively, the opportunity is lost.
Here, against Newcastle, Soldado links well with Paulinho and then makes a tremendous run in behind Williamson as Townsend strides forward to get on the end of a fabulous Paulinho pass. Townsend takes on a shot when any kind of accurate cross would surely find Soldado in space.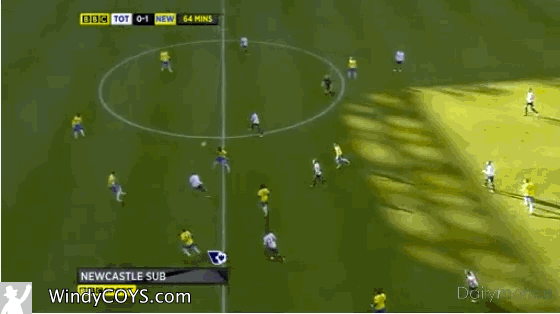 Soldado gets onto the rebound, but is unable to direct it into the corner.
In this example, though, Soldado should surely do more – Eriksen creates a yard of space on the right and whips in a well-shaped cross. Soldado lurks around the penalty spot, but then fails to make a decisive run, and is caught on his heels somewhat.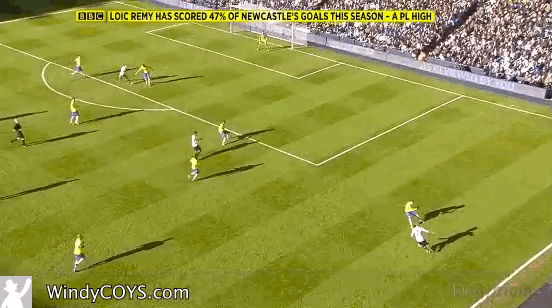 Generally speaking, Soldado's movement in the box is good, and he thrives on finding pockets of space which allow him to take on shots early.
This video gives a good indication of the types of goals he typically scores – he's a real poacher in the six-yard box, but also scores lots of volleys from a little further out. For me, we need to feed the ball into the box earlier and more frequently, and allow Soldado to develop some faith in the ball coming to him more quickly.
A lack of passing ability in the midfield '2′
Sandro is probably our best outfield player, and should start nearly every league game for which he is fit. Bold statement, perhaps, but I am such a huge fan of the Brazilian, and I think he adds so much – at both ends of the pitch.
Not only is he a tremendous defensive shield, but his incredible energy means that his proactive pressing wins us the ball high up the pitch. Alongside this, he also frees up his midfield partner to do the same, safe in the knowledge that he is there to mop up if necessary.
It's not a good idea to use a single game as evidence, but I think a comparison of the first half of the Newcastle game (without Sandro) and the second half (with Sandro) speaks volumes.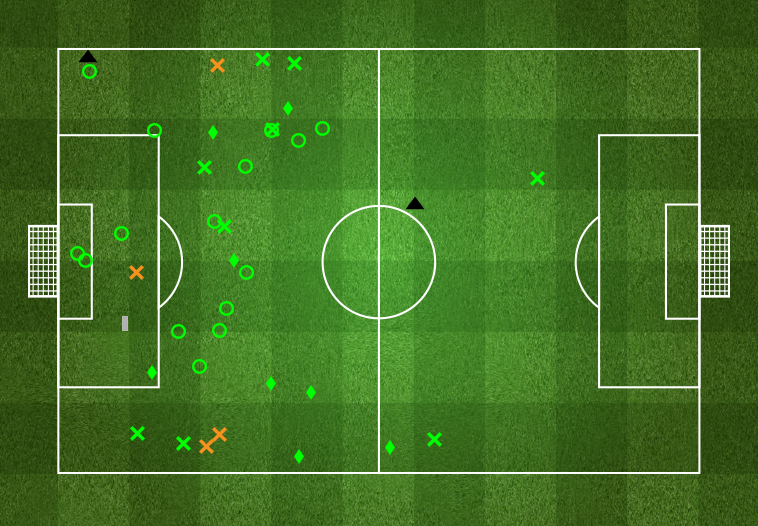 1st half defensive dashboard vs Newcastle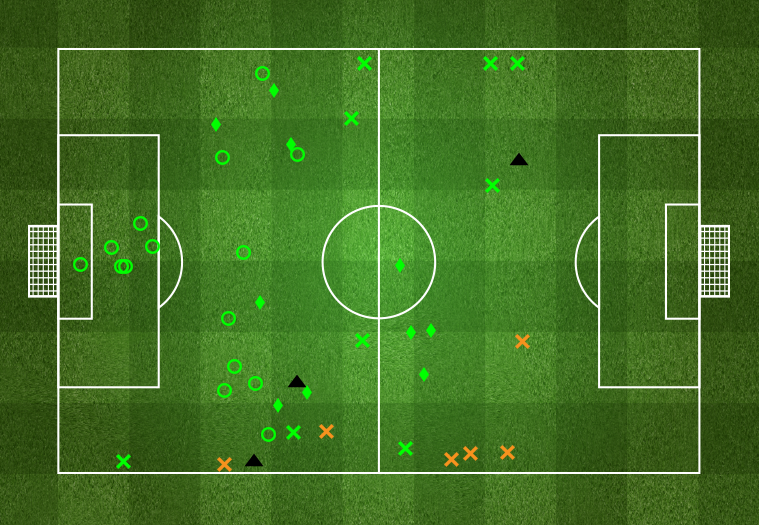 2nd half defensive dashboard vs Newcastle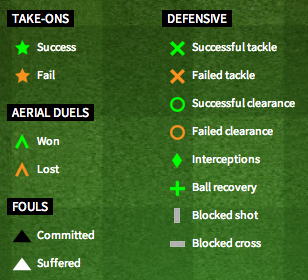 Key
Whilst none of those tackles were Sandro's, five of the interceptions were – including two of the four in Newcastle's half. Although viewed as a defensive player, he is critical to getting us playing further forward and on the front foot.
There have been times this season where I'd have liked us to select a passer alongside Sandro. André Villas-Boas used to frequently use the phrase 'vertical', referring to the ability to move the ball, directly, towards the opposition goal. Dembélé' is terrific at dribbling with the ball (he averages 2.4 dribbles per game) and protecting it, and Paulinho is an all-action player who gets up and down the pitch a phenomenal amount, but neither excels at distribution. Both Dembélé' (91.4%) and Paulinho's (86.3%) boast decent pass completion stats, but it's fair to say that both of these players favour moving the ball laterally.
Étienne Capoue is a good passer of the ball, and his return could signal a return to slightly more direct football, but personally I think that using Holtby in a deeper midfield role would offer greater ability to move the ball vertically. Holtby himself has said in the past that he sees himself as an '8', and it would seem logical to me to give him an opportunity alongside Sandro against teams that want to sit back and play on the counter.
No Plan B / ability to change of approach
There's little doubt that AVB's pragmatic tactical approach is not for everyone. However, even for those like myself for whom that pragmatism is Not A Bad Thing per se, his absolute rigidity can frustrate.
There have been times when we have played 4-1-4-1 (particularly before Capoue's injury). There have even been times that we have played 4-3-3. But essentially these formations are slight variations on the 4-2-3-1 that we mostly play.
The only other substantial tactical switch this season has been the switch to 4-4-2 after bringing Jermain Defoe off the bench. AVB tried this against Arsenal, Hull, and Newcastle, and indeed both Soldado and Defoe were on the pitch when Vertonghen's cross was handled by Elmohamady, leading to Soldado scoring a penalty against Hull. But, frankly, the switch to 4-4-2 has been bizarrely illogical, and the two forwards look ill-suited to playing together. In the Newcastle game we lost momentum almost as soon as Defoe came on (I'm not blaming the player for this, but the change in shape).
AVB could argue that he's been deprived of the services of Emmanuel Adebayor. Adebayor is still to be re-integrated following the death of his brother; initially he was not in the right mental state, and now he's presumably not match fit. He has been included on the bench just once. Adebayor is a player who, in theory, should be able to strike up a partnership in a 4-4-2 – he is an unselfish player who looks to link with others as much as he looks to find the net himself, and works hard to drop deep to show for the ball, as well as moving wide to receive the ball in the channels.
But AVB has had the option of using Harry Kane – a player who, like Adebayor, likes to drop deep and link play, and who has impressed when given the chance this season. However, Kane has been used very sparingly, and mostly from the left.
I think there are quite a few things that AVB could try that would not be overly damaging to his and our defensive shape: more direct (long) passing; switching the wingers every now and again; asking one of the centre backs to carry the ball further; dropping Holtby or Sigurdsson deeper to play as one of the midfield '2' when we're chasing a goal. Simple things that could have a positive effect.
Final thoughts
Firstly, there's no need to panic. It's early days for this Spurs team, who are accommodating seven new first team players. There is a need for the new players to settle into English football, for the rest of the squad to get to know their games, for the coaches to fully appreciate their strengths and weaknesses.
We're pretty dominant when it comes to possession and shots, and it's hopefully a matter of time before the goals follow. Some tweaks are surely needed though – the fact that Townsend is averaging more shots per game (4.5) than any other Premier League player and that Paulinho (3.3) is not far behind him (he's 6th in the list) tells me that our midfielders are taking on too many long-range efforts.
It might not please fans, but *more* patience is required from our players in certain circumstances – i.e. there will be times when we need to pass sideways more, and when we even need to pass backwards more. We can't let the frustration of not creating lead to Townsend and Paulinho giving up possession up to eight times a game through taking on wild shots. We need to cycle the ball, keep it moving, provoke the opposition into coming out of their defensive shape, and look to unpick them with accurate crosses and clever through balls.
But on the whole, I'd much rather we attempt to play the ball forward more quickly, rather than the tepid build-up play leading to teams getting bodies behind the ball, and our midfield taking on a long-range shot as a result. Townsend is so good at tempting players towards him with his driving runs, but he can't let his youthful enthusiasm lead to frustration. As he tempts players in, he needs to get his head up more quickly and lay-off to his teammates.
On the whole, the season has got off to a solid if unspectacular start. We are five points off the top of the league, having made progression in the League Cup and Europa League. I am hoping to see some positive changes, but am also keeping the faith that AVB has the intelligence and foresight to make them.