Chicago Fire match – some thoughts
If you didn't get to see the match live, there are streaming links here. As with the Toronto FC match, I've written some brief notes.
First half:
– Mason seems to have taken to Pochettino's tactics like a duck to water. He positioned himself intelligently again and seemed to enjoy playing alongside the defensive-minded Capoue. One example of his understanding was that if the centre backs were in possession with no pressure on the ball, he dropped into the left back area to provide an option with Rose pushing high up: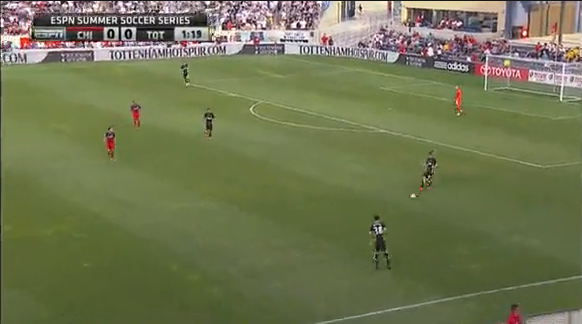 He did this frequently and it allowed us to patiently progress up the pitch, rather than the centre-backs having to hit long diagonals or go back to the goalkeeper. For more information about Ryan Mason, check out this article I wrote just over a year ago.
– The opening goal came out of nowhere: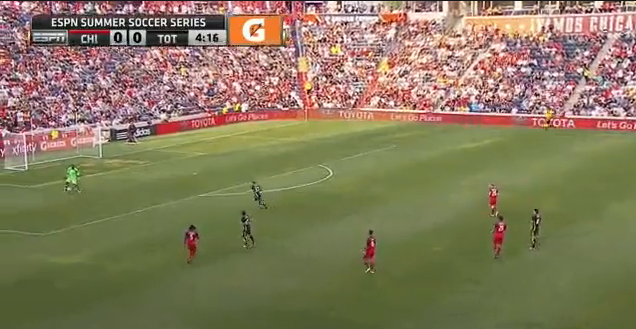 We forced Chicago Fire back to their goalkeeper – Kane closed him down and Townsend/Lamela blocked off two of the simple 'out balls', leaving just one option.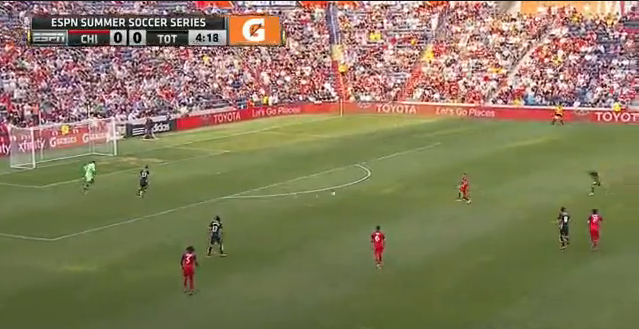 Holtby quickly realised the pressing opportunity.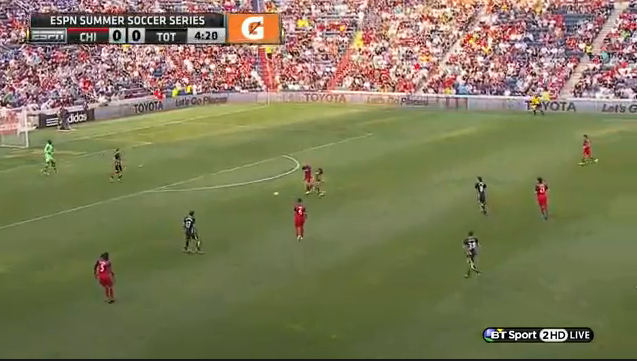 There was a slightly heavy touch from Larentowicz, and with the defender not realising anyone was near him, Holtby was on him like a flash – he nicked the ball and squared it to Kane to finish.
– Holtby was a bit of an enigma again. Whilst he has an impressive one goal and two assists in three matches on this tour, and his pressing has been fantastic, his passing has been quite poor and he's committed a high number of fouls. He put the team in trouble a couple of times with sloppy passes – it's early days, but if he's to play as one of the midfield three, he will need to be a lot more assured in possession.
– Lamela was largely on the periphery of the action but had a couple of moments of real quality where he beat a man and then took on a shot; it felt like had we got the ball to him more, there would have been more of these moments.
Second half:
– Soldado showed an impressive level of motivation and responsibility by tracking back to the right back area and making a good tackle.
– It was no surprise to me that Dawson looked far, far more assured alongside Veljkovic. A quick note on Veljkovic – for an 18-year old who has mostly played in midfield for the last eighteen months, he has performed remarkably well at centre-back, and offers us another ball-playing defender, particularly useful in games where we would expect to dominate possession.
– When Holtby went off Lennon switched to the right (and tucked in as part of a midfield three in the defensive phase) – although he seemed less willing to press high than Holtby had.
– Veljkovic lost possession with a risky pass to Falque (who was pretty weak), but made up for it with a fantastic block.
– Eriksen looked pretty out of sorts again. He's such a talented player that we will clearly find a role for him, but it does raise the question – where does he fit in? I'm not totally convinced that he has the intensity or fitness to play the role that Holtby started in and Lennon finished in, where he's required to tuck in and make up the midfield three.
– When Fredericks came on for Veljkovic, our back four was Fredericks, Dawson, Davies, Naughton – it's worth noting that Davies has played centre-back before.
– The second goal was well taken by Lennon, who linked up with Soldado and latched onto a somewhat hopeful ball over the top. The defending was really poor but he capitalised well.
– Eriksen had a similar chance minutes later but lacked composure as the goalkeeper came to meet him.
– The second half in particular felt very low-key, and there was no tempo to the match – tired legs at the end meant that we were creating chances with straightforward long balls over the top.
General thoughts:
– Last season a major complaint of mine was that we moved the ball too slowly and too predictably in midfield (which was one reason I liked Bentaleb, who moves the ball well). In Mason, Carroll and Capoue we've had players on this tour who've looked to move the ball quickly and often progressively with as few touches as possible. I'm sure Pochettino will have noted this.
– Capoue has looked really good on this tour and his fitness has visibly improved by the game.
– Ryan Fredericks made a positive cameo at right-back, beating his man and getting to the by-line twice. In a team where full-backs are asked to play high, perhaps he will be kept around after all (I'd assumed he would be loaned out or sold).
– Luke McGee made his first appearance in the first team and was confident enough to keep possession with short passing deep in the penalty area.
– Spurs loanee Grant Ward played a very tidy 55 minutes for Chicago Fire.