The Fonseca Files (Part 1)
"Paulo Fonseca", I thought to myself, "what do I know about him?". Not a great deal. So I thought I'd better do some digging before I formed an opinion. I've done this via a number of methods, and I'll take you through my process step-by-step and then, at the end, we can have a think together about how we feel about his apparently-imminent appointment. Here's where I started:
His history
His style
Data
Fan opinion
His history
I logged onto his Wikipedia and had a look at his win percentage, which is a bit up and down to say the least. But, of course, you need to dig deeper and work out where he's taken each club from and where they've ended up.
When he joined Paços de Ferreira they had finished 10th. He stayed a season in which they finished third and qualified for the Champions League for the first time. The season after he left they finished fifteenth. He went back a year later and they finished eight. Between those two stints he went to Porto, where he took the previous season's league winners to third. However, it's worth noting that that summer they sold João Moutinho and James Rodríguez to AS Monaco for a combined fee of around €70 million.
After his second spell at Paços he went to Braga, where he delivered their first cup win since the sixties, finished fourth (same as the previous season) and took them to the UEFA Europa League quarter-final.
He then went to Shakhtar Donetsk, where he stayed for three years. After two years of finishing second prior to his arrival, he had them top three years on the trot (by 13 points, 2 points and 11 points). They were then top the year after he left too, before dropping to second this year just gone. He won the Cup three times and the Super Cup once. That's seven trophies in three years (and nine in his career to date). In 2017/18, he was recognised as Ukraine's best manager. Let's be clear, it's very much a two-team league, but he got to the Champions League Round of 16 in his first and third seasons.
He moved to Roma in June 2019. In his first season they finished 5th, four points and one position ahead of their previous season's finish under Claudio Ranieri. They also made the Europa League Round of 16. This season they finished 7th but they did make the Semi-Finals of the Europa League.
His style
Tifo made a great video on Fonseca's Roma.
This was made in March of this year and things seemed pretty bright then, as you can tell from the tone of the video. He plays an attacking style — the criticism is that, if anything, it is a bit too attacking. His teams tend to play a pressing style with intensity and positivity and they like to possess the ball, building from the back. They overload the midfield with wingers that come into the middle of the pitch and central midfielders that break forward at opportune moments. He has played a mixture of 3-4-3 and 4-2-3-1 across his managerial career, including a mid-season change from one to the other.
Critics suggest that he is very adaptable from match to match but less so within matches, and that this is a weakness, along with his use of substitutions, which critics say come too late.
My friend Tiago Estêvão tweeted this great clip which shows Fonseca's Shakhtar at their possession-based best.
And I learnt a tonne about him from this video. I would urge you to watch it but I've made some notes below.
The players say he improved their games and taught them to understand their roles better.
He spoke about changing the tactics in a league match (regrouping rather than counter-pressing) to prepare for the forthcoming match against Man City in the Champions League.
He has a very strong focus on opposition preparation. He shows how Shakhtar prepared specific automations for the Man City game in which they created overloads in midfield and played with their wingers high to create a difficult decision for City's markers. They subsequently scored from two pre-researched, pre-defined, pre-trained situations.
He was focussed on forcing City out wide as much as possible.
He defines his Shakhtar team's playing style as 'obsession with ball possession, the obsession with wanting to play in the offensive half of the field … the obsession of taking the initiative during the match.'
He was asked about whether he adapts to the players at his disposal in a squad or vice versa and he answered: 'I have my game style and try to adapt the players to it'.
'You'll hardly see a team of mine defending in a low block'. Music to my ears.
His assistant coach says 'Paulo's leadership allows us to actively intervene to supplement and support his work'. His coaching team seems incredibly close-knit, obsessed by detail, and truly collaborative.
He uses a video analyst who calls down to the bench during matches and then works with an editor to prepare clips to use at half-time to illustrate tactical points.
He says of Pep Guardiola and Maurizio Sarri: 'They're coaches who believe that there's more to soccer than winning. And I totally believe that that makes them win more than others.'
And one last thing…
Data
I thought I'd look into what went wrong at Roma prior to him leaving (note: he was not sacked, but his contract was not renewed). What's really interesting is that up until 1 March 2021, he had Roma performing well.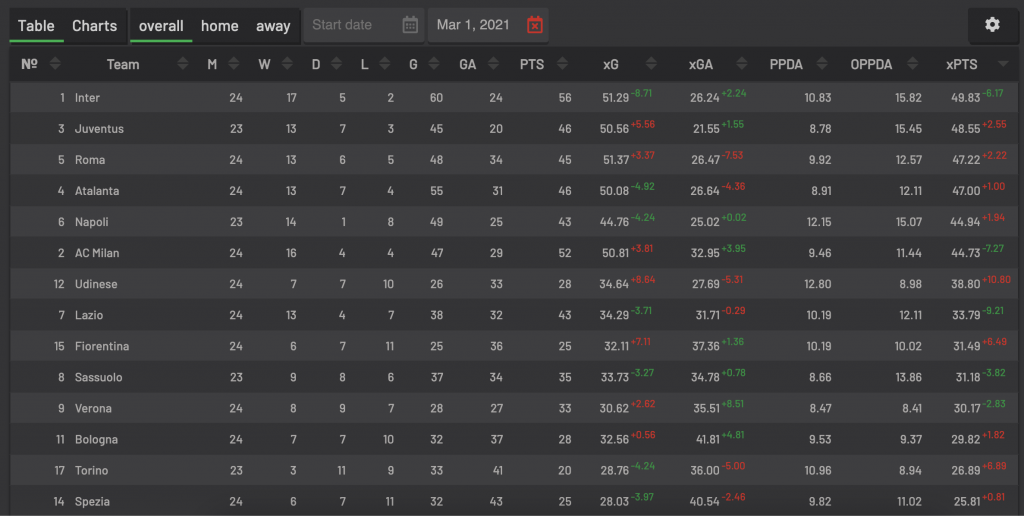 On expected points they were third, only a couple of points behind Inter out in first. They were actually 5th in the table, having conceded 7.53 goals more than expected and scored 3.37 fewer – a near eleven goal swing against them. It seems they were pretty unlucky to be where they were and yet doing fine-ish, so no wonder the Tifo video was so positive! So what went wrong? Well, it seems that the injury to Jordan Veretout, which led to him missing eight of the last 13 was a real problem. He was a key component, a midfielder that regularly made late runs into the box to get on the end of things. Likewise, Leonardo Spinazzola missed 8 of the last 9 and Nicolò Zaniolo missed the entire season.
In the previous season he had his team performing the fourth best in the league and only around six expected points off the best performing team, Atalanta. Their problem was that whilst they were slightly underperforming expected goals, the top three teams were over-performing them.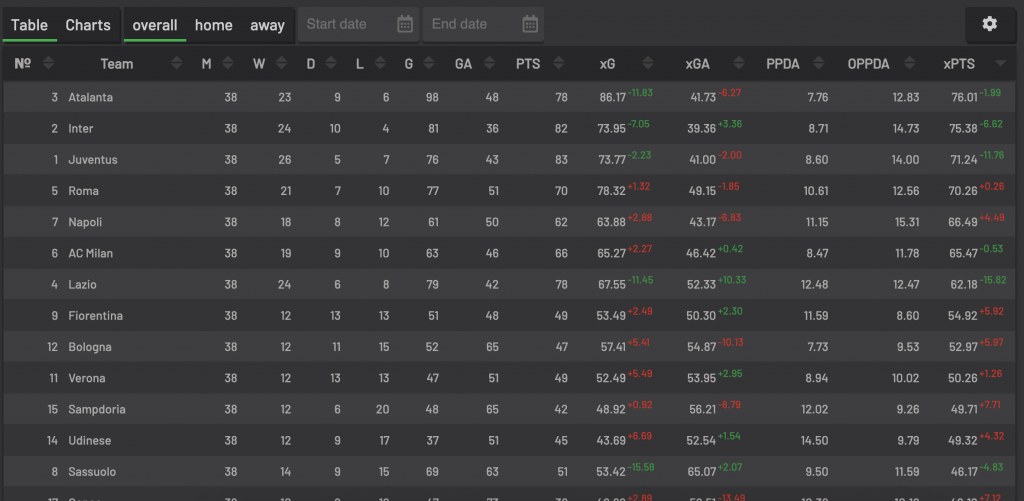 And it's really worth checking this out too…
Fan Opinion
Finally, it's always a good idea to see what fans of a coach's previous club have to say about him, and I think there's a lot to glean from this article. Firstly, the four guys rate his reign: C+, C-, C+, B-. Not great, but not the abject failure that this spell has been presented as. They talk about how he created a team that swatted the teams it should swat, but struggled against stronger teams. That's a little bit Pochettino… They talk about how he developed wing-backs marvellously. That's a little bit Pochettino… They talk about how they had faith they would win even when behind. That's a little bit Pochettino! They also reference his development of players; Pochettino. On the downside, they talk to running players into the ground, his struggles against bigger teams and late subs – again, a bit Pochettino.
They seem optimistic about his future, post-Roma, and one of the guys ends with this: 'He's Luis Enrique 2.0, plain and simple. A manager who just didn't find success in Rome, but not because of anything particularly related to him or his tactics. I definitely think Paulo will end up in the Prem, and with the right moves, I could see him winning a title with a post-Harry Kane Tottenham.'
So?
This link caused a fiery meltdown amongst Spurs fans on social media. Based on my research so far, I am definitely not melting down. Fonseca might not be the big name that many fans crave, but he seems to match the ideals that Daniel Levy has outlined. He's a progressive coach who works with players to develop them into his system, plays attacking football and has a record of winning trophies. Any manager appointment comes with a degree of risk, but I think the starting point has to be: does he fit the profile? And I think I can say that he does fit the profile.
There's also the point that this is a Fabio Paratici pick. I've yapped on about us needing a Director Of Football/Sporting Director/General Manager for a long time, so when we appoint one turning my nose up at his first manager appointment seems foolish. If we're going with this guy, let's let him appoint who he thinks is best.
I think there's plenty there to allow you to squint and imagine Fonseca doing a good job at Spurs. Any appointment comes with risk, but this would be a fairly low-cost risk which we can move on from easily if necessary. I cannot see him burning bridges in the squad or leaving a trail of destruction behind him — quite the opposite.
I would add that, based on what I've researched and watched, I like Fonseca as a person. He's warm, he's charismatic, he's decent. Whether that makes a difference to you or not, *shrug*, but it does to me.
If there's a demand for it, I'll be back at some point for Part 2, where I'll think about how he might work with our squad. I'll also share any other learnings on Fonseca, as I'm sure plenty more information and resources will emerge in the coming days.
---
I am the host of The Extra Inch; a Spurs podcast that delves into the analytical side of Tottenham games. Check us out! If you already follow the podcast, consider becoming an xSub for additional content.
I recently added a Donate button to this site. It's on the 'About' page. I explain why on there. Cheers!