Nuno Holy Spirit
Welcome, Nuno! Sorry, that should probably be #WelcomeNuno.
Nuno Espírito Santo is our new Head Coach (note, not Manager). Spurs have managed to make me feel relieved and somewhat excited about an appointment which, until a few days ago, would have felt pretty bland, uninspiring and out of kilter with the expectations which Daniel Levy so publicly set ("free-flowing, attacking and entertaining" football / promoting young players).
I'm not going to write about how we got here because Jack Pitt-Brooke has written about that really well in all of its horrifying detail, and you should all read that. I'm not linking to The Athletic because I have a (legitimate) personal beef with them and I am a stubborn man, but go find it posted elsewhere and read it and shake your head and maybe your fist and reflect on just how easy it would have been to appoint Graham Potter and cry. But then shrug it off and look to our new future under NES! Because it's not half as bleak as I've made it sound so far.
First and foremost, Nuno is not a bastard. As well as not being a bastard, he seems actively decent and pleasant and likeable and charismatic. So that's a welcome change!
He is also our first (permanent) black Head Coach. This is significant. It shouldn't be, but it absolutely is, and people trying to minimise this are being deliberately contrary for literally no reason and I would question their motives for doing so. Anyway, it makes me feel quite warm inside.
I also really liked this initial soundbyte:
"Our philosophy is not only about me, it's about staff, the coaching staff – it's simple, we improve players, we try to make them better, to improve them every day and by that, it's no matter which age the player is – young, old, experienced, no experience at all – it doesn't matter."

Nuno Espírito Santo, tottenhamhotspur.com, 30 June 2021
I've a lot going on at the moment so I'm not going to be able to repeat the depth of research that I managed for The Fonseca Files. Fortunately, Nathan A Clark is putting together a detailed analytical video on NES for The Extra Inch Patreon. He will do this in video form far better than I could have managed in written form anyway. 
I have watched a fair bit of Nuno's Wolves, though and I have some #takes.
So, to start, we did a podcast with Tiago Estêvão on Wolves back in November 2018. Tiago speaks (from 29:00 on) about NES's journey and tactical style, focusing on how he re-invented himself tactically with Wolves in the Championship. He also speaks about the connection to Jorge Mendes, and I think the analysis stands up now, two and a half years later. So definitely go and listen to that.
And then if I talk chronologically, I think the starting point is the 2018/19 Wolves team and the 2019/20 Wolves team, their first and second seasons in the Premier League. These seasons were undeniably impressive. Undeniably impressive. We know they had a team too good for the Championship and that promotion was an almost an inevitability, but what they achieved in those two seasons was pretty remarkable.
Across the 2018/19 season, Understat has them 6th on xPTS (expected points) and 4th on xGA (expected goals conceded). As I say, undeniably impressive.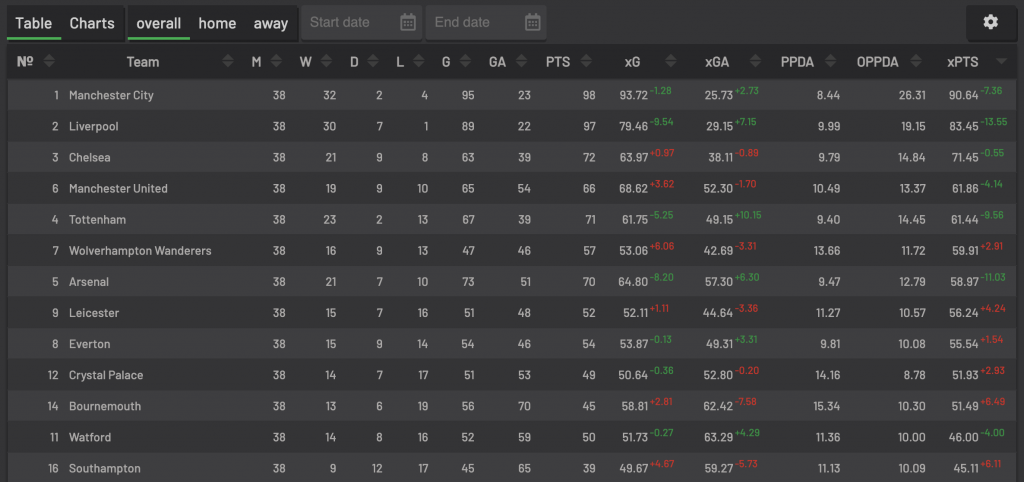 It gets even better in 2019/20. 5th on xPTS (14 xPTS better off than Spurs) and 2nd defensively. Resolute.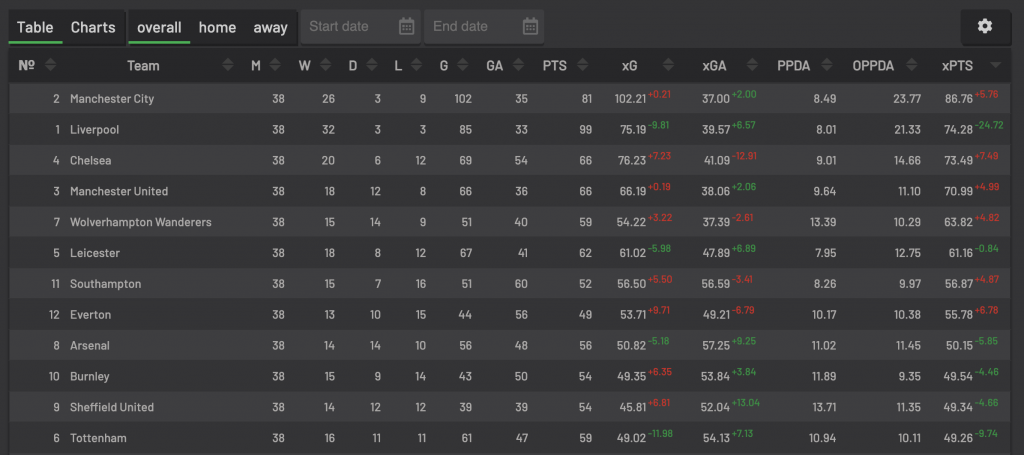 I tweeted this in August 2019:
I remember loving that Wolves side because they were unusual. I saw them keep the ball really well at the back with what is known as 'deep circulation' — lots and lots of passes between their three centre-backs and the deep-lying midfielders (Rúben Neves and João Moutinho). Then, when they'd dragged their opponent towards them sufficiently, or across to one side sufficiently, Connor Coady or Neves or Moutinho — but most-memorably for me, Coady — would ping a cross-field out to Jonny on the left or Matt Doherty (ooh) on the right and suddenly Wolves would be away and Raúl Jiménez or Diogo Jota or Adama Traoré or Ivan Cavaleiro or Hélder Costa or Daniel Podence would come to life and drift to the wings and create overloads and there would be technically impressive interplay and the opposite wing-back would arrive late in the box and Matt Doherty scored four league goals for four seasons in a row (!!!) and that is Undeniably. Impressive. Breathe.
But they were doing this as underdogs and, I think, this is why I found it so impressive. As well as their deep circulation and excellent switches of play when they had the ball, they were often ceding possession and playing on the counter. Jiménez received a lot of long balls and made them stick, holding up play and waiting for the rest of the team to join him, such had been their defensive low block. This felt like a logical and appropriate strategy for Wolves, but not one that I would necessarily want to see employed at my team, which had (and still has) better talent at its disposal.
So we come to this season's Wolves.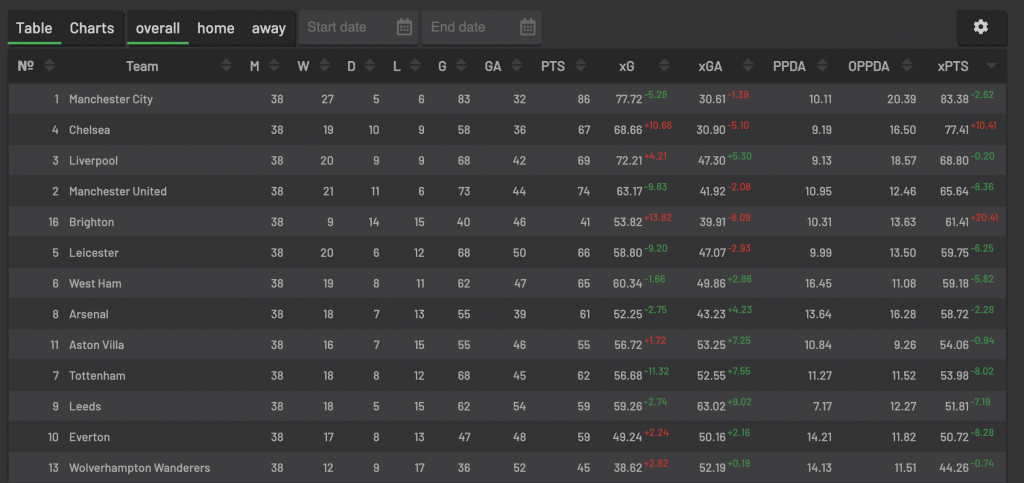 It's just undeniable that things went quite sour. 13th in the actual Premier League table and 13th on XPTS. 10th in terms of xGA. Sixteenth in terms of xG.
As I say in the tweet below, I'd not seen much of them up until December. I knew they'd played badly but I also saw from these readings that they had played well against Chelsea.
A previously beloved manager seeing his key striker suffer a bad injury and his key midfield lynchpin falling off a cliff and, in trying to find solutions, tearing up his original tactical plan and flailing around hoping for the best? Yeah, that sounds eerily familiar. So yes, there are lots of mitigating factors to take into account.
But what became clear to me last season was that Wolves were so passive. Where previously they were effective at pressing, particularly out wide with the aggressive positioning of their full-backs, this was no longer a real facet of their play. But I think this has much to do with the issues I just mentioned. Or, hey, maybe losing Matt Doherty was actually more important than we all suspected.
I'm finding it really difficult to draw conclusions about what NES will do at Spurs. This is because he played 4-2-3-1 at Valencia and even a 4-4-2 at times, adapting to the players he had available. Obviously this was not the case at Wolves until this season.
What I can say decisively is that he will use attacking full-backs, if not wing-backs. That might mean that Doherty becomes key or it might mean that we need to urgently sign a right-back. Or both, we need two right-backs across a long season with many games, right? I would sign an attacking right-back as top priority.
The way NES has used Neves and Moutinho as very deep central midfielders screams Pierre-Emile Højbjerg and Oliver Skipp to me, but 1. maybe Harry Winks gets a stay of execution and 2. what does this mean for Tanguy Ndombele and Giovani Lo Celso? He's said to be adaptable, so hopefully he seems value in building the team around our two best midfielders.
As for the attacking midfielders, who knows? In the Wolves 2018/19 3-4-3, Dele is best suited to the left-sided of the three due to his pressing qualities and ability to play quick one and two-touch football. But Son Heung-min is Son Heung-min and you need to find a way to accommodate him.
Basically: there's lots to work out, it's very difficult to draw conclusions at this time, and I think we need to wait until we see some signs of a tactical plan emerging in pre-season to really know which players are going to work out and which are not.
Daniel Levy's quote, upon making the announcement, is intriguing:
"I've spoken already about the need to revert back to our core DNA of playing attacking, entertaining football and Fabio and I believe Nuno is the man who can take our talented group of players, embrace our young players coming through and build something special."

Daniel Levy, tottenhamhotspur.com, 30 June 2021
It implies that NES will play a style that he's not *really* played since his time at Valencia. I guess we'll see.
What's interesting is that the young players — who Levy says will be "embraced" — will have a real opportunity to impress over the first few weeks of pre-season, with many players still off representing their countries. This is particularly true of our young centre-backs, with Eric Dier our only recognised first team centre-back present for the start of pre-season. I mentioned TJ Eyoma in The Fonseca Files, but I think Jubril Okedina is also worth a mention here too.
I've not mentioned Jorge Mendes too much here and I'd rather not do a deep dive on that for now but I will say that Fabio Paratici being in post could be seen as protection against Mendes getting his claws too deep into the club. Or we can simply recognise that Mendes did some valuable and impressive work in attracting elite players to Wolves and hope (like, really, really hope) for the best.
So good luck, Nuno. I'm happy to have you, I'm interested to see what you can do, and I'll be getting behind you with fulsome vigour. Come on you Spurs!
---
I am the host of The Extra Inch; a Spurs podcast that delves into the analytical side of Tottenham games. Check us out! If you already follow the podcast, consider becoming an xSub for additional content, including videos, and extra podcasts.
I recently added a Donate button to this site. It's on the 'About' page. I explain why on there. Cheers!