Analysis of the goal conceded against Chelsea (28/9)
John Terry's goal – After Vertonghen concedes a free kick, Mata delivers a teasing in-swinger, which Terry guides into the corner.
Blame me. I think I cursed Vertonghen. I tweeted at the end of the first half that he was playing the best defensive game I'd ever seen from him in a Spurs shirt – in the second he was far less impressive, and seemed to really struggle with Torres' movement.
He conceded a free-kick when lunging in on Ramires – a challenge for which he might have seen red, as he was technically denying a goal-scoring opportunity, since the Brazilian had a clear run on goal had he not been brought down. Mata took the resulting free kick…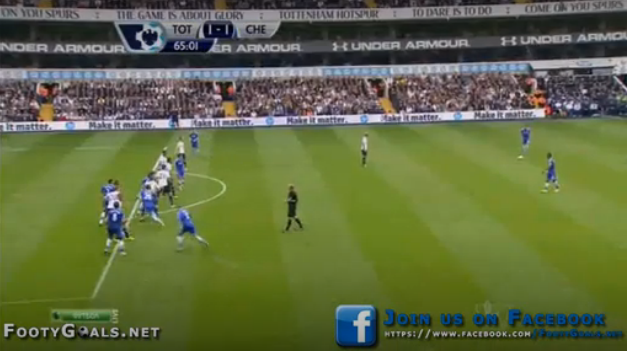 As Mata prepares to take the kick, Ivanovic is grappling with Dembele. I'm not sure if it's a deliberate ploy, but essentially Ivanovic pushes Dembele deep and this causes Terry to be onside. Dembele has to be stronger and hold the line here.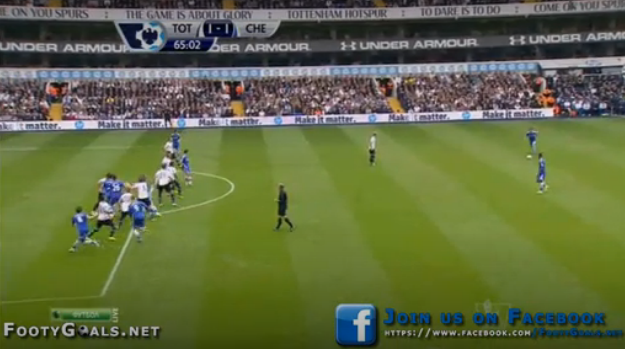 Dawson steps up to play Terry off, not seeing that Dembele has been pushed back. Vertonghen can now see Terry, who has made a break in front of him.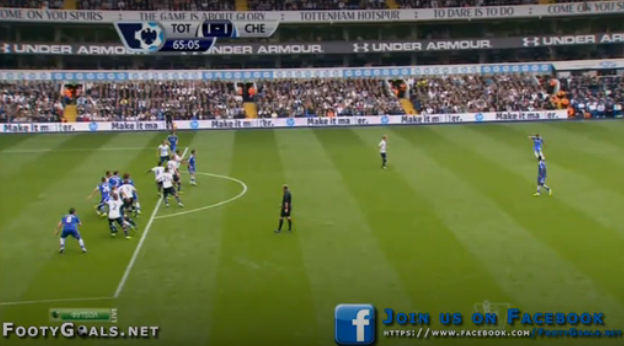 In stepping up briefly, Dawson has cost himself a yard.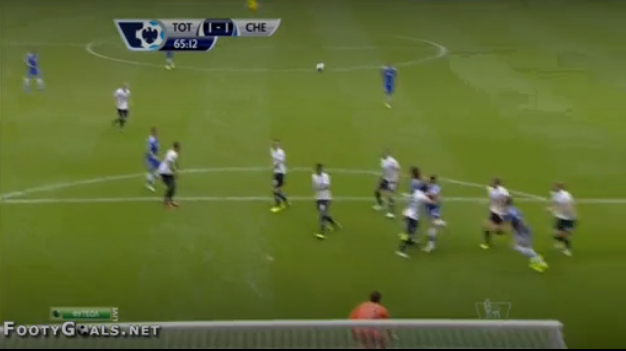 Due to Vertonghen being static, Dembele being pushed back and Dawson p up, Terry ends up having a free header.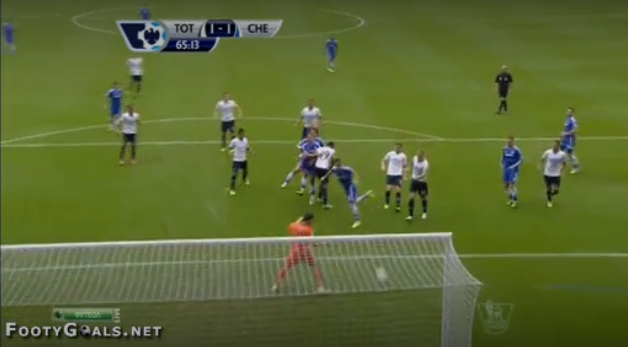 Terry has time and space to guide his header into the corner unchallenged.
A very scruffy goal from a Spurs perspective, with mistakes from Vertonghen (initial foul, and then not reacting to Terry's run), Dembele (not standing his ground, and therefore playing Terry onside) and Dawson (being out of kilter with Dembele, costing himself a yard).
This goal was coming, though, and I was a little disappointed with AVB's use of substitutions this week, unlike last week against Cardiff.  Mata's introduction made a huge difference for Chelsea, and Dembele and Paulinho just failed to get close enough to him. Paulinho is good defensively, but was caught between being the link man in between Dembele and the number 10 (Eriksen and then Holtby), whereas Dembele is much better with the ball than without it.
Despite Dembele protecting the ball and using it mostly intelligently when he had it, for me I'd have withdrawn him after 55 minutes and brought on Sandro to deal with the threat that Mata was constantly posing. Alternatively, AVB could have taken off Paulinho and given up a little of the forward thrust that the Brazilian offered. Either way, we needed to do *something* about Mata, who was absolutely bossing the second half whilst Chelsea had eleven men.