Analysis of the goals conceded against Everton (7/4)
Jagielka's goal – A Leighton Baines corner is headed in at the back post by Jagielka, who is climbing on Vertonghen's shoulders. The header is angled downwards and goes through Lloris' legs.
Baines' corner is aimed towards Jagielka, who is marked by Vertonghen.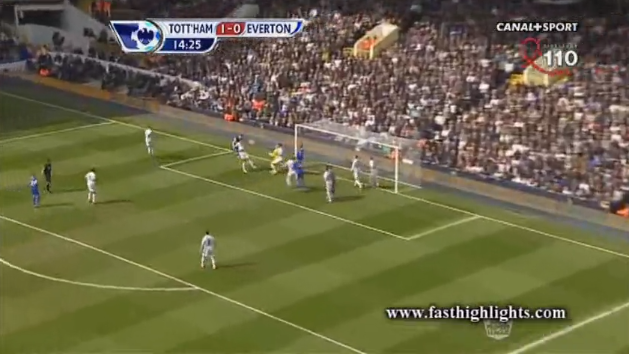 Vertonghen is caught flat-footed, and doesn't get up to compete.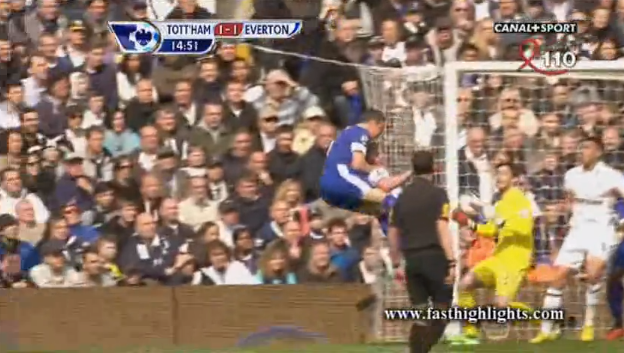 However, Jagielka clearly climbs on him with a hand on each shoulder. The referee has a perfect view of the incident.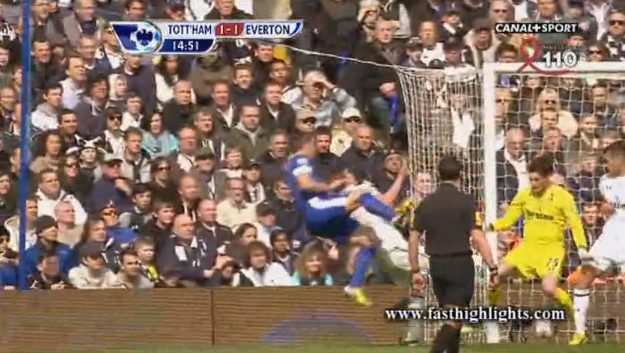 The ball is headed downwards and, unfortunately for the goalkeeper, goes through Lloris' legs.
Mirallas' goal – As Anichebe brings the ball down and plays it wide to Mirallas, our defence seems to simultaneously switch off. Mirallas drives at Caulker and smashes a low shot into the corner.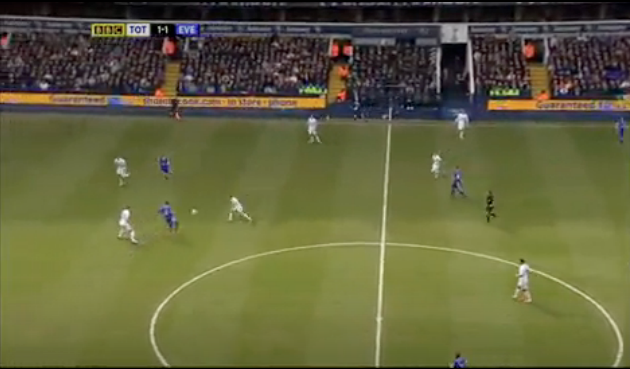 As Everton fire the ball forward, Anichebe drops off Dawson to collect the ball – Dawson is unsure whether to go with him, as Parker is covering that part of the pitch. Notice Vertonghen ball-watching, with the eventual scorer, Mirallas, behind him (blended into the dugout!).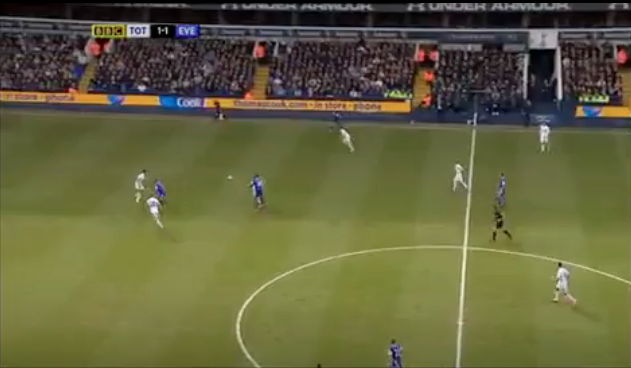 Anichebe lays a first-time pass off, and Mirallas is already moving – bursting past the static Vertonghen, who is far too far away from Caulker regardless of not knowing where Mirallas is.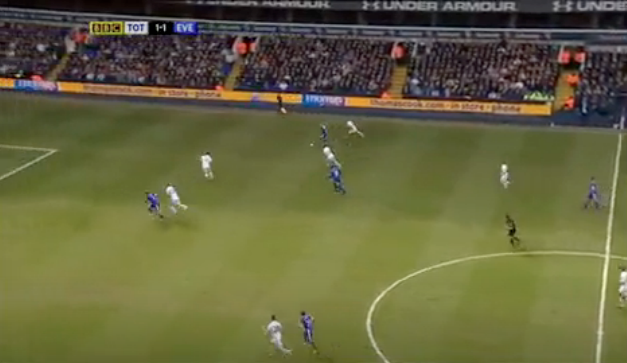 Mirallas has space to drive into, and Caulker is forced to back off, with Jelavic making a dart in behind Dawson.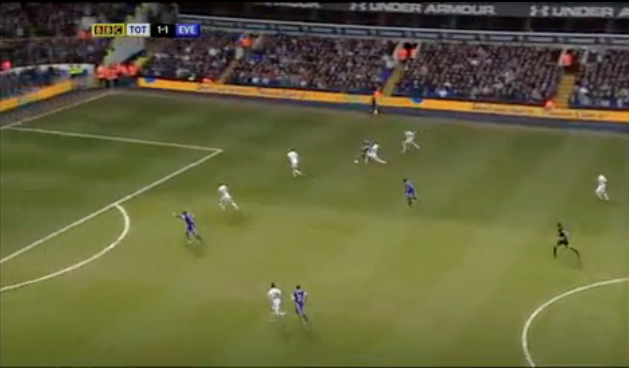 Parker attempts to make up ground, but is not going to catch Mirallas, who toes the ball beyond him, and has Caulker on the back foot.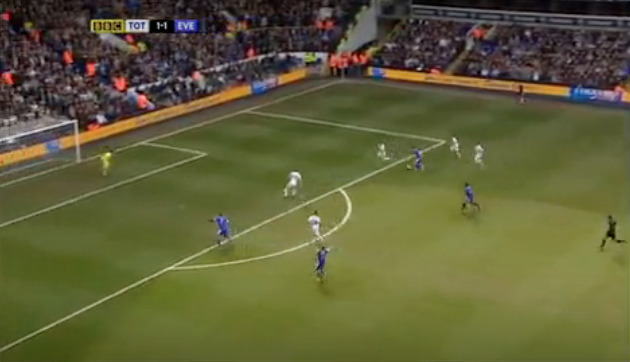 He looks to go inside, which forces Caulker to turn…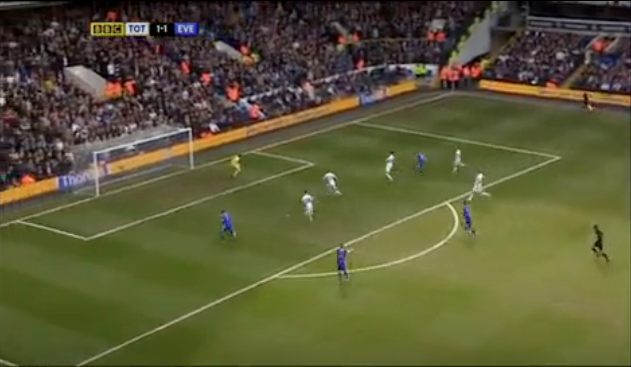 …before turning back outside and getting a shot away from an acute angle.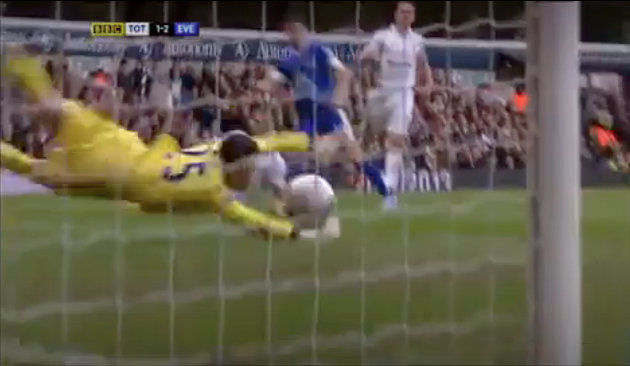 Lloris is narrowly beaten by Mirallas' fantastic strike – across the face and into the far corner.
Our 4-1-4-1/4-3-3 hybrid arguably was the cause of our first goal, and Everton's second. We created our opener with Vertonghen making a superb run to get beyond the narrow wing-forward, Sigurdsson, and putting a dangerous cross into the box. Vertonghen rarely replicated this for the rest of the game but, ironically, for Mirallas' goal, he is too advanced and too far from Caulker. Along with this, a lack of communication between the holding midfielder (Parker) and centre-back (Dawson), leads to confusion – Dawson thinks that Anichebe has drifted into Parker's space, and drops off, whereas Parker is too far advanced to affect play and ends up chasing shadows.
There were positives from the 4-3-3 though – our ball retention was generally good, with Holtby putting in a tidy shift and recycling the ball well. He also dovetailed nicely with Dembele, who had greater license to carry the ball forward, knowing that he had two men behind him. We also saw strong performances from Adebayor – who led the line admirably – and Sigurdsson – who was tenacious and creative. Walker took advantage of Dempsey's tendency to tuck in by providing a constant outlet on the right, and it was arguably his best attacking performance of the season.
(For those who have been asking, I'm halfway through a youth/loan update and it should be with you by the end of the week at the latest.)