MLS All-Stars 2-1 Spurs – some thoughts
First thing's first: it was a friendly, so let's not take too much to heart. We can get an impression of a player or a style, but the intensity of friendlies is so much lower than that of a Premier League match, especially at altitude. It's easy for players to stand out when there is less pressure on the ball and, conversely, players can sometimes struggle to get motivated for friendly matches. But keeping all that in mind, here are my thoughts in bullet point form. I've split this it into halves as the teams were so drastically different in each.
First half
The MLS All-Stars (from here in on referred to as 'MLSAS') set up in a 4-1-3-2 (or midfield diamond) which was often more like a 4-3-3:
Rimando
Beltran Besler González Beasley
McCarthy
Zusi Kaka Zardes
Dempsey Villa
Spurs set up in the usual 4-2-3-1:
Vorm
Walker Alderweireld Vertonghen Davies
Bentaleb Dier
Chadli Eriksen Dembélé
Kane
– The first shot of the game came after  a couple of minutes when Jan Vertonghen sold Ben Davies short with a pass, and his clearance came out to Graham Zusi who struck it hard and low but wide. Mistakes leading to chances was a common theme in this half, as both sides gave up opportunities from errors. The opening goal came from a silly mistake from Nacer Chadli, who gave away a penalty when dangling his arm out in loosely challenging for the ball. Likewise, Spurs' goal came from a wayward pass which Kane latched onto.
– It was notable that Spurs – as we became accustomed to last season – were keen to play out from the back despite high pressing from the front three of the MLSAS. Toby Alderweireld looked comfortable in possession, as did Eric Dier, who was not scared to drop deep (often between the centre-backs) and take the ball under pressure.
– Harry Kane had a few of fantastic chances in the first half and scored with by far the most difficult. First, Mousa Dembélé's shot looped up off a defender, Kane was typically the first to react but volleyed straight at Rimando. From the resulting corner, Dier made good contact with a header but when the ball landed at Kane's feet he diverted it wide. At 1-0, Dembélé tackled and then dribbled his way from right to left across the pitch and laid off for Chadli to pick out Kane – he should have made it 1-1 from point-blank range, but Kane hit the keeper again. In fairness to him, he was stretching a little on this occasion. Finally, he had one other good chance from the move of the half: Nabil Bentaleb stabbed an intelligent ball over the top, Christian Eriksen brushed Kane aside to take control, waited for Kane to break in behind his marker and played a firm ball across which Kane couldn't quite divert towards goal. Kane's goal was beautiful, though. He picked up on a loose pass, put Omar González on the back-foot before using him as a shield to stop the goalkeeper seeing where he was placing his shot, which rocketed past him. Lovely.
– Eric Dier played in defensive midfield, a position that we've not seen him play in previously for Spurs. He had a run of playing in midfield for Sporting in 2013 and has been rumoured to have been playing there in behind-closed-doors friendlies this summer. Where Ryan Mason's first instinct is to press the ball, Dier's is to jockey, to hold position, and to screen; two of the times he did commit to trying to win the ball, he gave away fouls resulting in a warning from the referee and, subsequently, a yellow card. Dier was not afraid to take the ball under pressure, and moved it left and right (mostly right) pretty well. He didn't look like a complete natural in the role, but it might be worth another look.
– The odd thing about Dier playing in midfield is that Mauricio Pochettino has shown no signs so far of wanting to use a sitting player. If he'd wanted a player that could do that he'd surely have used Étienne Capoue or Benji Stambouli, or even our super-talented young Serbian player, Miloš Veljković. That Dier is ahead of Veljković in the midfield pecking order does not bode well for Milos, who seems likely to be farmed out on loan again this season. Stylistically, he doesn't seem to be a good match for Pochettino – he's not a high-tempo player, and he's not a natural presser. Although he can play centre-back equally well, we're fairly well-stocked in that area just now. We just have to hope he doesn't end up leaving out of frustration at a lack of chances, as he's a potential star of the future. That's a bit of an aside.
– Another player in a slightly unfamiliar role wasMousaDembélé, who played wide on the right. He's played there before, and played the role relatively well (particularly against Newcastle in February 2014) – I've actually previously said that I'm happier for him to play there than in central midfield, where I feel he slows things down too much with his ponderous style and limited range of passing. Dembélé had a hit and miss half. The good was that he was very good at escaping from being boxed in – something we know he can do well. His excellent close control and useful one-touch passing in tight spaces helped him escape a couple of times. He also went on a run across the pitch from right to left which allowed Chadli to set up Kane for a big chance. The bad was that he kept ignoring Walker's frequent overlapping runs. The one time he did try to find Walker, he overhit his pass. He also delayed a pass too long for Ben Davies which led to Davies being caught offside when entering a dangerous position. He had a really poor two-minute cameo midway through the half: first he picked up the ball on his right foot, produced a Cruyff turn to get it onto his left and then looped a pass straight to the MLSAS full-back from the centre circle. Then, he let David Villa run in behind him in the box – fortunately the forward seemed to kick the ground and messed up his cross, allowing Dembélé to clear. Dembélé's tendency to play the game at his own speed can be both a blessing and a curse.
– Alderweireld looked good in possession and strong at marshalling the defence and reading the game. David Villa lost him very easily in the box for the second goal – he briefly checked his run allowing him to prod home a cross-cum-shot from Kaka. I'm sure David Villa has done that to better players than Toby, so I'm not overly concerned. More concerning was Chadli failing to track the run from deep, which is fairly typical of him.
Second half
The MLS All-Stars second half team, was nowhere near as strong (or adventurous) as their first half team but still contained some talented players who are, I'm told, having good seasons. They set up in a 4-2-3-1, which I think was as below (forgive me if I'm wrong):
Ousted
Moor Marshall Ciman Francis
Cronin Juninho
Finlay Feilhaber Castillo
Kamara
Spurs continued in their 4-2-3-1 but with some personnel changes:
Vorm
Trippier Alderweireld Wimmer Davies
Dier Alli
Carroll Dembélé Chadli
Kane
With Alli more naturally attack-minded, and Dembélé more comfortable dropping deeper, the shape more closely resembled a 4-1-4-1 (or 4-3-3) at times, with Alli given license to push on.
Spurs ended the half with a very different side:
McGee
Trippier Fazio Wimmer Rose
Winks Alli
Yedlin Carroll Onomah
Coulthirst
– This was our first look at Kieran Trippier in a Spurs shirt. His first piece of action was an overhit cross which the goalkeeper claimed easily. He is renowned for his crossing, so I thought I'd keep a close eye on them – I may have missed one or two crosses, but here's what I saw:
1. overhit and claimed by the goalkeeper.
2. fairly decent cross which came to Kane at waist height and so was tricky to control.
3. under-hit and cleared.
4. a little too high for Kane.
5. overhit from deep and ran out for a throw-in.
6. easily the best so far, drilled into a great area, nobody could get on the end of it.
7. well overhit on the run. NB: 7 crosses in 16 minutes!
8. very long, chested down by Onomah at the back post to keep it alive.
9. into right area but cut out at the near post.
10. aimed towards Winks, goalkeeper saved it as it was dropping in.
Crossing is a dying art-form – statistics show that not many goals proportionately actually come from crosses, and that it takes a lot of crosses to score a goal. Just hitting hopeful balls into the box is not helpful to a team that wants to dominate possession. I'm intrigued to see how Pochettino coaches Trippier. My best guess would be that 'less is more' is his slogan – attempt fewer crosses from better areas if possible. Trippier was barely tested defensively in this match, but I know from watching him a fair bit for Burnley that he is quite a rugged defender.
– Dele Alli looks a very confident player, and it's so obvious that he has had plenty of exposure to first team football. Just five minutes in he was telling players where to pass to, hitting cross-field passes and roaming around the pitch as if he were the most experienced player on the pitch. Being used to playing in front of crowds will have helped him – he was not over-awed by the occasion. This video by SpursOnly captures his personal highlights from the match.
– Toby Alderweireld played an absolutely glorious pass which Chadli should have scored from. It's totally GIF-worthy: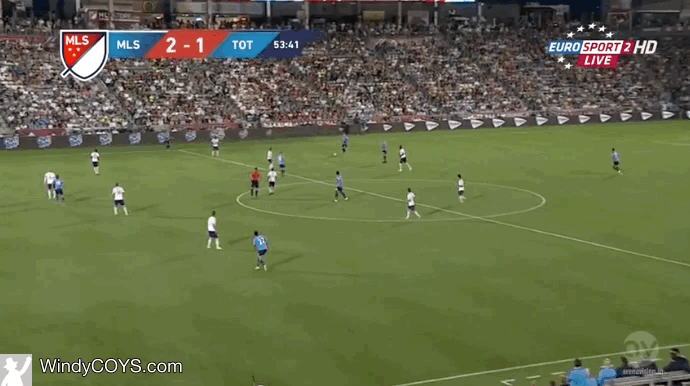 – Harry Kane was getting a little frustrated in that half. First, he messed up a chance (from Alli's pass) then he made a bad pass. He pounded the turf after doing that, and then a few minutes later he took on a stupid shot from a really way out. Desperate to impress his adoring fans?
– After a glut of substitutions were made, Tom Carroll moved inside into the number 10 role, with Harry Winks partnering Alli and DeAndre Yedlin playing on the right. Carroll was so-so – he worked hard and tried to make things happen creatively, although not even close to everything came off. Winks had a very tidy cameo and one particular moment – where he started a move deep in midfield and then surged forward – showcased his ability to play in both halves. Yedlin's touches were often disappointing and he struggled to have an impact. Josh Onomah played out of position on the left and had a great chance to score. He was found by Kane after a neat move on the edge of the box, and tried to pass it into the far corner – unfortunately he didn't get enough on it and the goalkeeper saved it comfortably. Onomah didn't see a lot of the ball aside from that. Luke McGee had a stint in goal and showed great distribution.
– Danny Rose made a fantastic saving tackle after Federico Fazio was caught out over on the right – Fazio is rumoured to be one who could leave, and our depth at centre-back (Alderweireld, Vertonghen, Dier, Wimmer) means that this could happen without a replacement being sought.
– The timing of this match was really bad. I get that the US market is huge to the club, and it's genuinely great that American fans get to see the team up close and personal, but an uninterrupted period at our purpose-built facilities right now would have been really useful for fitness and for getting the team organised and drilled. All that travelling for one match seems a really bad use of time. The same can be said of the Audi Cup – it's far, far too close to the season opener, and is clearly more about money and developing the brand than it is about preparing the players for the start of the season.