The Fonseca Files (Part 2)
Firstly, go back and check out Part 1 if you haven't already. It was my most read blog article in a couple of years, and I appreciate everyone who shared it, as well as the kind words on Reddit. I hope that you enjoy/enjoyed that and that you watched the documentary. The documentarians got tremendous access and it's very insightful.
When a new coach is appointed I find that the really fun part is to speculate as to which players already at the club would fit the coach's system, which youth players might get a look-in, and which areas he would need to prioritise in terms of adding new players. It's nice to look forward, to translate the squad over a coach's assumed system and to consider how that might go.
Of course, modern coaches tend to be more flexible now and will have more than one way to play, and that is certainly the case with Paulo Fonseca, as it was with Mauricio Pochettino. With Pochettino, whether he played three at the back or four at the back, though, there were over-arching principles that remained, even if the players fulfilling them changed. I.e., even with a back four, it became a three in build-up as one of the pivot players split the centre-backs, five attacking players would generally be spread evenly across the five vertical channels of the pitch and pressing would occur. The same is the case with Fonseca — his principles remain, build from the back, have wide players keeping width extremely high, overload the midfield.
Caveat: it's only a few days since Fonseca was linked, and I've not yet watched as much of his Roma or Shakhtar Donetsk teams as I'd have liked. I've focussed so far on highlights and clips from players, as well as the full-match vs AC Milan from October 2020 which I found on footballia.net.
Whilst we know from the documentary I referenced in Part 1 that Fonseca's intention is to stick to his system and have the players adapt to it, I've made a lot of assumptions in this article and, to be honest, it's pretty speculative stuff. As I say, I'm mainly doing this for fun rather than to make bold predictions.
Goalkeeper
I've read and listened to lots that says that Fonseca's keeper supports playing out from the back, and becomes part of the build-up. However, I've watched some clips of Pau López's distribution for Roma from this past season and it's not as fancy or radical as I'd expected. He does, however, go short whenever possible and often from deep inside his own box. This is really not a strength for Hugo Lloris. Assuming he's not going anywhere, I anticipate a few nervy moments where he hangs on to the ball a little late, or gets his pass wrong. We saw plenty of those under Mauricio Pochettino and it's, I guess, the price we pay with Lloris — his shot-stopping qualities are still there, so will hopefully compensate, but it's not a great fit. If a goalkeeper that can pass the ball accurately and calmly under pressure is a deal-breaker, we should look at Brentford's David Raya.
Centre-backs
Fonseca's centre-backs have to be exceptionally comfortable in possession. They get a decent number of touches and not only pass out from the back, but also carry the ball forward. Juan Foyth would have been so perfect; such a pity that we agreed to that option to buy (and for so cheap – gah!)! Joe Rodon will definitely be a good fit, Japhet Tanganga might be too (though, unfortunately, his injury record is a concern) as his ability to drive forward with the ball (mainly form right-back) was a very pleasant surprise this past season. Toby Alderweireld is great at passing, but not a natural ball carrier, and with Fonseca's line being far higher than we've become accustomed to, I'm not convinced that Alderweireld will be suited, certainly not in the long-term. To be brutally honest, Davinson Sánchez's on-the-ball ability is inadequate for this system. And Eric Dier on the turn in a high line frightens me. Personally, I think it's clear we need a quality ball-playing and ball carrying centre-back, and the obvious solution is Ben White, though he would be expensive.
In Fonseca's system, the two wide centre-backs move out towards the flanks in possession with the wing-backs pushed aggressively high up the pitch. Ben Davies would, therefore, be quite well-suited to the left-sided centre-back role and, in terms of young players who might come from nowhere and get a look-in, TJ Eyoma is one to keep an eye on over the next season or two. He had an excellent season at Lincoln City, playing as a right-back for the first half of the season and a centre-back for the second. This illustrates, I think, how comfortable he is in possession and he's a good match for that hybrid role on the right.
Wing-backs
I think this is the most interesting of all of the Fonseca roles. Out of possession, the wing-backs drop in and make-up a back five, with the near-side wing-back pushing out to engage his man and the far-side wing-back dropping into a neat line of four. As soon as they win the ball, the wing-backs are off — they push up incredibly high; you can think of them as traditional wingers in possession.
This is a good example of Roma's attacking shape. This is from the 3-1 win against Juventus in August 2020 in which Roma played 3-4-3. The two wide players are the wing-backs, the three in-field that are close together are the front three.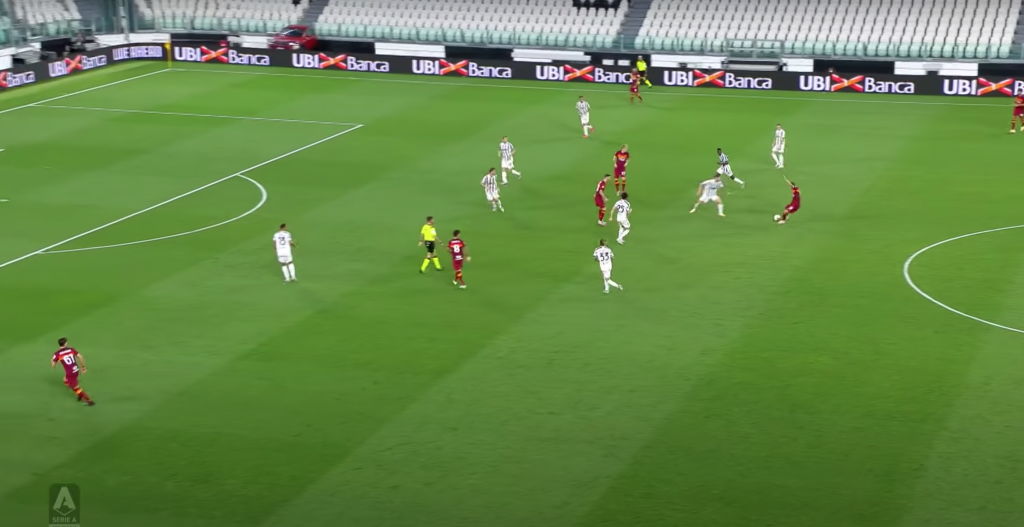 Sergio Reguilón and Ryan Sessegnon are absolutely ideally suited to the left wing-back role. They have acceleration to energetically spring forward, are happy to position themselves high, and also have natural recovery pace. We know that on the right we have a problem, with Serge Aurier likely to leave and Matt Doherty so far having struggled to settle, though we need to acknowledge that he had Covid. I'd need some convincing that Doherty has the athleticism to cope with the aggressive transitions, but what we do know about him is that he is excellent at timing a run and has ability to contribute in the final third, often arriving in the box, something that Fonseca likes in his far-side wing-back.
What's interesting is how much Fonseca has developed Leonardo Spinazzola, who played so well for Italy against Turkey in the Euros opener. He is a right-footed left wing-back who mostly played as a winger (though he did have full-back experience too) before Fonseca got hold of him. He is a terrific ball carrier and really makes that count. However, I don't think ball carrying is an essential Fonseca wing-back trait as Rick Karsdorp's carrying numbers are low. Rather, he positions himself high, waits for it to come to him, and delivers crosses, or bursts into the box at the far post if the ball is on the opposite side. That feels very Doherty.
I was surprised that both Roma wing-backs average under 10km per match despite the role being a demanding one. I'd love to see the sprint numbers as I bet they are high as the transitions from defence to attack are pretty intense. But, without that additional context, I think there's some hope for Doherty. Of course, we absolutely need to sign another right wing-back, because we can't go through a demanding season with just one, and I'd be all over Tariq Lamptey if that deal were possible. But, in terms of what's already in the squad, I'd say Jack Clarke is the player with the most potential to fit this role with some close mentoring. Perhaps that will be something to look out for in the Europa Conference League.
Central midfielders
Fonseca's centre-mids are real all-rounders. They collect the ball from the centre-backs and help break the lines in build-up, they cover in behind the wing-backs on transitions when needed, they get beyond the front three with late runs and arrive in the box. They carry the ball forward where possible, they pull strings, they pass quickly and fluidly, and they find the attacking midfielders often.
A lot is made of Jordan Veretout's goalscoring exploits, but it must be noted that the majority of his goals were penalties. That said, he is in the 90th percentile for non-penalty goals in the top 5 leagues: very impressive.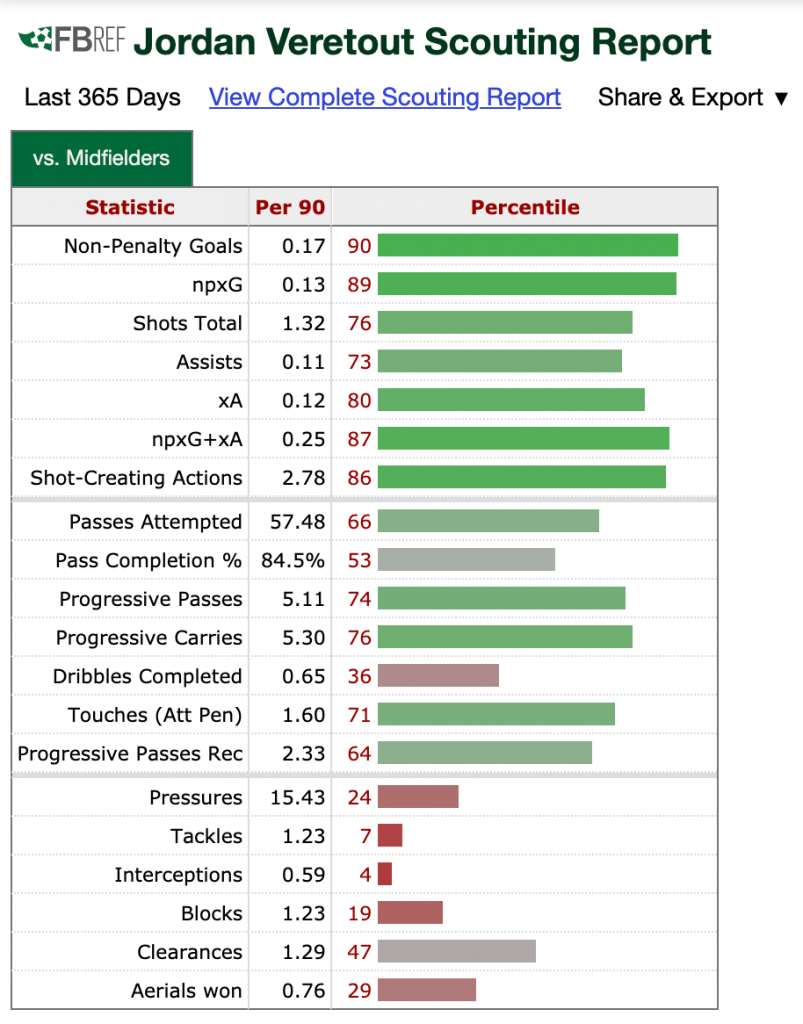 I had a look at all of his Roma goals and they are nice and varied — some from the edge of the box, a third man run, a supporting run on a counter, a couple where he took up nice positions in the box from crosses.
Fonseca's central midfield at Roma has been made up of two from Veretout, Lorenzo Pellegrini, Gonzalo Villar or Bryan Cristante. Cristante also plays centre-back regularly, and Pellegrini often plays in the attacking midfield band; like us, they have quite a bit of versatility amongst their squad. Villar's numbers illustrate that, when he plays, he's playing a more conservative role, but he carries the ball well. His defensive actions are not exactly anything to write home about.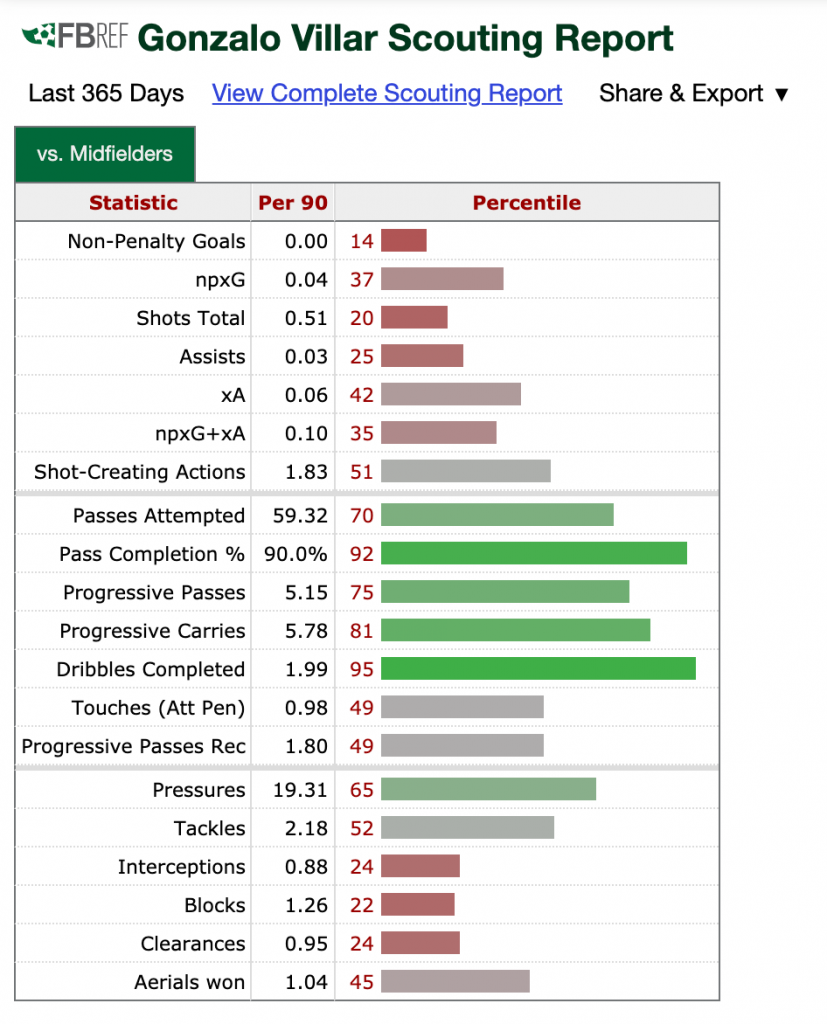 Pierre-Emile Højbjerg seems to be the best Villar equivalent, but Oliver Skipp will surely give him a run for his money, and what Skipp brings that Højbjerg arguably doesn't is a nimbleness in being able to break forward at speed — not that he did it often at Norwich, as he mostly played at the very base of the midfield in a very conservative role. But he has terrific box-to-box energy. I think either he or Højbjerg could be viable options throughout the season and would expect plenty of rotation. Harry Winks could absolutely do a job in this system — in fact, I think he'd be rather well-suited and it would protect his defensive frailties — but, at this point, I'm expecting him to move on.
Tanguy Ndombele and Giovani Lo Celso are the two players I'll be desperate to see work in Fonseca's system, as I believe they're two of the best players at the club. I really like the idea of Ndombele in the Veretout role, and Lo Celso playing as one of the attacking midfield band… more on that in a moment.
In terms of youngsters for the midfield role (aside from Skipp, mentioned above), that may well be determined by what's best for their development. Harvey White will surely be out on loan again, Jamie Bowden will hopefully get his first loan too, and that probably leaves Nile John and Alfie Devine as next in line. They are dynamic, versatile, technical players and I'd love to see them both play some Europa Conference League minutes in midfield. Quick shout-out too to Elliot Thorpe, a ball-carrying midfielder. I think he could be a surprise inclusion in pre-season.
Attacking midfielders
The two behind the striker play incredibly narrow in Fonseca's 3-4-3, forming a pentagon with the striker at the tip and the central midfielders at the base. They make lots of movements towards the (high) wing-backs to create triangles and are constantly probing from those pockets of space. They are very much link players as well as attacking threats themselves, often dropping deep to pick up the ball and carry it forward with the wing-backs running past them on the way, and they help enable the team structure through creating overloads in the middle of the pitch.
Dele is absolutely perfectly suited for this role. His close control, speed of thought, ball carrying and one and two-touch passing would work wonderfully in these pockets of space, as it did under Pochettino when he played as a 10. He also possesses the athleticism and responsibility to drop deeper into midfield when necessary, another characteristic of Fonseca's style, which can resemble a 5-4-1 in the defensive phase. I think Bergwijn is also a good fit for many of the same reasons as Dele, though he does play it a lot safer. My gut feel, as above, is that Lo Celso fits best on the right of the front three. He has the probing qualities, tenacity in the press, and would enjoy coming in from the flank and playing off others. This role is really not one that provides width, and the idea of Lo Celso being on the ball in the half-space and playing through-balls to a predatory forward is an attractive one.
My initial thought is that I don't quite see that this role plays to Son's strengths as we know them right now. We're used to seeing Son start wide and come inside either in possession, dribbling into space to get a shot away, or out of possession, to get on the end of a long pass and run through on goal. This role sees the opposite – the attacking midfielder starts inside and moves out, sees a lot of the ball, and is expected to create. Son is an elite player, but does he have good enough close control and awareness of those around him to excel in this role?
The one of our youngsters that I think fits this role particularly well is one I've already mentioned — Alfie Devine. He's excellent in the half-spaces and working one-twos with teammates. I can see him fitting this just as well as the central midfield role.
Forward
I watched all of Edin Džeko's goals from the last two years at Roma and, of those, I recall one where he dropped deep to link play. All of the others involved him being at the sharp end — he's the spearhead, in the box, attacking crosses with movement, using those poaching instincts. Harry Kane would score bucketloads. I then watched a bunch of his key passes, and the vast majority are one or two-touch lay-offs to players around him or rushing past him.
I wondered if that was just Džeko being Džeko and so I wanted to look at Fonseca's strikers at his previous clubs. I skipped his first four clubs, so ended up looking at his main strikers for the last nine seasons.
Paços de Ferreira (2012/13) – Cícero, 13 goals in 37 matches, 189cm
Porto (2013/14) – Jackson Martínez, 29 goals in 51 matches, 185cm
Paços de Ferreira (2014/15) – Bruno Moreira, 14 goals in 31 matches, 185cm
Braga (2015/16) – Ahmed Hassan, 14 goals in 44 matches, 191cm and Nikola Stojiljkovic, 15 goals in 46 matches, 185cm – they played 4-4-2 in this season.
Shakhtar Donetsk (2016/17) – Facundo Ferreyra, 17 goals in 28 matches, 183cm
Shakhtar Donetsk (2017/18) – Facundo Ferreyra, 30 goals in 42 matches, 183cm
Shakhtar Donetsk (2018/19) – Júnior Moraes, 26 goals in 39 matches, 176cm
Roma (2019/20) – Edin Džeko, 19 goals in 43 matches, 193cm
Roma (2020/21) – Borja Mayoral, 10 goals in 31 matches, 182cm
I then queued up all of Júnior Moraes' goals from the 2018/19 season. Yeah, it's the same again. It's getting on the end of crosses, it's back-post tap-ins, it's opportunistic goals, getting squared the ball on a counter, penalties. Nearly all penalty box stuff.
The striker stays forward. The striker leads the line. He is a platform for interplay, but not integral to it, and the majority of the time can just focus on being aware of what's going on around him and getting into the box.
I say again: Harry Kane would score a hatful. He'd sure assist a lot less, though. But, if anything, this has made me feel a tiny bit better about the idea of Kane leaving. Which, obviously, would leave a huge hole, a hole impossible to fill with an individual player, but the striker is not the be all and end all in this system… aside from that little thing of putting he ball in the net.
And here's a plot twist. The reason I included the height of the strikers was because knowing that Džeko played under Fonseca a lot at Roma (until they fell out) I wondered whether he had 'a type'. I don't think he necessarily does aside from good predatory movement in the box. So in terms of our squad, and potentially in planning for life after Kane, I'm wondering if we will see a new role for Son Heung-min who, by the way, is 184cm tall. Maybe I've got this totally wrong and Son will play the narrow attacking midfield role superbly. Or maybe Fonseca changes things up and goes back to a 4-2-3-1 because Son is a wonderful player and that system suits and accommodates him. But I'm just throwing it out there as a point to consider.
Of our youngsters, Scarlett is the one for this 3-4-3. He is a typical penalty box poacher and is ideal. Our other exciting young striker, Troy Parrott, is a bit like Kane in that he likes to be heavily involved in build-up play. He is a quality player with bags of potential, but not such a natural fit in my view.
Conclusions
I plan to do some more analysis of Fonseca's teams once the announcement is made and I'm sure I'll revise some of the points above once I become more familiar with his set-up. But, on what I've seen so far, I feel confident about Reguilón, Rodon and Dele fitting, but less confident about Son (unless up front), Sánchez, Alderweireld and Lloris.
This is not my first-choice XI by any stretch but an XI I can see fitting the system using existing players, obviously assuming that Kane is not there. If he is there, I imagine Fonseca would revert to a 4-2-3-1 to accommodate Son. I think this also illustrates the key positions we need to strengthen.
I'd love to hear your thoughts in the comments about which players you think fit and which don't. And also, on whether you think I've missed something or misinterpreted something about Fonseca's system(s).
---
I am the host of The Extra Inch; a Spurs podcast that delves into the analytical side of Tottenham games. Check us out! If you already follow the podcast, consider becoming an xSub for additional content, including videos, and extra podcasts.
I recently added a Donate button to this site. It's on the 'About' page. I explain why on there. Cheers!