Mourinho Out
If I'm honest, I've wanted him gone for months, but I think now my views are more crystalised than ever and I'm seeing this rationally rather than just emotionally. Though, frankly, I feel strongly that the emotional has become the rational, as I'll explain below. There are, I believe, five main reasons why we should sack José Mourinho quickly.
1. The results
We're currently eighth in the Premier League table but according to our expected points that's actually an over-performance. Understat has us 10th by this metric.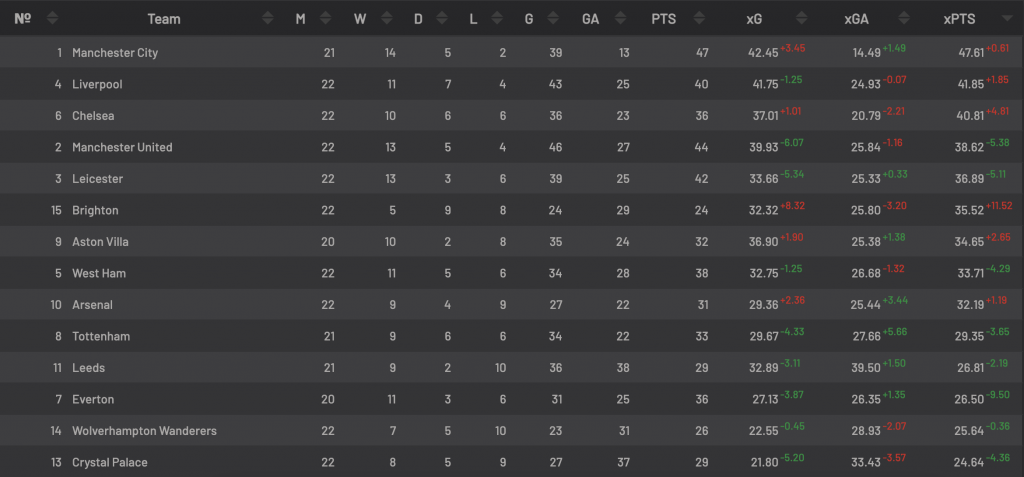 Expected points are based upon expected goals scored and conceded. Mourinho teams can be expected goals busters, since they often stop trying to score after going ahead, so don't rack up the goals or at least expected goals numbers that other teams might in matches where they have the opposition at arm's length. But, frankly, expected points has proven this season to be a useful predictor of how results would go; i.e. by showing how Spurs were over-performing points-wise and Brighton were under-performing points-wise.
Back when we were winning games against Burnley and Brighton and West Brom I was saying on The Extra Inch (Spurs Podcast) that I didn't think these results were sustainable — that we had to find another way of playing against the 'lesser' teams (shorthand for those teams against whom we would dominate possession and chances due to, mainly, our comparative quality). I felt pretty convinced that our results would regress to the mean and I feel they now have. I'm not a soothsayer, of course — the data was there, the performances were there, people were just distracted by the results.
There is not a single game I do not fear at the moment. Mourinho currently has the worst Premier League record as Spurs manager since Juande Ramos. For a man so results-focussed who places the importance of the result above all else, this is a pretty big deal.
2. The performances
It's amazing how much good results change your perspective on things — you're only ever one good corner routine away from a 'Mourinho Masterclass'. Take that corner routine away, or add a defensive error, and suddenly we're what we're seeing now.
'You should have seen us in the nineties', people say, when you start to talk about whether this is the worst we've played. I mean, sure, but that was like twenty-five ago and things have changed. We're ninth in the Deloitte Football Money League. Comparisons with nineties Spurs are meaningless — we're a different club now. We are allowed to expect more. And yes, this is the worst we've played since we've been good.
Barney Ronay's description of Spurs for The Guardian was both damning and accurate.
'For the first half of this weirdly gripping Premier League game it seemed Chelsea's players were being set an unexpected philosophical conundrum. Never mind trying to win a match against active opponents. How do you kill that which was never really alive in the first place? How do you put away a team that comes pre-put away?'

'José Mourinho's rigid thinking brings zombified display from Tottenham', Barney Ronay, 4 February 2021
Low block and counter is a viable strategy against the bigger sides, as we proved against Manchester City (and Arsenal). But we've got no alternative — we don't know how to play when we are handed the majority of possession. We lack any sort of possessional structure, attacking routines (obviously aside from the ball into Kane and spin in behind from Son) — automations as Nathan A Clark refers to them.
Mourinho has had 14 months to implement a philosophy and all we've had are lop-sided full-backs and low block and counter. 14 months and the strategy is *gestures at the television* this. We're paying him an enormous salary for *gestures at the television* this and he's actually got us more reliant on Harry Kane than we've ever been. We got quite defensive when Pep Guardiola referred to us as The Harry Kane Team. I don't think any of us would have the audacity to argue with that nickname right now.
3. The immediate future
Whilst it's great news that Harry Kane is due back soon and, of course, that will help, I don't see a world in which things change drastically anytime soon. There's little to no time on the training ground between matches, so we seem largely stuck with the system we're using.
We may see Kane and Son Heung-min briefly return to their over-performance of expected goals and assists from earlier in the season, but they will likely revert back again. It is simply not sustainable for Son to score with his first shot of every game to enable us to defend deep for the rest of each match.
We've also started hearing reports of minor dressing room unrest. Miguel Delaney reported in The Independent this week that 'There isn't yet mutiny among the players or anything like that, but a growing number have serious misgivings about the football. A minority are fed up with it.' And the day before the same journalist wrote of the training and implementation of tactics.
'Some sources at Spurs say the attacking idea genuinely doesn't extend much beyond getting it to Kane and Son Heung-Min. There is little preparation for progressing the ball up the pitch. This is what has struck opposition staff in planning for games against Spurs. Matches thereby reflect the training, which has largely been based on defensive organisation, set pieces and second balls.'

'Jose Mourinho and Thomas Tuchel hold opposing ideals on two sides of the same coin', Miguel Delaney, 4 February 2021
Minor unrest becomes major unrest when results continue to go badly and players continue to be treated differently.
I have long-feared that our lack of rotation would haunt us later in the season given the focus on winning a trophy. The number of minutes our players have under their belts will make them susceptible to muscular injuries as time goes on, particularly as the frequency of matches gets worse rather than better as time goes on.
We had been very fortunate with injuries and COVID outbreaks until the past fortnight where we lost Kane and Sergio Reguilón at the same time. We need to be prepared for more periods without key players – particularly Son and Pierre-Emile Højbjerg who have barely had a break.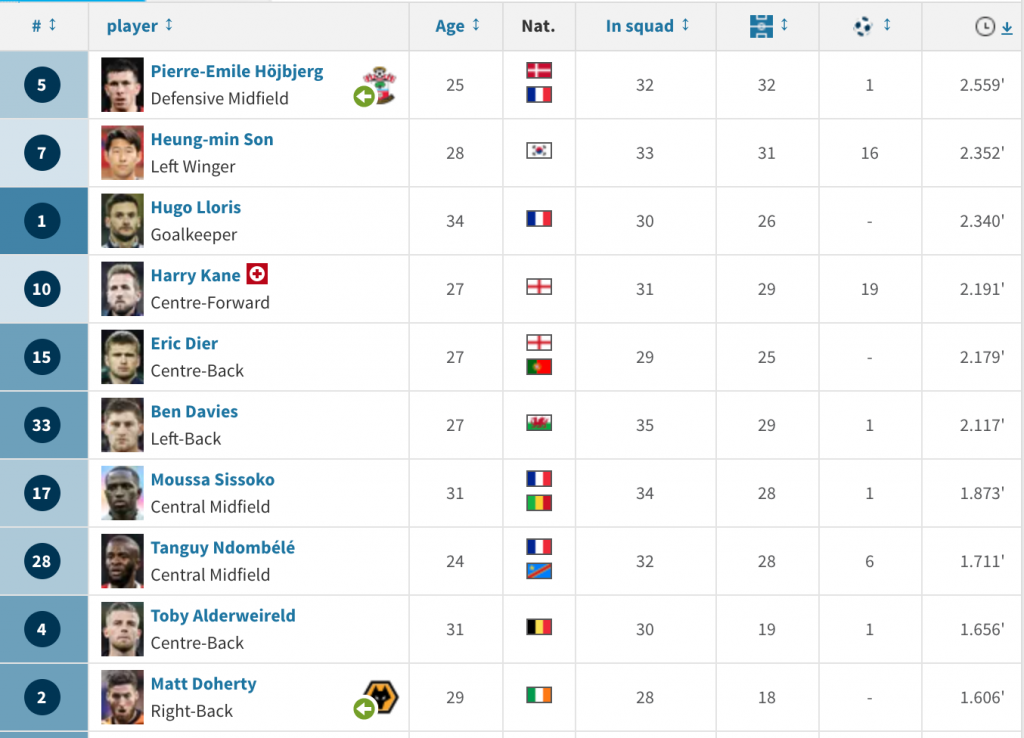 We need to get more from our players, and quickly. In the 14 months of Mourinho to date, I've seen very few matches where I've felt as though the team was greater than the sum of its parts.
4. The long-term future
Perhaps Mourinho will have us beat Manchester City — hell, there are few managers you'd trust more in a one-off match. But is a League Cup going to keep Harry Kane at the club if we fail to finish in the top 4? We could perhaps manage it for one more season, but Kane could play for any club in the world and he's not going to choose to stay for long should we not be competing for the top honours.
The idea, as it was sold to us, was that the winning of one trophy could change the entire perspective of the club and open the floodgates for more trophies. We have absolutely no chance of challenging for the league unless we have a total change in philosophy.
An issue which may have gone more under the radar so far but which is starting to come to the fore is the number of fans who are starting to switch off — both literally and metaphorically. Because I've been vocal about the disconnect I've felt, I've had dozens and dozens of tweets, direct messages, emails, etc on the subject. People have told me that they have stopped watching matches entirely. They don't want their day ruined by Spurs.
Of course, this isn't just due to Mourinho — this is the effect of the global pandemic, of no crowds, of not being able to actually go to the stadium yourself, a crucial part of the routine for a core of our fans. But it's definitely exacerbated by Mourinho. I find myself increasingly on my phone whilst we're playing — just because there's not much to enjoy unless you get something from watching our opposition have the ball. We are a highlights team now; occasional bursts of excellence.
Levy will be attuned to this like he is with all things that impact on business. The fact that Spurs are currently playing the worst football in the Premier League and are being publicly called out by pundits and journalists for doing so will not have passed him by. I wrote in my recent article about Dele that there are Spurs fans who are Spurs fans because of Dele; well, we're not going to acquire many new fans playing the way we are currently. Every day, youngsters across the globe will be looking for a club to follow, and apart from the obvious teams there's a chance they'll currently be picking Aston Villa, Everton and even West Ham over Spurs.
I think Levy might have shown his hand here. By refusing to sanction the sale or loan of Dele (like Tanguy Ndombele before him), it shows that he's not backing Mourinho at all costs. Some costs, maybe — I'm not sure we'd previously have signed Matt Doherty, an older full-back, and perhaps not even Joe Hart, though that's less clear as we did sign and re-sign Michel Vorm — but he won't let our top talents go on the cheap. Perhaps that's a sign that he is not sure how long Mourinho's tenure will last.
5. The man
I think it says a lot that I don't feel particularly comfortable making my thoughts on this publicly available, lest the Mourinho cultists find me again, so instead I put them behind our podcast paywall.
The tweet below is a snapshot of what Mourinho can be like, though, and it was totally unacceptable behaviour, which should be confronted.
He is a pretty unpleasant character, wrapped up in football legend — being good at or in football means pretty much anything goes (as we've seen with Cristiano Ronaldo).
I'm ready for us to part company with Mourinho whenever Levy feels the tingle of his trigger finger. I've been ready for some time. I only hope we get this over and done with sooner rather than later and build with a fresh skillset and outlook. We are a club and a team with enormous potential.
---
I am the host of The Extra Inch; a Spurs podcast that delves into the analytical side of Tottenham games. Check us out!
I recently added a Donate button to this site. It's on the 'About' page. I explain why on there. Cheers!